ROLAND V-DRUMS
TD-1DMK ELECTRONIC DRUM KIT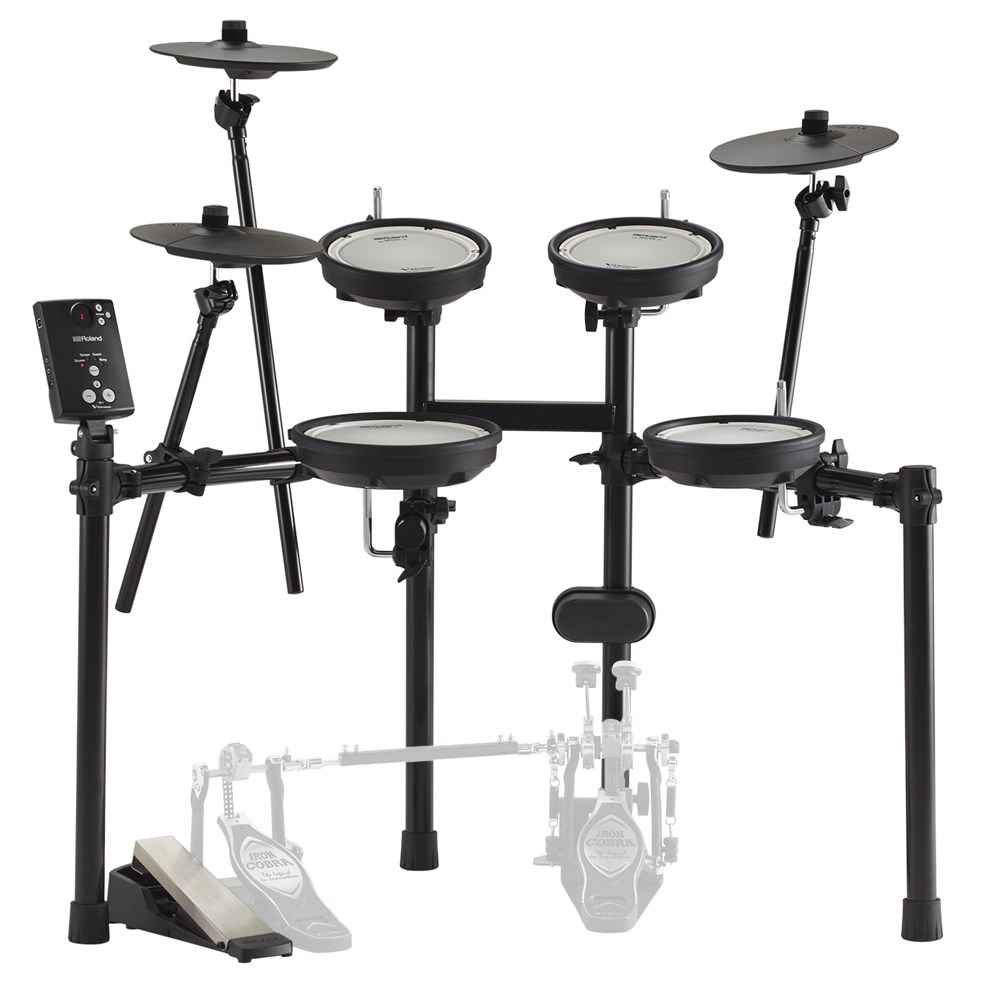 If you've always dreamed of playing drums, you'll know it's a powerful ambition.
Along with the excitement though, you may also feel that learning drums is too hard. While you certainly do have to put in some effort, becoming a tight drummer may not be as tough as you think. If you can tap in time to music, you already have an intuitive understanding of the fundamentals of rhythm…you just need to take the next step.
Roland V-Drums are the world's most popular electronic drums, thanks to their powerful sound, great playing feel and legendary durability. If you think you might have drumming in your blood, the new V-Drums TD-1DMK will help you find it. The TD-1DMK provides a fulfilling drumming experience in a compact kit that's easy to move around.
The simple-yet-powerful module includes a variety of expressive drum kits, connected to Roland's double-mesh pads for snare and toms. These pads use two layers of mesh material for realistic 'rebound' – where the drum stick bounces back after hitting the drum – just like on an acoustic kit. Although durable, they're quiet to play too and great for late night practice sessions.
You can play with headphones, so you won't disturb family or neighbours and with onboard coach functions along with the ability to connect to Melodics drum training software, you'll be surprised how quickly you'll improve.
Pick up the sticks, take a deep breath and pull up to the TD-1DMK. A lifetime of drumming awaits – so what are you waiting for?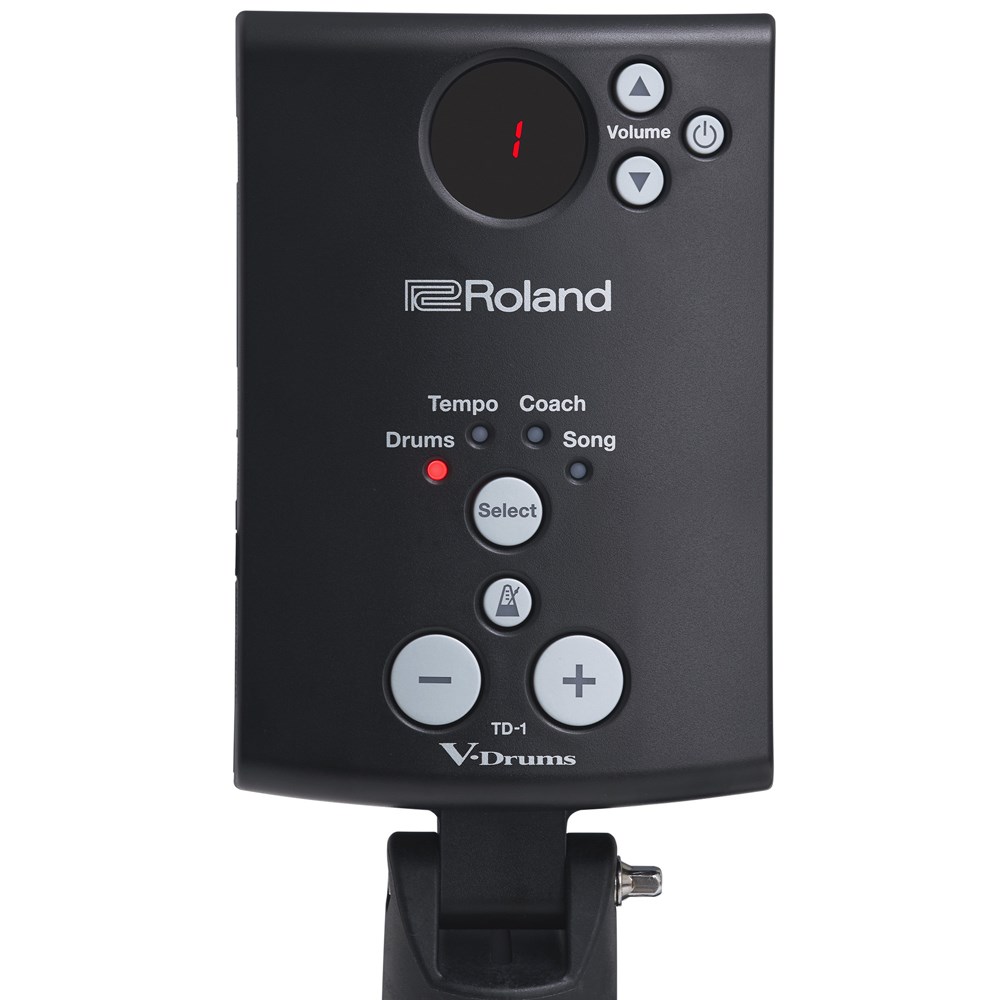 V-Drums TD-1DMK HASSLE FREE INTUITIVE DRUM EXPERIENCE
If you've haven't played drums before, you might think it'll be too difficult, or that learning on an electronic kit is complicated. The TD-1DMK is a hassle-free drum kit that's easy to set up and intuitive to use. Just connect the power, switch on and connect either your headphones or monitor speakers. You're ready to start playing an authentic-sounding collection of drums, with a choice of 15 preset kits, for a realistic and engaging drumming experience.
V-Drums TD-1DMK LIGHT ON WEIGHT – HEAVY ON POTENTIAL
When it's time to start working on your drum skills, onboard coach functions and Melodics for V-Drums software let you learn the essentials and quickly start climbing the ladder. The TD-1DMK Electronic Drum Kit weighs just 7kg making it easy to move around in your home too, so whether you're playing solo or want to perform for your friends and family, the TD-1DMK can go wherever you play.
V-Drums TD-1DMK DUAL PLY MESH HEADS
The TD-1DMK's pads are quieter than other electronic drums too, so your child can practice without limitation. From durable dual-ply mesh heads to a kick drum pad that absorbs the impact of a beater, all V-Drums are built to be noticeably quieter when played*. The dual-layer mesh heads for the snare and toms can be tension-adjusted to provide stronger stick resistance, giving natural rebound and feel that's as close as possible to the feel of playing acoustic drum heads.
V-Drums TD-1DMK SINGLE OR DOUBLE KICK PEDALS – YOU DECIDE
Kick pedal feel and rebound is also important for your drumming – so the TD-1DMK is compatible with your choice of kick pedal, including double-kick pedals, while the soft rubber pad absorbs the energy from the beater, for a natural feel, faithful rebound and quieter performance. Please note that kick pedals are not included and have to be purchased separately.
V-Drums TD-1DMK DEVELOP YOUR SKILLS
Whether you want to be a drum hero in a band or you just want to develop solid drumming skills, the TD-1DMK helps you get there by supporting the techniques learned in your tuition. The TD-1DMK faithfully responds to the subtle nuances of your playing – with every stick hit and all the dynamics detected and faithfully relayed, thanks to the fast processing and authentic acoustic sounds of the TD-1 module. And as you improve, the TD-1 module can keep up with you, reflecting your superior technique and expression. The TD-1DMK can continuously support your child as they develop the concentration, patience and physical strength that comes through regular playing.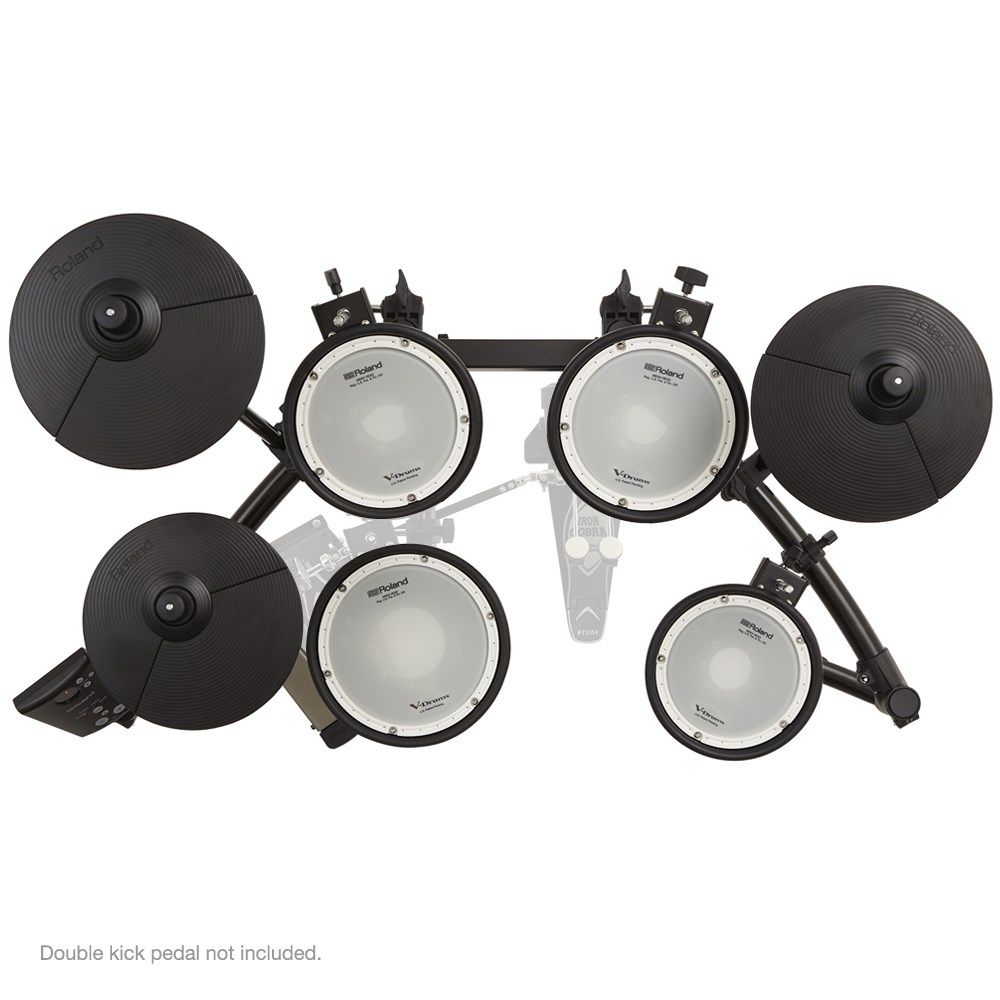 V-Drums TD-1DMK FEATURES
Double-mesh drum heads for snare and toms, with adjustable tension for a quiet and realistic drumming experience
Kit configuration Kick, Snare, Hi-hat, Hi-hat control pedal, Tom x 3, Crash, Ride, Drum stand
15 preset drum kits with authentic, expressive drum sounds for accurate and true-to-life drumming
Built-in metronome with adjustable tempo and timing settings to help improve timing
10 onboard coaching functions for tracking your progress and motivation to play
Record function lets you listen back to what you just played, for evaluation purposes
15 onboard songs to play along with, covering a variety of music genres
Dedicated input for connecting your smartphone and playing along with your favourite songs
Legendary Roland quality and durability – built to support your drumming for years to come