ROLAND TD11 V-COMPACT DRUM SOUND MODULE WITH SuperNATURAL
The TD-11, SuperNATURAL powered entry-level V-Drums sound engine brings a more natural and realistic drumming experience to the entry level. Its affordability and easy operation expands the opportunity for drummers of all budgets and skill levels to use electronic drums for lessons, home practice, and live performances.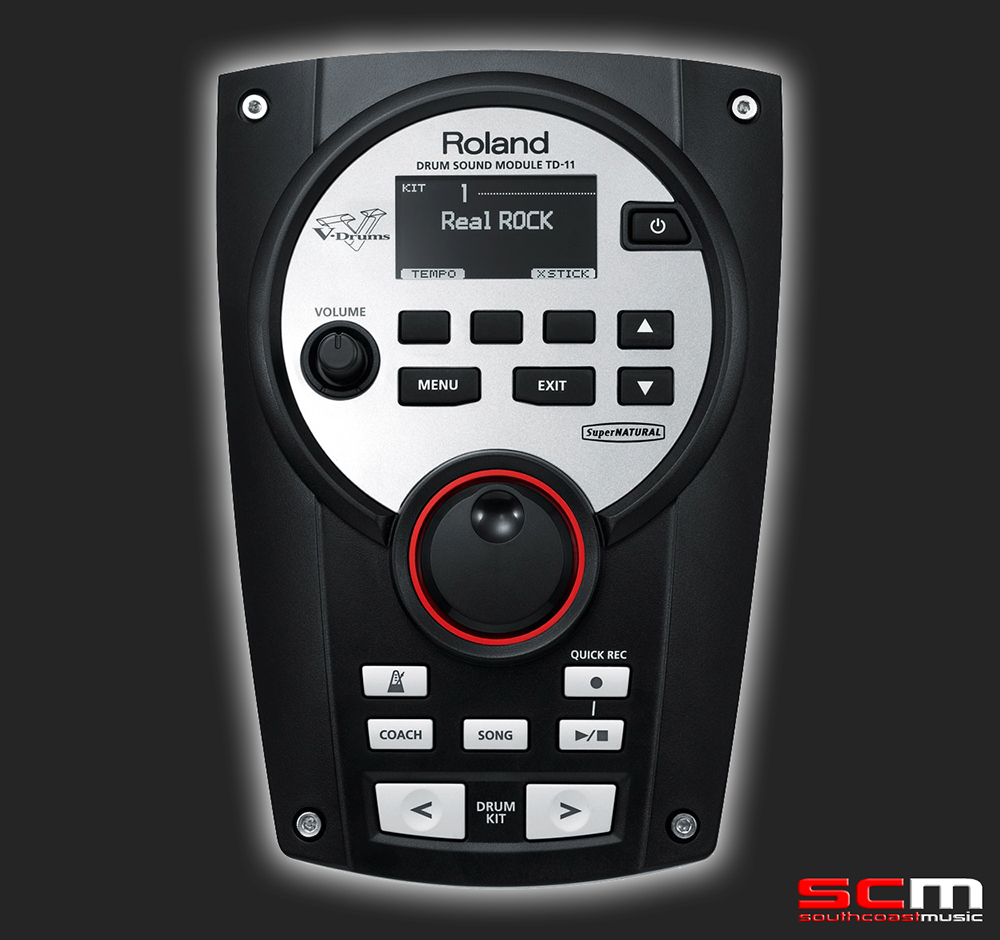 ROLAND TD11 – SuperNATURAL Powered
Derived from the flagship TD-30's SuperNATURAL concept, the TD-11 also provides a complete and natural drumming experience when played with V-Compact series pads. Thanks to Behavior Modeling Technology*, the response becomes much more precise and faster, and the ambience enhances the sounds more realistically — all of which were difficult to realize with the previous sound module.
ROLAND TD11 – Behavior Modeling Technology
Beyond the physical modeling of instruments, Roland goes a step further by modeling the instrument's distinctive behavior and how it responds to the performer, resulting in natural, expressive sounds that evolve organically in realtime.
ROLAND TD11 – Internal Songs and Song Player
The TD-11 is equipped with realistic and powerful onboard backing songs and loop phrases, which are perfect for practicing as well as for the pure enjoyment of playing along. With a USB flash drive connected to the module, you can play back audio files (WAV, MP3) directly from the USB flash drive. You can mix the balance of your drumming with the backing track, change the tempo of the song with the Speed Control, loop specific sections with A-B repeat, and take your practice sessions to a new level.
ROLAND TD11 – Advanced Practice Tools
Roland's highly acclaimed Coach Mode is onboard the TD-11, including Time Check, Quiet Count, and Warm Ups — a full set of exercises for self-improvement. In addition, QUICK REC lets you easily record and play back your own performance. This is a convenient way to repeatedly record yourself practicing and evaluate your performance.
ROLAND TD11 – Computer Compatibility
By connecting the TD-11 to your computer with a single USB cable, you can transmit audio and MIDI data. It's a simple, convenient method for interfacing with the DT-1 V-Drums Tutor, V-Drums Friend Jam, and/or your favorite DAW software.