RECORDING KING RKT-05 DIRTY 30's TENOR BANJO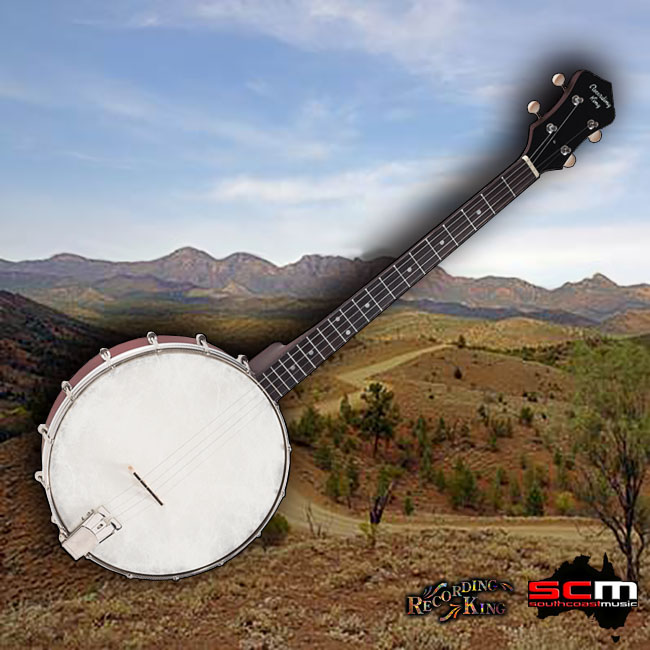 The Recording King Dirty 30's Tenor Banjo brings 100 years of history into the present, road-ready vibe of the Dirty 30's line. The Dirty 30's Tenor Banjo has the same rootsy styling as the rest of the Dirty 30's guitars and banjos and offers superb tone and playability at a great price.
The tenor banjo first came to prominence in the early 1900s, and its versatile tuning makes it the perfect instrument for folk, Celtic and Dixieland music.
The tenor is a unique banjo for players looking to add a traditional edge to their sound and is the perfect crossover instrument for mandolin, violin, viola and cello players.
The tenor banjo is most often tuned using a symmetrical tuning – tuned the same as a viola/mandola (C, G, D, A). Irish players often tune their tenor banjos also in fifths, but one octave below a violin/mandolin (G, D, A, E). Another more recent tuning is known as Chicago tuning where the strings are tuned to the same pitch as the first four strings of the guitar (D, G, B, E).
The narrow 19-fret neck is comfortable and a pleasure to hold while the 23″ scale length provides the perfect string tension working in tandem with the multi-ply Maple rim to produce a warm, sweet rich midrange sound with excellent clarity. The open-back rim features 16 brackets holding down a REMO Fiberskyn head adding to the classic period-correct tenor sound.
It is also an incredible first banjo for seriously inspired newbies – especially after a hour or so on our work bench having undergone our PRO-SCM setup!
This beautiful Banjo has had the frets dressed, ends hand rolled and polished. The fretboard has been oiled and polished, the head tightened and tuned and the neck and co-ordinator rod adjusted ensuring the perfect playing experience.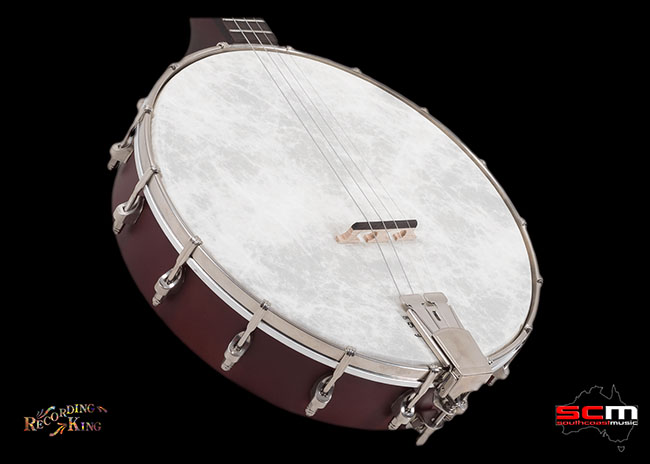 RECORDING KING RKT-05 TENOR BANJO FEATURES & SPECIFICATIONS:
• Multi-Ply Maple Rim
• Open Back Design
• Maple Neck with Adjustable 2-Way Truss Rod
• Revebond Fretboard
• Adjustable Coordinator Rod
• Presto-style Tailpiece
• Ebony on Maple 5/8″ Bridge
• 23″ Scale Length
• Hand Rubbed Brown Satin Finish
• Nickel Plated Hardware
• Remo Recording King Banjo Head
• 16 American Threaded Hooks and Nuts
• PRO-SCM Setup