KURZWEIL PC4 PERFORMANCE CONTROLLER KEYBOARD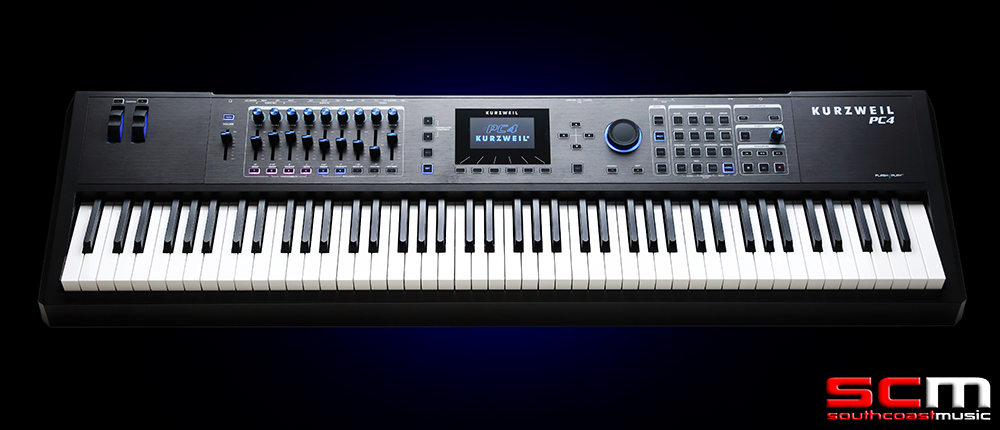 With the all new PC-4, Kurzweil have raised the bar even higher!
256 VOICES OF V.A.S.T. POLYPHONY!
More polyphony from Kurzweil's acclaimed V.A.S.T. engine than any product in their history!
Kurzweil's PC4 packs patented FlashPlay® technology, 256-voice polyphony and powerful DSP Digital Signal Processing into a highly-portable performance controller and production station designed to meet the needs of Performing Artists, Studio Musicians, Song-Writers, Music Education and Music Producers.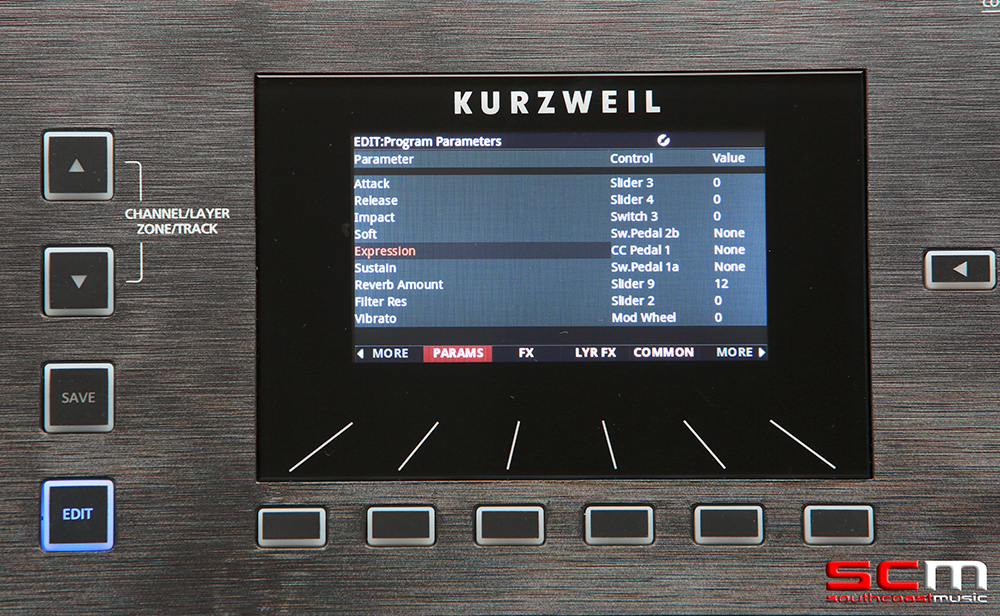 2 GIGABYTES OF FACTORY SOUNDS!
Kurzweil's celebrated German 9′ and vintage Japanese 7′ Concert Grand Piano samples are ready to enthuse and tantalise you along with more than 1000 stellar quality hand selected factory presets organised into 13 Categories of Programs:
Piano
Electric Piano
Clav
Organ
Strings
Pad
Synth
Brass/Wind
Ensemble
Hybrid
Guitar/Bass
Drum/Perc
Misc
KB3 TONEREAL ORGANS!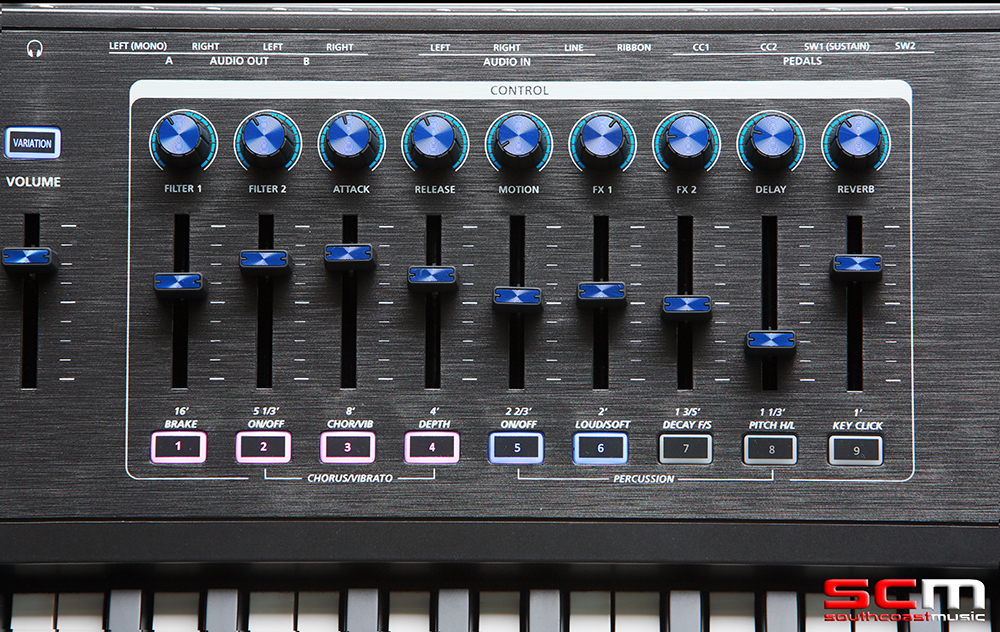 Modeled after the all-time classic organs, Kurzweil's ToneReal organs are ready to unleash your inner Jimmy Smith . A full compliment of tonewheel controls are immediately accessible including 9 realistic drawbars, rotary speed, chorus/vibrato, brake, percussion and more.
TWO GIGABYTES OF USER SAMPLE MEMORY
You can also load up and save up to 2 GB of your own custom samples into non-volatile flash memory. The supported sample formats include:
WAV,
AIF (up to 16 bit / 96kHz)
Kurzweil formats (.P3K, .KRZ, .K25, .K26)
PATENTED FlashPlay® TECHNOLOGY
Flash-Play® provides the PC4 with a staggering amount of horse-power – 2 GB sample content with zero-loading time, and ultra-fast performance.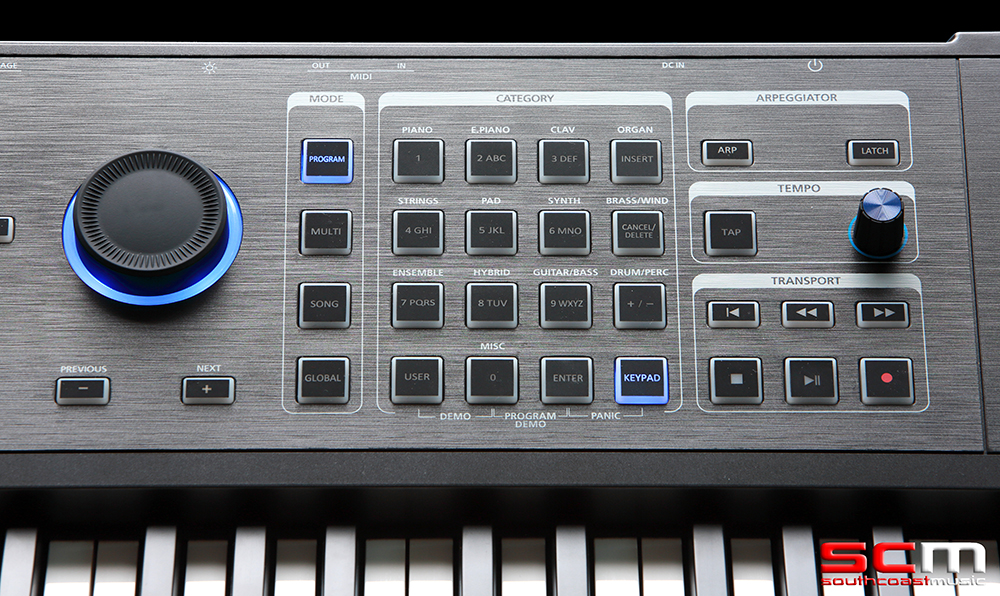 V.A.S.T. EDITING
Deep native editing? Look no further. The PC4 gives you full access to Kurzweil's legendary Variable Architecture Synthesis Technology directly from the front panel making live performances a breeze. With 32-layers per program, each offering its own signal path and a host of modular DSP tools, the PC4 offers a wealth of sound creation and modification that is truly immense.
SIX OPERATOR FM ENGINE
The Kurzweil PC4 features a 6 Operator FM Engine with the ability to load original FM SysEx files. Add sonic animation to your sounds via 16 simultaneous MIDI CC Step Sequencers for modulation sequencing.
POWERFUL DSP EFFECTS CONTROL
Award-winning Reverbs, Delays, Choruses, Flangers, Phasers, Distortions, Rotary Amplifiers, Compressors and more – all fully editable from the user-interface. The PC4 also offers a global Master FX section featuring 3-band EQ and Compression.
K.S.R. KURZWEIL STRING RESONANCE
Piano string resonance modeling for enhanced acoustic piano performance!
88 NOTE HAMMER ACTION KEYBOARD
Every sound within the PC4 is perfectly matched to its 88-note fully-weighted hammer-action keyboard with aftertouch. Built in Italy by Fatar – world renowned Key-Bed manufacturers – this is arguably their best yet!
SIXTEEN ZONE MULTI-CONTROLLER MODE
Construct massive sonic combinations via Kurzweil's renowned Multi mode (aka Setup mode) offering 16 zones of unparalleled MIDI controller capabilities.
SIXTEEN TRACK SEQUENCER
The PC4 features a 16-track internal sequencer to record/edit/mix/produce your own tracks – all in the box. Import MIDI (.mid) files as well as Kurzweil PC3-family songs.
SIXTEEN SIMULTANEOUS RIFF GENERATORS
Trigger and manipulate up to 16 simultaneous MIDI sequences on the fly. Select from an internal library of patterns or record/import your own!
SIXTEEN SIMULTANEOUS NOTE ARPEGGIATORS
Looking for a pulse? Activate up to 16 independent Arps (1 per program, 16 per Multi) and discover the new 'Step Sequencer' environment!
LIVE AUDIO INPUTS WITH EFFECTS
Plug in and jam along with your favorite music player via 6.35mm (1/4″) pair and/or 3.5mm (1/8″) audio inputs. The input bus sports its own dedicated real-time FX. Sweeten your backing tracks for live performance and internally mix the signal with the PC4's own output.
MASTER TRANSPORT CONTROLS
Use the buttons in the TRANSPORT section to control recording and playback of the on-board 16-track sequencer.

WEIGHT NO MORE!
At a gig friendly 15kg, the all new Kurzweil PC4 has redefined what can be expected from a fully featured 88 key performance controller keyboard!