YAMAHA GENOS DIGITAL WORKSTATION ARRANGER KEYBOARD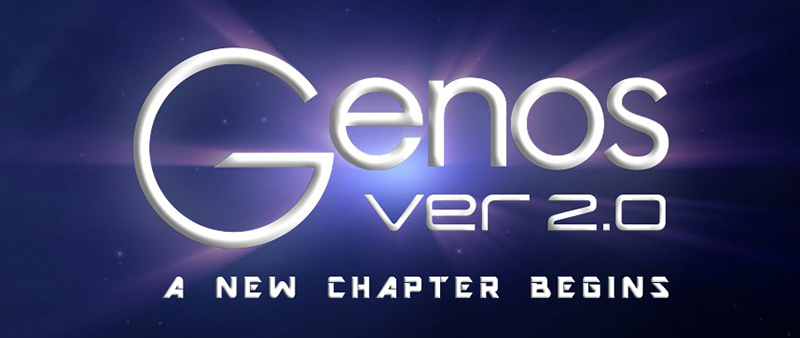 GENOS V2.0 – A NEW CHAPTER BEGINS
When Genos entered the market, it set a new benchmark for Digital Workstations and was quickly adopted by enthusiastic players, stage performers and studio musicians across the world. Following suggestions and feedback from those customers, Yamaha updated the GENOS with the introduction of Version 1.4.
Yamaha have never been known to rest on their laurels, and now we are excited to introduce the next chapter with GENOS Version 2.0!
With this exciting new upgrade, the best gets even better with fabulous new features such as the Chord Looper and Style Section Reset – in addition to increasing available expansion memory from 1.8GB to a massive 3.0GB!
But that's not all, Genos Version 2.0 introduces the Superior Pack containing stunning new musical content with 50 brand new Styles and more than 68 Voices, including all new Super Articulation 2 sounds.
This represents Yamaha's commitment to not stand still as they continue to expand an already incredible musical instrument… and the journey is not over. On behalf of southcoastmusic and Yamaha, we'd like to thank all of our Genos family for their continued support and invite all keyboard enthusiasts to explore new dimension of music with Genos Version 2.0.
THE FIRST MAJOR GENOS UPGRADE
Version 2.0 marks the first major Genos update, providing invaluable new features as well as adding improved functionality and flexibility to existing Genos capabilities. Along with Increased Expansion Memory and all-new contents, a chord looper, style section reset, scale tune quick setting, and other upgraded features have been added to inspire and support a wider range of creative possibilities. Version 2.0 reflects the priority that Yamaha places on responding to customer feedback in order to meet the requirements of musicians who want to get the most out of their Genos experience, inspiring your playing to evolve along with it and take your performance to the next level.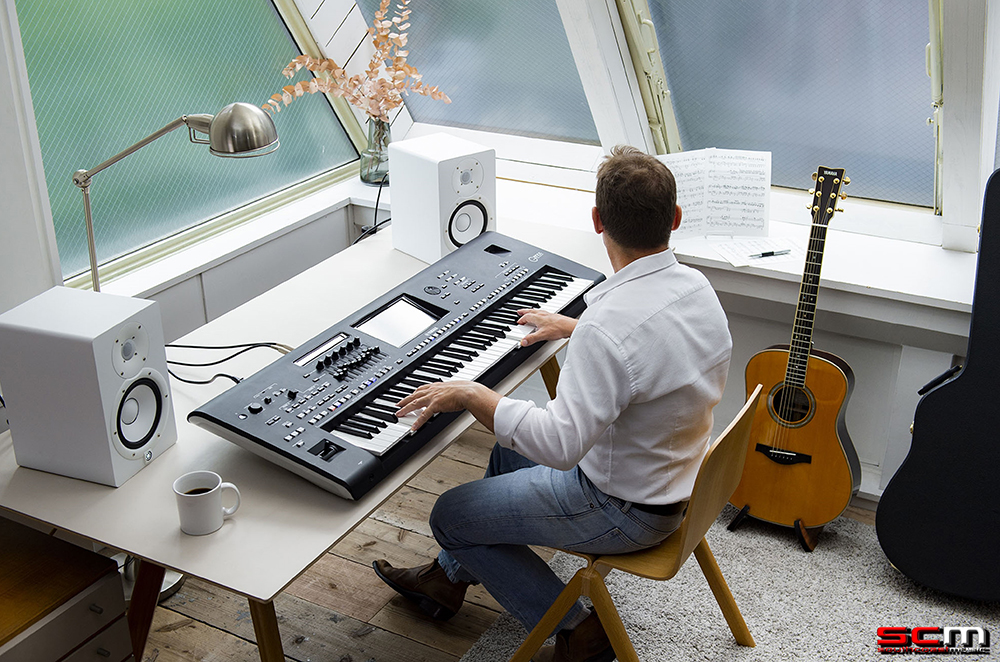 THE NEW GENOS V2.0
Increased Expansion Memory
Updating to Version 2.0 boosts your Expansion Memory from 1.8 to 3.0 GB so you can now manage much more content on your Genos.
New Content – GENOS V2.0 SUPERIOR PACK (50 Styles/68 Voices)
The GENOS V2.0 SUPERIOR PACK adds 50 all-new Styles covering vintage pop and dance sounds, as well as SA2 Premium Voices such as "Pan Flutes," "Female Vocals," and "Trombone." What's more, cutting-edge synth voices like "Monolan Bass," newly introduced with the PSR-SX900, are also included so that you can more easily recreate music from any era, from classic pop to the latest hits.
GENOS V2.0 SUPERIOR PACK List (PDF)
Quick Installation via USB Flash Drive
Yamaha Expansion Manager has also been upgraded as part of the Genos Version 2.0 release. With previous versions incremental installations were possible only over Wi-Fi, but the latest version 2.6 adds support for this "Quick Installation" using a USB flash drive. Installation of expansion packs has never been easier.
Quick Installation via USB Flash Drive
Download for macOS
Download for Windows
Chord Looper Function
The new Chord Looper lets you record and loop chord sequences, freeing up your left hand to play two-handed passages, or select and tweak sounds with any of the various assignable controllers.
Style Section Reset
Simply press the [TAP TEMPO] button when playing along with a Styles to easily jump to the beginning of the bar. This Style Section Reset is particularly handy when playing along with a vocalist or performing music with varying time signatures.
Improved scale tune function
You can now choose whether to apply the Scale Tune to each part individually for Right 1, Right 2 and Right 3, in the Scale Tune display.
[ Sub Scale function / Scale Tune Quick Setting ] You can now set temporary scales using the Sub Scale function, and configure Sub Scale settings quickly using the function "Scale Tune Quick Setting," which can be assigned to the assignable buttons or foot pedals.
Style Creator Improvement
Layout and operations on the Style Creator display have been updated and optimized.
The Time Signature range settings have also been expanded.
Additional Portamento Type Functionality
Users can now configure the Crossfade using the Mono Type option in the Voice Edit display.
You can also configure Portamento Time Type on the Voice Edit display.
The maximum number of User Effects that can be saved has been increased.
You can now sort through the Playlist in alphabetical order.
TAKE CONTROL OF YOUR MUSIC!
Welcome to the new world of Digital Workstations. Genos is the new benchmark in Digital Workstation sound, design and user experience.Whether you are in a recording studio or on stage, Genos will inspire and intensify your musical creation and performance.
EXPERIENCE BREATHTAKING SOUND
The best sound quality ever on a Digital Workstation, powered by specially developed Yamaha technology, the sonic quality of every Voice in Genos is beyond any other Digital Workstation you've ever played. Everything you hear, whether it be the beautiful CFX piano, the lush Kino Strings or the punchy Revo!Drums, the sound simply embraces you and just blows you away!
AEM – ARTICULATION ELEMENT MODELING
This technology simulates the characteristics of musical instruments. During a performance the technology sounds appropriate samples, in real time, according to what and how you play. Samples are smoothly joined and articulated—as would naturally occur on an actual acoustic instrument.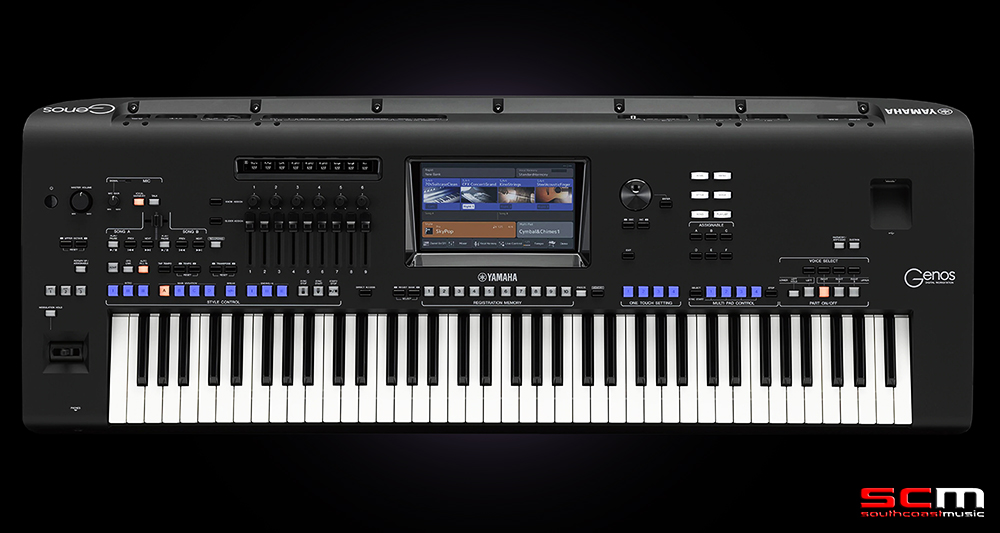 REVO!DRUM/SFX
Revo!Drum Voices recreate the authentic sound and expressiveness of drums. Even when playing the same key multiple times, the sound is always of a different nuance, making it incredibly natural and realistic.
CONTENT
Whether you create or perform music, you need great content. Genos features a diverse range of contents, starting from 1,710 instrument sounds, 550 backing patterns, 216 arpeggios and more – much more!
READY TO GO CONTENT
Genos V2.0 features stunning contents which will inspire you from the moment you start to play.
EFFECTS
From Reverb to Distortion, Rotary Speaker to Compressor, Genos boasts unprecedented DSP power. Genos has more processing power than that which put man on the moon!
Using the same VCM technology as Yamaha's professional high-end mixing consoles, Genos has the tools to create the perfect sound. Not only do the effects sound great, they look great too—with a stunning graphical user interface that is easy to use and understand.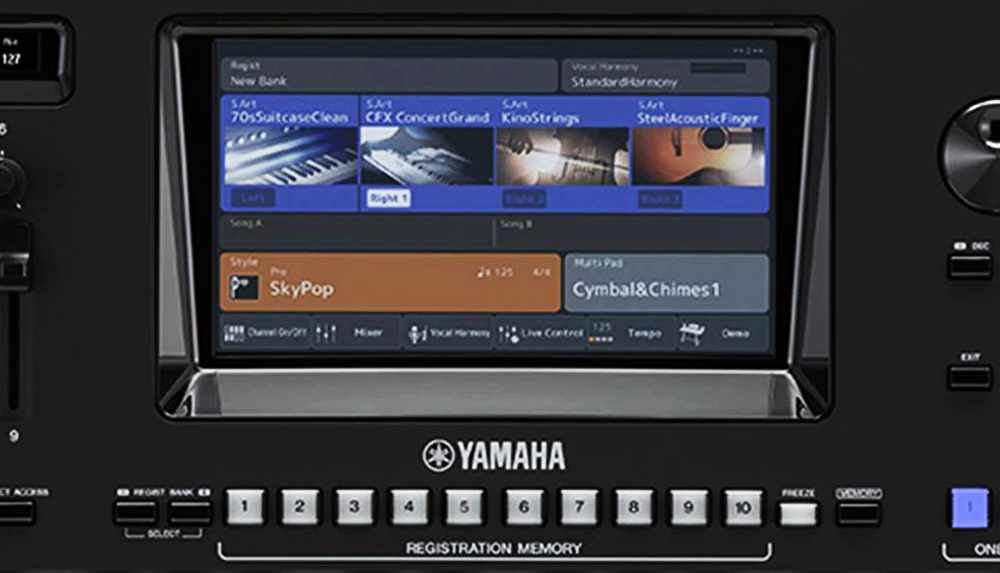 VOCAL HARMONY AND SYNTH VOCODER
With Genos you can automatically apply various Vocal Harmony effects to your voice as you sing, or you can use the Synth Vocoder to craft the unique characteristics of your voice onto synthesizer and other sounds.
EXPAND YOUR MUSIC
You can continually expand the onboard content of your Genos V2.0 by creating and installing your own custom or purchased Packs. The scope of possibilities for new sounds and styles is virtually unlimited.
YEM – YAMAHA EXPANSION MANAGER
You can continually expand the onboard content of your Genos by creating and installing your own custom or purchased Packs. The scope of possibilities for new sounds and styles is virtually unlimited.
YEM (Yamaha Expansion Manager): YEM is PC/Mac software designed to manage the Expansion contents for Yamaha keyboards.
Integrated Flash Memory: Genos includes 1.8GB of user flash memory with high speed reading/writing for your own Voices.
Extra USB memory slot for data storage: Genos has three USB TO DEVICE ports (one on the panel, one on the back side, one on under the instrument) for you to keep the data.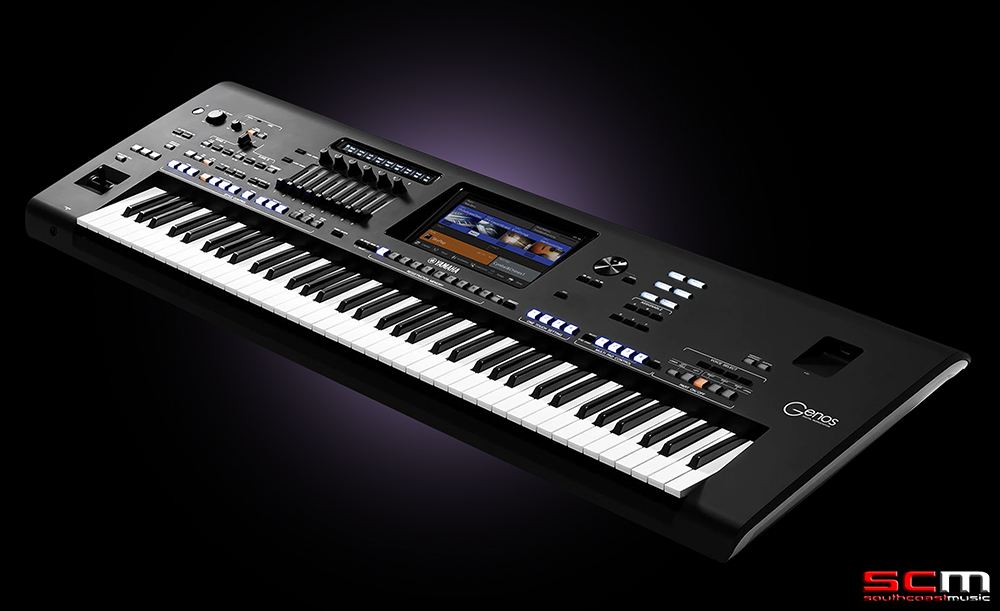 CONTROL YOUR MUSIC
INTUITIVE AND FAST CONTROL
Genos features an intuitive interface for music making and sound creation. You can create and record incredible music simply by using the presets at your fingertips. Take the time to dig a little deeper and a whole new world of inspiration will open up before you.
TOUCH SCREEN
With Genos V2.0 you can  easily select and change parameters directly with the new 9″ colour touch screen.
ASSIGNABLE BUTTONS
While performing, you often need to act fast to access certain features. Choose from a range of functions to set to the 6+1 assignable panel buttons and with just a single touch, you can instantly recall your desired function.
STYLE ENGINE
Genos V2.0 features a variety of rhythmic backing patterns and accompaniments (called "Styles") in variety of different musical genres. Styles feature sophisticated patterns to inspire your creativity. You input the idea and Genos will react to you.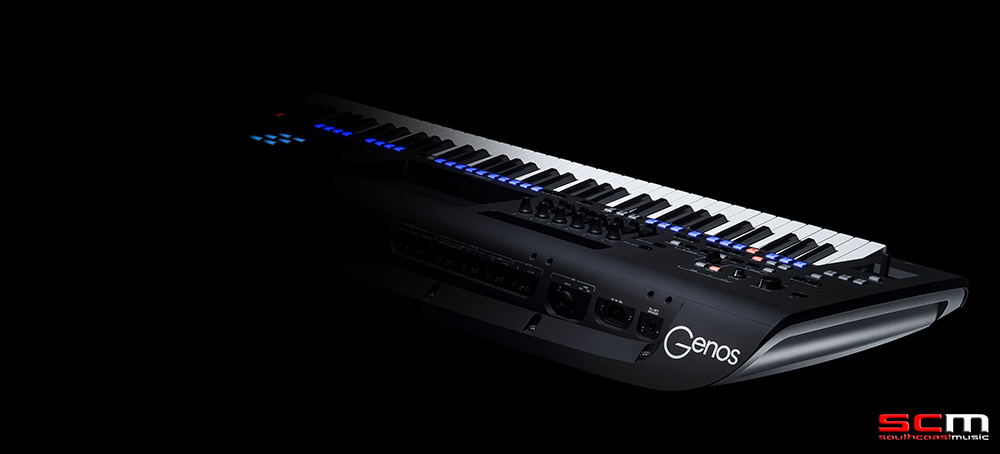 REGISTRATION MEMORY
The Registration Memory function allows you to save (or "register") virtually all panel settings to a Registration Memory button, and then instantly recall your custom panel settings by simply pressing a single button.
SHAPING YOUR IDEAS
TURN SPARKS OF INSPIRATION AND GREAT IDEAS INTO AMAZING REALITY
Start from the original idea of a song or even just a riff or melody line, pick an instrument Voice and Style of your choice. Play and work out the arrangement and capture it as a MIDI song. Then, overdub some sounds and create your demo or even your finished track.
RECORDING FUNCTION – MIDI/AUDIO
Quickly record your performance as audio (WAV) or Standard MIDI File (SMF) with the Quick Recording feature. For more complex arrangements, Multi Recording features a fully functional 16-track MIDI sequencer with realtime and steptime functionality.
When you are happy with your recording, it can be stored to the internal User Drive or saved to USB Memory for easy sharing.
DIGITAL OUTPUT
The new S/PDIF Digital output can be connected to compatible studio equipment or home theatre to output audio from Genos without any loss in quality.
ARPEGGIOS
Genos has 216 Arpeggios to enhance your performance. There are a variety of arpeggio types, some are straight forward instrument arpeggios, others recreate strumming guitar effects and controller arpeggios automate Live Control by adjusting sound filters in realtime as you perform.
HIGH QUALITY FSX KEYBOARD ACTION
The FSX keyboard features a premium action with aftertouch. The keys are created in a high-precision manufacturing process resulting in an incredibly durable keybed, enhanced key stability and "fast" action. The 76-key professional keyboard features enhanced touch response allowing for highly expressive and dynamic performances.
DIRECT ACCESS
The Direct Access feature provides a shortcut to a wide variety of Genos functions. Simply press the Direct Access button followed by another panel button or footswitch to jump directly to relevant controls in the display.
DELIVER YOUR BEST PERFORMANCE
ENHANCE YOUR PERFORMANCE WITH THE STYLE ENGINE
Whatever genre of music you wish to perform, Genos is ready to accompany you with world-class arrangements, punchy drums and powerful DSP/Effects. There has never been a more perfect personal backing band.
ADD SOME SUGAR AND SPICE TO YOUR PERFORMANCE WITH MULTI-PADS
The Multi Pad can be used to play a number of short pre-recorded rhythmic and melodic sequences and loops that allow you to add impact and variety to your keyboard performance.
AUDIO LINK MULTI-PAD
Multi Pads do not only work with MIDI data, they also allow you to create unique, new pad content with your own audio (WAV) data for playing back during your performance.
BROADCAST QUALITY AUDIO OUTPUT
The audio output of Genos has been completely redesigned to deliver professional quality sound from your keyboard.
NEW OUTPUT CIRCUIT
The new 32bit Digital Audio Converter (DAC) provides high quality defined sound across a wide frequency range, ensuring Genos always cuts through the mix.
SUB OUT
Genos features four Sub line-out connections that you can use to adapt your sound to various situations. You are able to send individual instruments and parts out of the Sub line outputs. You can also use two of the four sub-outputs as AUX sends.