Fishman SA330x Performance Audio System

The new Fishman SA330x is a powerful, portable, expandable PA/amplifier system for solo acoustic performers and small ensembles.
With the all-new SA330x Performance Audio system, Fishman have just raised the bar as the go-to portable PA/amplifier for voice, playback and amplified acoustic instruments.
Unlike many other similar-looking systems, the SA330x is built around a uniquely configured 2-way speaker system that delivers all the sweetness and definition of a great studio monitor. Ruggedly built and with plenty of power, the SA330x is the perfect solution for absolutely amazing sound in small and medium-sized venues.
Tuned beautifully for voice and acoustic instruments, the new SA330x, alone or as part of an expanded system, allows anyone looking to fill a small to medium sized room, corporate display, club or similar sized venue with superb, Fishman-quality sound.
Whether you're using your SA330x for speech, performance or playback, a full complement of inputs and outputs makes set-up a breeze.
Fishman Engineers designed the SA330x as a "Modified Line Array" and the results are spectacular! The SA330X fills the room with sound that can be heard clean and clear in the back row, without "blowing away" your audience in the front rows.
The Fishman SA330X – your audience will love you for it!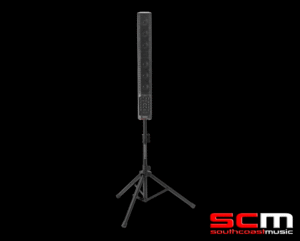 FISHMAN SA330x AT A GLANCE:
o 330 Watts – More than enough power for small and medium sized venues.
o Wide dispersion modified line array – Allows everyone in your audience to hear you clean and crisp, without "blowing away" the front row.
o Channel expandability via accessory port – Provides one-cable audio and power for the SA Expand.
o Full-range audio source handling.
o Subwoofer output – Dedicated output optimises system voicing.
o Modern industrial design – Strong, lightweight, good looking and easy to set up. Appropriate for all kinds of situations.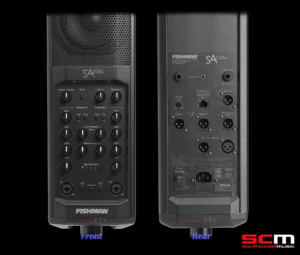 FISHMAN SA330x SPECIFICATIONS
o MODEL NUMBER: PRO-AMP-SL2
o POWER: 330 Watts, bi-amped
o MF/LF DRIVERS: 6 x 4″ mid-woofers, patented dual gap, high excursion design, neodymium rare earth magnets
o HF DRIVER: 1 x 1″ neodymium soft dome tweeter with Level control
o SPL: 113dB SPL @ 1 metre
o DRIVER CONFIGURATION: Modified Line Array; Ultra-wide horizontal dispersion & deeper sound penetration
o DIMENSIONS: H 1052mm (41.4″) x W 140mm (5.5″) x D 170mm (6.7″)
o TOTAL WEIGHT: 12.47kg (27.5 lbs) including stand and padded carry sleeve
o SA330x WEIGHT: 8.98 kg (19.8 lbs)
o STAND WEIGHT: 3.04kg (6.7 lbs)
o CARRY BAG WEIGHT: .45kg (1 lb)
OPTIONAL ACCESSORIES
SA SUB:    PRO-SUB-300
SA EXPAND: PRO-MIX-100
DELUXE CARRY BAG: ACC-AMP-SC2
SUB POLE STAND:    ACC-SUB-PM1