CHIAYO VICTORY 2000 – SYSTEM ONE
200 watt (120w rms) output
10″ two-way speaker system
Bluetooth  MP3/SD/USB Player Recorder
Wired Hand Held microphone included
Water-resistant Cover Included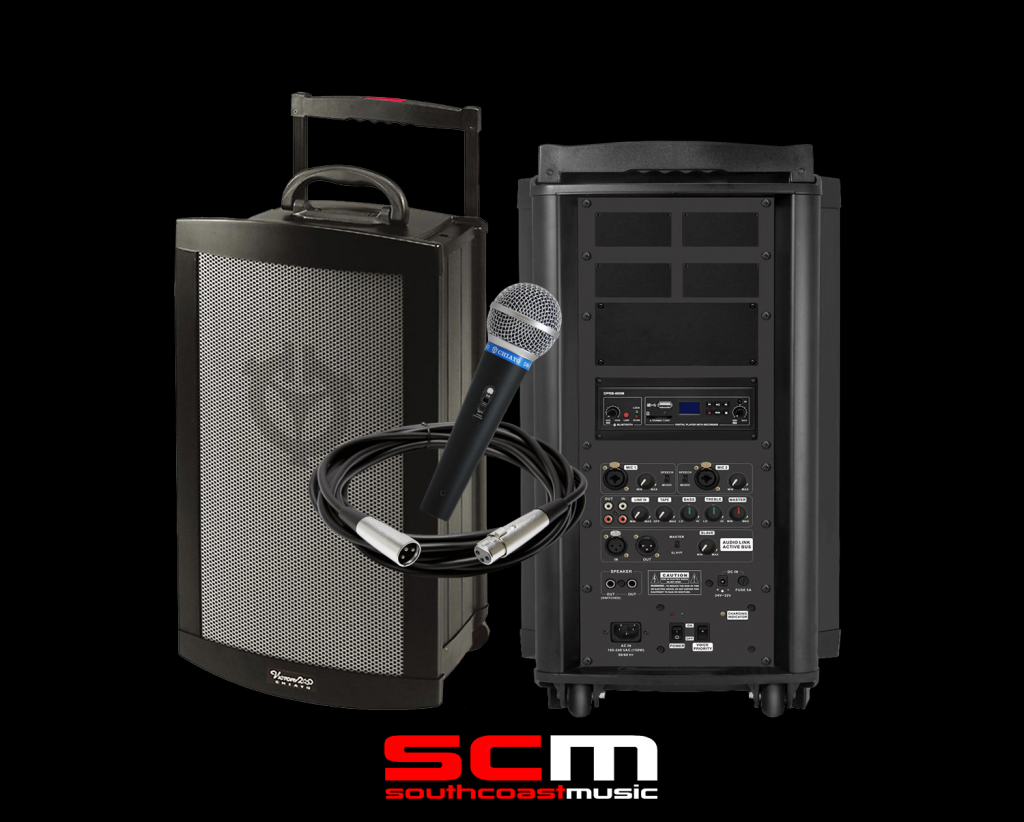 The Chiayo Victory 2000 is an easy to operate, multi-functional, powerful, portable sound system that can run on 240VAC power or its built-in smart-charge battery system. The Victory system is available in a variety of configurations to suit a wide range of applications.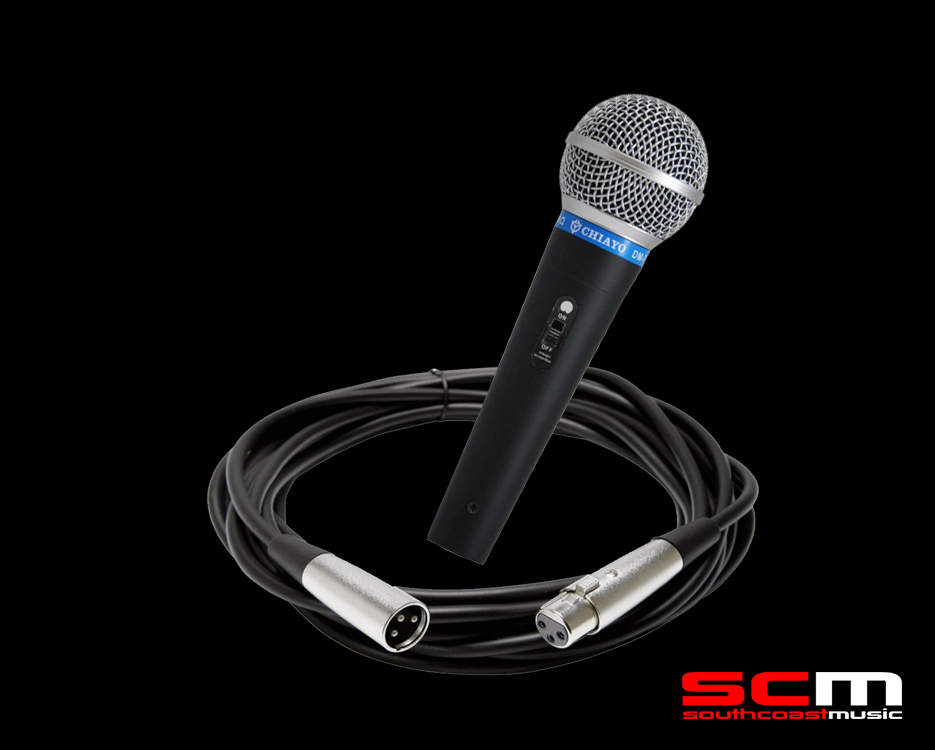 This is SYSTEM ONE – the basic system.
The basic Victory system does not have a wireless microphone or receiver. It does however come supplied with a hand held microphone complete with a 5m XLR cable.
It offers 200 watts of output power (120w rms) and has a lightweight and contemporary looking extruded aluminium chassis, integrated trolley, handle and wheels for easy transportation, as well as a water resistant cover which provides pockets for microphone storage and protection for the unit.
Also included is a Wireless Bluetooth MP3, USB, SD Player. The mixer offers a range of flexible wired input and output options including two XLR/Jack wired microphone inputs, RCA audio outputs and Inputs and a switchable MIC-IN audio mode that optimises the preamp for either Speech (balanced) or Music (unbalanced).
There are volume controls for Mic in, Line in, Media player and Master as well as controls for the Bass and Treble frequencies. A must have feature for systems such as this, is the Voice Priority function that automatically ducks the music level when speech is detected.
The Victory 2000 may be operated from both 240VAC power or the built-in Lead Acid battery with smart-charge circuitry.
Chiayo offer a comprehensive array of options for the Victory 2000. Please check our other listings or call us to discuss your specific requirements.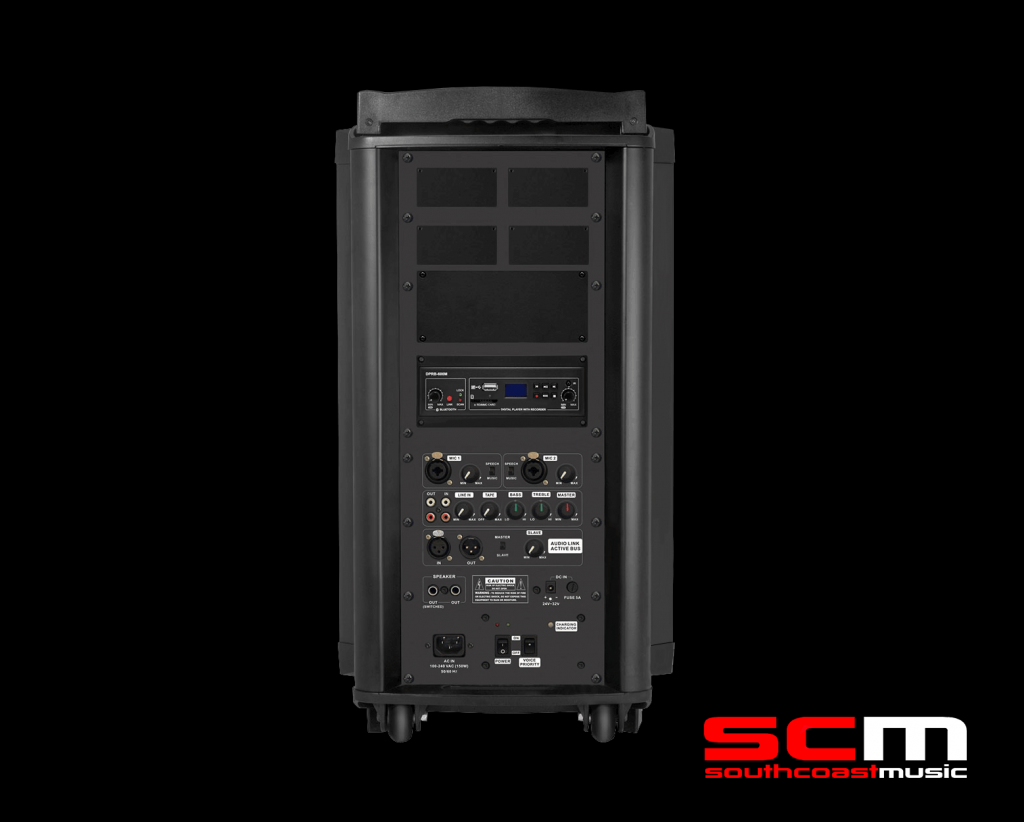 High efficiency Class-D amplifier produces 200 watts (120w rms) of output power
All-In-One! Easy to operate in both indoor and outdoors
Excellent aesthetic design built from a patented rugged aluminium enclosure
Rechargeable lead acid batteries eliminate all cables so you can take it anywhere!
Smart charging circuit with LED indicator
Speaker system: 10″ LF, 1″ HF and crossover
Integrated preamplifier, mixer and amplifier circuitry
Two XLR/Jack wired microphone inputs
Audio outputs: Line out (RCA), Active out
Audio inputs: Line in (RCA)
Volume controls: Mic in, Line in, Media player, Bass, Treble, Master
Switchable MIC-IN audio mode between Speech (balanced)/Music (unbalanced)
Voice Priority circuitry automatically ducks music during speech
SLAVE (active speaker) can have 1 or 2 receiver modules installed allowing it to function as an independent PA system
Wired Audio Link:Up to 20 x SLAVEs can be linked through IN/OUT jacks to form a larger wired system
Integrated retractable handle and wheels for easy portability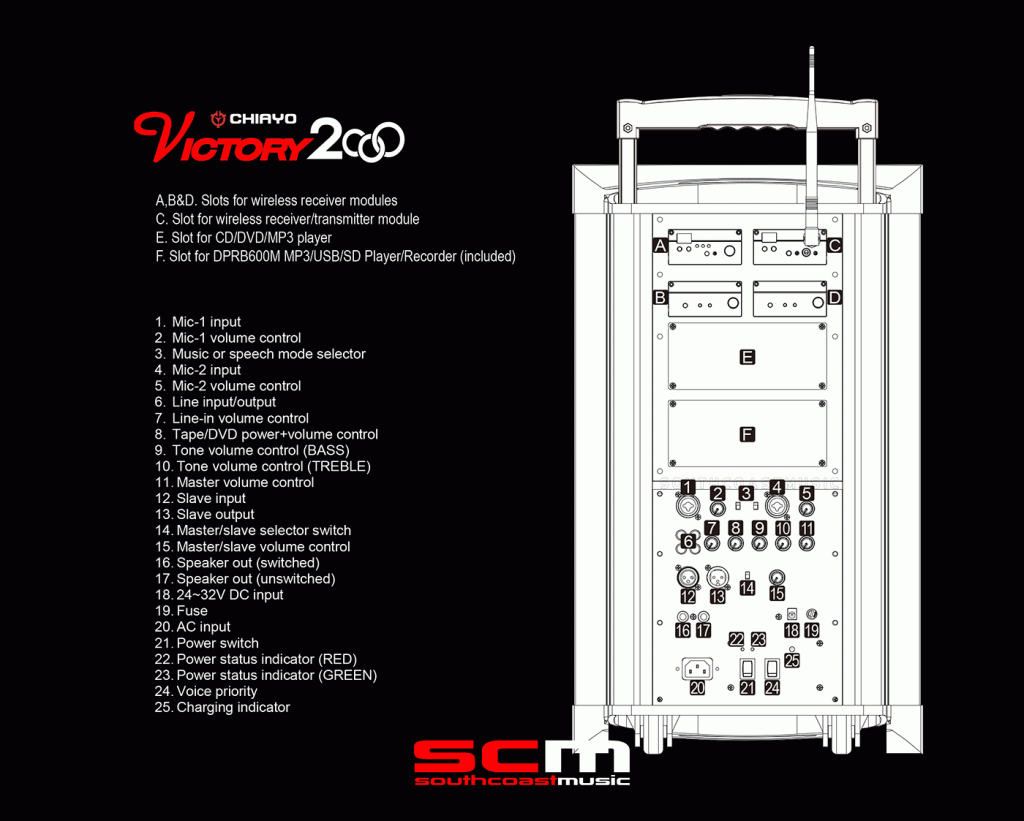 OUR PRICE INCLUDES FREE SHIPPING AUSTRALIA-WIDE!