YAMAHA TWELVE HUNDRED AND SIXTY WATT PREMIUM PA PACKAGE
o YAMAHA EMX5 1260W Powered Mixer
o 2 x YAMAHA CBR15 Speakers
o 2 x 20′ Speakon to Speakon Speaker Cables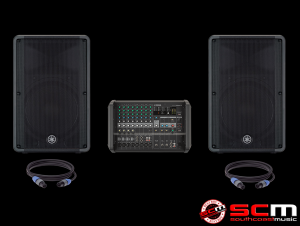 This is a great PA solution for Schools, Churches, Clubs, Bars, Small Bands, Duos etc, in fact, any application where clear, powerful sound reinforcement is required from a compact and highly portable system.
YAMAHA  are one of the World's most renowned Public Address Brands and this is a PREMIUM sound system that you will be proud to play through.
The YAMAHA CBR15s are compact, light weight cabinets that deliver amazing sound quality with punchy lows along with sweet, clear and focused high frequency performance. The EMX5 powered mixer is just one of the latest generation of powered mixers from the undisputed kings of portable PA – YAMAHA. Extremely light in weight, portable and with stunning power, professional features, Digital Effects and ease of use, the EMX5 is also surprisingly affordable.
YAMAHA EMX5 POWERED MIXER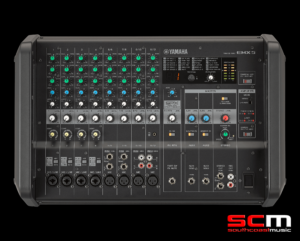 The new EMX5 Powered Mixer from Industry Giants, Yamaha has been specifically designed for clubs, schools, houses of worship musicians, performers and public speakers who require premium sound quality and convenient operation and are ready to take their sound reinforcement to the next level.
Despite the compact construction, only speakers, cables and a microphone are required to configure a fully functioning, extremely portable, reliable and great sounding PA system with all the tools you need to mix, process and deliver your audio just the way you want, anytime and anywhere you want.
o Powerful & High Efficiency Class-D Amplifier
o Robust But Extremely Portable Design
o Easy Setup, Easy Operation
o Comprehensive Range of Input & Output Channels
o 1-knob Master EQ (EMX5 only)
o Onboard Feedback Suppressor
o 3-band Equalizer Control
o Flex 9 Graphic Equalizer
o 1-knob COMP (compression)
o Rack-Mounting
o Easy to select Professional Effects and Signal Processing
o Flexible Speaker Connectivity
o Internal Universal Power Supply
o Exclusive Australia-Only Five Year Warranty
o Powerful & High Efficiency Class-D Amplifier
The EMX5 features a high-efficiency Class-D power Amplifier. Despite incredibly low power consumption and surprisingly low weight, the EMX5 Power Amps are capable of very high volume output delivering 1260W (2 x 630W) of output power. Onboard overload protection is built-in to improve reliability, prolong component life and performance quality.
o Robust But Extremely Portable Design
The EMX5  features a robust and portable design with a rugged, impact-resistant, powder-coated metal chassis geared towards extended operation and life on the road. Large handles on the front and back of the enclosure help to protect knobs and terminals on the surface of the chassis from impact or pressure during transport as well as adding to overall portability.
o Easy Setup, Easy Operation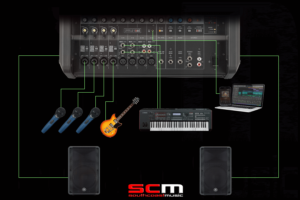 With intuitive, user-friendly architecture, the EMX5 can be setup and operated quickly and easily by users with a fundamental understanding of sound reinforcement. A versatile enclosure design allows users to choose from a variety of vertical or horizontal placements depending on the type of application. Whether used in a tabletop, floor or installation setting, the EMX5 has been designed to get the job done.
o Comprehensive Range of Input & Output Channels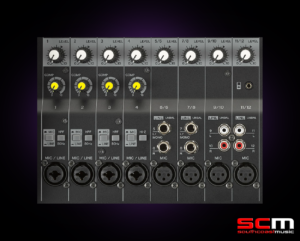 The EMX5 is equipped with four mono input channels and four mono/stereo input channels, allowing up to 8 microphones and line-level devices such as keyboards and portable playback device to be connected to each channel. Additionally, channel 4 can be used with Hi-Z inputs to connect instruments such as guitars or basses directly. The EMX5 is also equipped with 2 AUX SEND connections for a monitoring system or external effect devices, REC OUT unbalanced RCA pin output jacks to connect an external recorder, and STEREO OUT TRS phone jacks to output the mixed stereo signal.
o 1-Knob Master EQ™ (EMX5 only)
EMX5's 1-Knob Master EQ™ lets you apply optimised EQ settings with the simple turn of a knob. The SPEECH setting is geared towards meetings, seminars, or conferences with a limited lower end for clear, defined speech; MUSIC offers a more balanced sound tailored to acoustic or band performances; and BASS BOOST is ideal for DJ performances or audio playback that puts a priority on emphasising the base sound.
o Feedback Suppressor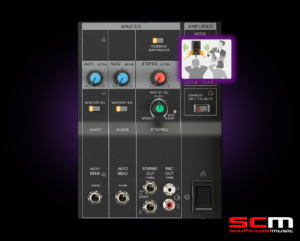 Few things make a live performance or speaking engagement take a negative turn like the sudden, uncomfortable, and often embarrassing howling of unwanted feedback. The Yamaha EMX5 is equipped with a Feedback Suppressor that utilises a unique Yamaha digital technology whith a seven-band notch filter to instantly eliminate annoying feedback with the single switch of a button.
o 3-band Equalizer Control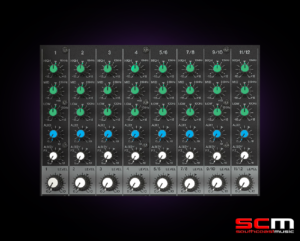 With individual knobs you can adjust the [HIGH], [MID], and [LOW] audio frequencies. Instantly adjust each individual channel to optimise the sound of the input device. Simply turn the appropriate control to either amplify (boost) or attenuate (cut) the corresponding frequency band.
o One Knob COMP (compression)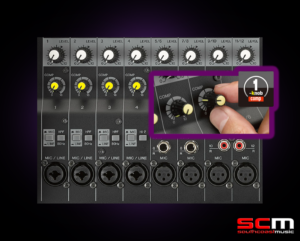 The EMX5 is equipped with the popular 1-knob COMP function used with great success in the Yamaha MGP and MG series models. By simply operating a single control, it is possible to get optimal compression for vocals and instruments. As the [COMP] control is turned to the right, the threshold, ratio and output gain are adjusted simultaneously.
o Rack-Mounting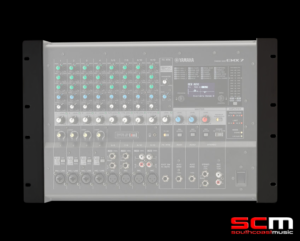 Your EMX7/5 can be mounted into a 19-inch rack by using the RK-EMX7 Rack Mount kit (sold separately).
o Comprehensive, Professional Effects and Signal Processing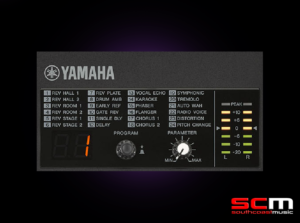 The EMX5 is equipped with a powerful, comprehensive DSP section that provides a total of 24 different effects that are in the same league as the famed Yamaha SPX effect processor series used by professionals. It is possible to add reverb and delay effects that simulate the sound of different performance environments, such as concert halls and small clubs.
o Flexible Speaker Connectivity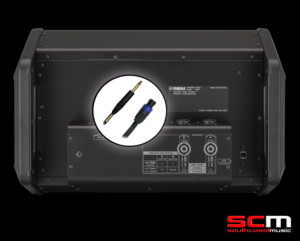 The EMX5 is equipped with speaker jacks which can be used with both 6.3mm (1/4″) TS phono and speakON plugs.
o Internal Universal Power Supply
The EMX5 has a highly-efficient internal universal power supply for worry-free operation – even in environments prone to potentially damaging power fluctuations. The internal power supply also simplifies rack mounting of the console for installed applications, eliminating the need for a bulky adapter or additional connections.
YAMAHA CBR15 PASSIVE SPEAKER CABS
The YAMAHA CBR15 passive speakers are superb. The YAMAHA CBR15 is a new passive loudspeaker developed by adopting the extensive knowledge of speaker design and acoustic technology that Yamaha has accrued over a long and celebrated history of making speakers of every kind.
YAMAHA 's Audio Engineering Design Team have combined a meticulous materials selection process with thorough customisation of the audio components along with a fresh and innovative approach to speaker design to deliver a high-power, high-definition audio solution in a highly portable and versatile design that is equally at home in front-of-house, floor monitoring or rigged configurations.
While the YAMAHA CBR15 is a compact speaker enclosure, it delivers astonishing power for its size and weight making the CBR15 ideal for most applications including small to mid sized venues.
Expect rich, clear sound and reliable performance from the YAMAHA  CBR15 passive loudspeaker.
With superb power handling capabilities and 96dB SPL sensitivity, these loudspeakers deliver impressive performance.  Live sound engineers will especially appreciate the CBR15's HF-protection circuit which prevents speaker damage from excessive input.
YAMAHA  have also designed the CBR15 as either a Front of House speaker or on its side as a floor monitor. However you use it, you and your audience will love the superb sound and performance of the YAMAHA CBR15 passive loudspeaker.
Your new system also includes a pair of quality speaker cables with professional speakON connectors.