CONSIDER YOURSELF . . .
LIONEL BART
F'ings ain't wot they used T'Be . . .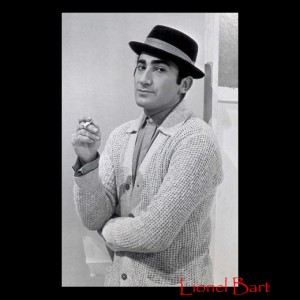 The life and Times of a Musical Genius
For many on this lonely planet, the notion of writing a number one hit song or a sellout musical is nothing more than a flight of fancy. For Lionel Bart, all of the above became his reality and just as he was to become one of the most successful composers of the late 1950 and early '60s, he was also to become a tragic victim of his own success.
Lionel Bart was born Lionel Begleiter in 1930 to Jewish refugees in London's East End. The youngest of seven siblings, Lionel's family were poor, but not destitute and music filled his early life.
It may seem like another planet now but in the Sixties, Lionel Bart was the epitome of cool. His songs, including Little White Bull and Big Time, topped the charts and he was the musical genius behind the hit musical Oliver! However, his fall from grace was just as dramatic as his ascent. For all his fame and incredible – but short lived – fortune, Lionel Bart ended up an impoverished alcoholic living in shabby obscurity — a cautionary tale relayed in this fascinating new biography.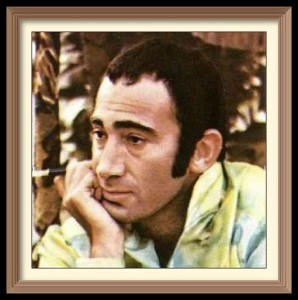 When Lionel was six, his headmistress told his parents that their son was an 'artistic genius '. . . and at just 16 years of age he won a scholarship to the prestigious St Martin's School of Art in the West End of London and went on to become part of the hip Soho crowd.
In 1948, aged 18, he was called up for National Service with the RAF. On an outing from his airbase, he went to see David Lean's film of Charles Dickens' novel Oliver Twist. Turning to a friend, he said: 'One day I'm going to write a musical based on that story and it will be better than any American musical.'
Back in London in 1950, he changed his surname to Bart — snappier, easier to spell on credits and less foreign-sounding — and found work at an East End theatre as a producer. At a Soho party he met the then 20-year-old Tommy Steele, Britain's first rock 'n' roll star. He wrote Rock With The Cavemen for Steele in 1956 which spent five weeks in the charts.
In 1958, Lionel discovered a bambi-faced teenager, Harry Webb, who was renamed Cliff Richard. He recruited Cliff and his band, The Shadows, to sing three of the songs he had written for a forthcoming film. One of them was Living Doll. Lionel wrote it in ten minutes and it became a No 1 hit in August 1959.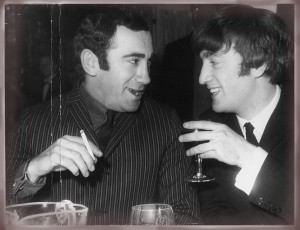 Lionel Bart never learned to read or write music — he sang into a tape recorder for someone else to transcribe — and had no formal musical training. He believed in keeping tunes  and lyrics simple. 'I never spent  more than an hour on a tune,' he  said. 'Songs should be like sneezes — spontaneous.'
Despite his chart success, he yearned to have his songs performed in the Theatre.
The big break came at the Stratford Theatre in East London, writing songs for a Cockney comedy called "Fings Ain't What They Used T'Be". Lionel turned it into a musical which opened in Stratford in February 1959 and was an immediate hit, transferring after a year to the West End. Princess Margaret and the Queen both saw it, despite its risque scenes and dialogue.
The Lord Chamberlain, who was in charge of censorship, wrote a letter demanding: 'The builder's labourer is not to carry the plank of wood in the erotic place and at the erotic angle that he does, and the Lord Chamberlain wishes to be informed of the manner in which the plank is in future to be carried.' The request was ignored.
In 1959, Lionel began work on the songs and story for what would become his masterpiece, Oliver! To his dismay, no Theatre would touch it because, with its tale of orphans and poverty, it was considered too 'downbeat'.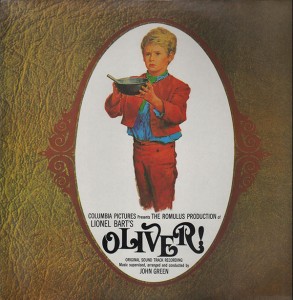 Eventually, one producer agreed to stage it on a shoestring budget. Despite promising preview performances, on its first night in the West End Lionel sat rigid with fear in the audience. Petrified that it would be a flop, he bolted out of the Theatre. After pacing the streets for more than an hour, he made his way back.
Lionel Bart had arrived.
Overnight, Lionel became phenomenally wealthy. At one point, his song-writing earned him as much in a minute as most people earned in a week. Lionel mixed with old showbiz: Judy Garland and Noel Coward became good friends. And new: The Beatles, the Stones, Michael Caine and Terence Stamp.
Oliver! transferred to Broadway in 1963 to tremendous acclaim. He then wrote the theme song for the second James Bond film, From Russia With Love.
But personal happiness eluded him. For years, he was seen with the singer Alma Cogan, but the relationship was never consummated — for the simple reason that Lionel was gay. He had a long-term boyfriend followed by a series of casual lovers, but because of the incredible stigma of the time, he did not publicly come out until 1971, four years after homosexuality was legalised in Great Britain.
In 1962, he wrote another musical, Blitz!, based on his wartime childhood in the East End followed by another musical, Maggie May, marginally successful, neither came close to the success of Oliver!
Undeterred, in 1965 and under the influence of LSD Lionel wrote "Twang!" Devoid of any coherent storyline – by the time the curtain went down on the first night of Twang!!, most of the audience had left. The critics savaged it.
Within six years, Lionel had gone from box office gold to poison. No producer would touch him.
The downward spiral had begun.
This is just skimming the surface of a beautifully written story about a skinny little jewish boy from the East End who couldn't even read music.
FINGS Ain't Wot They Used T'Be: The Life Of Lionel Bart by David and Caroline Stafford offers you a previously hidden insight into the music scene of the late 1950s and early'60s in Great Britain, then the Global epicentre of contemporary music.
comment: A fantastic read…
comment: I had no idea!…
This book is an amazing read and Lionel Bart's story so compelling that a motion picture chronicling his life with Geoffrey Rush in the lead role is scheduled for release in 2016.