Fender FXA5 Pro In-Ear Monitors (Silver)
Dual-Balanced-Armature Array Drivers
Comfortable and Secure universal Fit
19 Hz to 21 kHz Frequency Response
Includes Carrying Case
Secure-Fit Tips
Detachable MMCX Cable
3.5mm (1/8″) to 6.3mm (1/4″) Adapter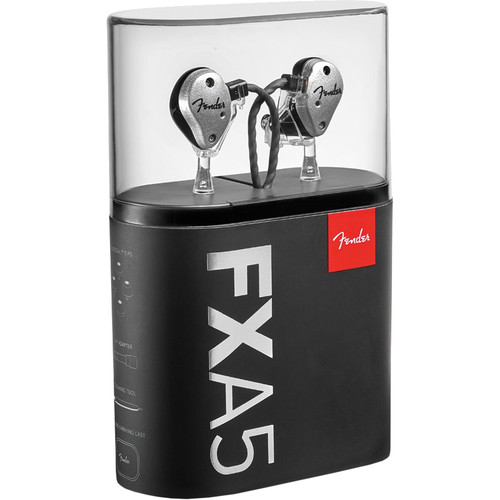 These comfortable low-profile monitors use patented technology for highly detailed sound and superb performance.  Includes a deluxe carrying case, adapter, an assortment of secure-fitting tips for the perfect fit as well as a cleaning tool and cable. The perfect 'buds' for your in-ear monitoring system or just the most amazing set of in-ear headphones you may have ever heard!
The Fender FX5 Pro In-Ear Monitors from Fender add exceptional performance and clarity to your listening experience. Designed and hand-assembled in Nashville, USA, they offer a solid balance of transparency, ambience reduction and clear headroom for music professionals and audiophile enthusiasts.
Boasting a frequency response of 19 Hz to 21 kHz and built with a dual-balanced armature array and groove-tuned bass ports, the monitors deliver a sound that is smoothly balanced throughout the entire audio spectrum. In addition, their universal fit wears like a custom monitor, providing cushion-like comfort. Also included are a carrying case, a 3.5mm (1/8″) to 6.3mm (1/4″) adapter, secure-fit tips, a cleaning tool as well as detachable MMCX cable terminated with a 3.5mm (1/8″) mini-jack connector.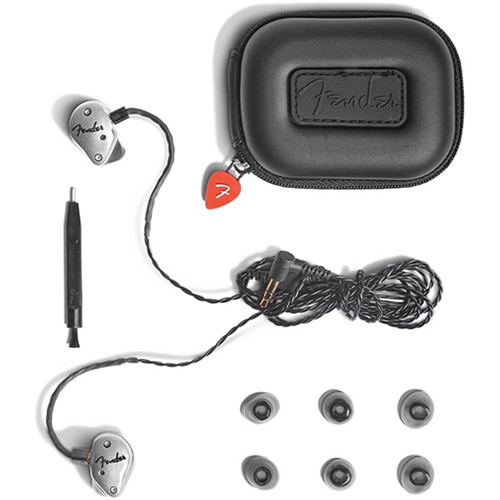 Fender FX5 Pro In-Ear Monitors – Breakthrough Technology
A dual-balanced armature array acts as a single-point speaker array for precision performance throughout the sound spectrum. When paired with a custom 6.5mm precision driver and Groove-tuned port, these monitors offer the best of both worlds—fast response with detailed high end and deep, rich bass.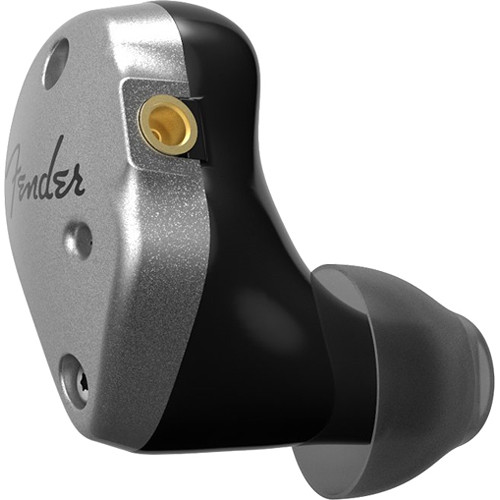 Fender FX5 Pro In-Ear Monitors – Detachable MMCX Cable
Constructed from silver-plated low-oxygen copper cable, the MMCX cables reduce signal loss, ensuring the maximum amount of audio goes where it belongs-your ears. The square connector is easy to grip, even when exposed to moisture, making cable swapping a snap. The integrated formable wire creates a secure over-the-ear fit
Fender FX5 Pro In-Ear Monitors – DHT (Digital Hybrid Technology) Shell
The DHT shell provides a custom-molded-like fit derived from scanning literally thousands of ear canals and then compiling the results to create an "ideal" fit that works for 95% of users. The 3D-printed housing is the result of scanning thousands of ears to create a hybrid custom/universal fit. 3D printing allows the IEM's curves to better match the natural contours of the ear for a tighter, more comfortable fit than traditional injection molding. The 3D-printed housing fits 95% of ears like a custom-molded monitor and when combined with the cushion-like comfort of secure-fitting tips, they are ideal for long playing sessions.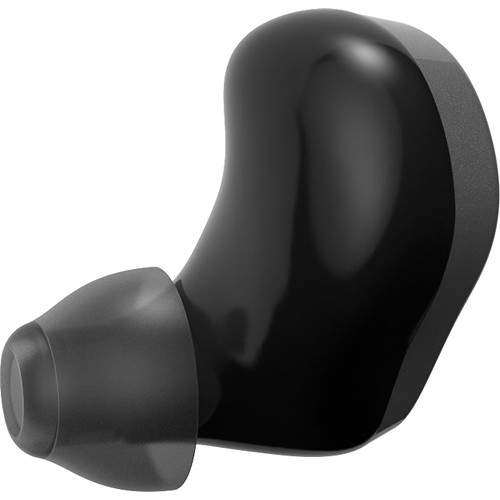 Fender FX5 Pro In-Ear Monitors – Superb Performance
Highly sensitive, these monitors generate 120dB @1mW for crystal-clear, distortion-free audio with plenty of headroom so you can hear everything clearly, even on loud stages. Ideal for almost any listening situation with 36-ohm +/-10% @1kHz impedance, they can be driven by a smartphone for a premium listening experience. Eliminating up to 22dB of ambient noise, they reduce interference while simultaneously protecting your hearing from the strong transients that can occur in a live environment.
Frequency Response: 19 Hz to 21 kHz
Driver Size: 6.5mm (0.26″)
Noise Reduction: NRR 22 dB
Input Impedance: 16 Ohms ± 10% at 1 kHz
Cable: 3.5 mm (1/8″) detachable MMCX cable
Package Weight: 295 grams (0.65 lb)
Box Dimensions: L18.29cm x W12.19cm x H7.11cm
UPC: 885978715008