Eddy Finn EF-BU1 Concert Size Banjo Ukulele with Gig Bag
• Maple Body and Resonator
• Rosewood Fingerboard
• Bone Nut
• Remo Weatherking Head
• Geared Tuners
• Pro-SCM Pfessional setup
The Eddy Finn EF-BU1 Banjo Ukulele is about the most fun you can have standing up or sitting down!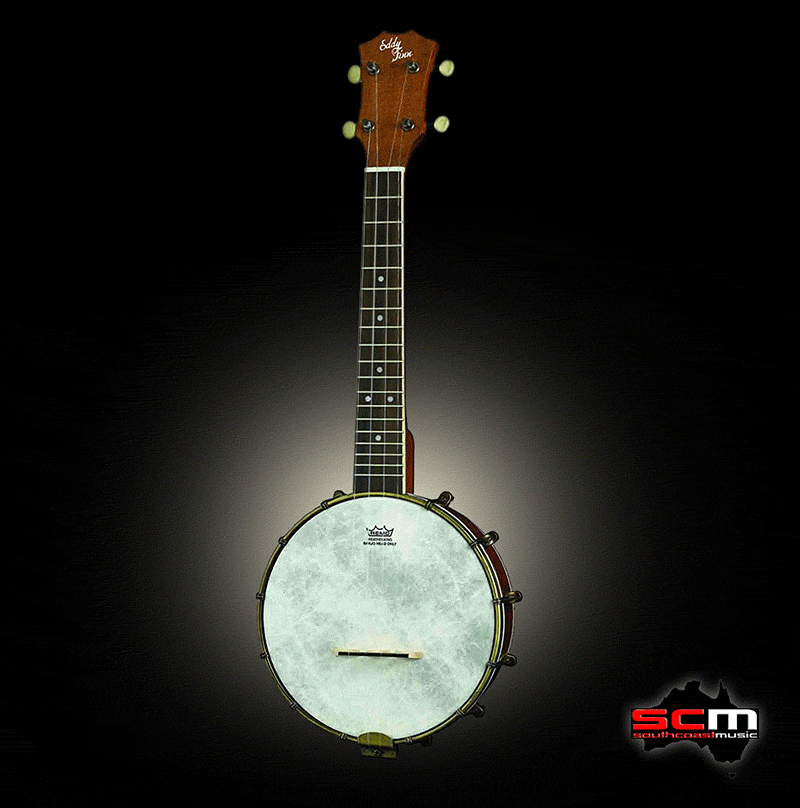 If you play in a group and need to be heard above the ensemble, this is your uke! If you are looking for a unique uke for your collection or are simply looking for a different tone, this Eddy Finn concert size banjo ukulele is worthy of your consideration. Read on . . .
This concert size ukulele is probably the most popular size among performing artists. Tuned the same as the Soprano and Tenor – GCEA, concert ukuleles are larger than their smaller soprano siblings. The larger size and fret spacing afford more room to make chords and the increased string tension make it harder to bend strings out of tune. People with larger hands and bigger fingers will find this concert ukulele easier to play than the smaller soprano models.
With our professional inhouse setup, the Eddy Finn EF-BU1 is a great playing and sounding banjo ukulele.
Also know as a banjolele, this Eddy Finn features a closed back design which provides excellent projection. Loud enough to be heard in any acoustic music situation, the Eddy Finn banjolele has a tone that is punchy and focused. If you prefer the sound of an open back banjo uke, the back is removable via small screws.
This is a quality banjo only strung like a ukulele. The 12 bracket Body (Pot) and Resonator (Backplate) are both made fromu Maple. The neck is crafted from hard Maple and features a Rosewood fretboard with Mother of Pearl position markers. The REMO Fiber Skin head is also tensioned and tuned by our skilled technician prior to shipping.
Comes complete with an Eddy Finn Padded gigbag!
Eddy Finn EF-BU1 Concert Size Banjo Ukulele Specifications:
• Banjo Style: Closed Back
• Number of Brackets: 12
• Resonator Material : Maple
• Neck Material: Hard Maple
• Fingerboard Material: Rosewood
• Bridge Material: Maple with Rosewood Cap
• Nut Material: Bone
• Flange: Flat Mini 8″
• Fretboard Position markers: Mother of Pearl Inlays
• Rim Material: Maple
• Tuners: Open Geared
• Hardware: Antique Brass
• Head: REMO Fibre Skin
• Case: Heavy duty nylon gig bag
• Weight: 2kg 270 g
#1 Banjoleles, also called Banjo Ukuleles , have been with us since the early 1900's. These instruments were developed for Ukulele players who simply wanted more volume than a standard Ukulele could provide. These instruments were popular early on with Vaudeville acts of the day
#2 The construction is the same as a banjo but with a 4 –string ukulele neck and it is commonly tuned G–C–E–A (Standard Ukulele "C Tuning") or A–D–F♯–B ("D Tuning"). Like the banjo, early models featured Calf Skin heads but present day Banjo Ukuleles have synthetic Mylar heads. They are also fitted with a banjo style bridge and use standard Ukulele strings.
#3 Banjoleles are available in both Soprano and Concert sizes and come in both open back and closed back designs. The closed back versions have more volume and enhanced projection compared to their open back siblings. If you can play the standard Ukulele, you can play the Banjolele. It is all a matter of personal style.