CASIO CT-X700
Digital Portable Keyboard Workstation
• New AiX Sound Engine
• 600 Tones
• 195 Rhythms
• 32 Registration Memories
• Smart Phone Shelf
• Tablet Ready Music Rest
• Centre Channel Cancel
• 2.5W + 2.5W
• AC adapter included
• Five Year Warranty
Our price includes secure Delivery with Tracking to anywhere in Australia!
COVID-19 has created a situation unparalleled in modern human history. Other than the cost to human lives, the economic cost is without precedent. Price rises from manufacturers and distributors is almost a monthly occurrence as our currency falls in value, world-wide demand spikes and factory closures along with functioning factories unable to keep up with demand has created a situation we have never experienced. Some retailers continue to advertise prices for stock that they don't have and when it does arrive, will likely cost more than they last sold those items for. At southcoastmusic we are doing our best to stay abreast of the constantly changing situation and are doing our utmost to only advertise for sale what we actually have in stock. So, check our price – we include tracked delivery in our price (which is anything but free!).
Wherever you are on your musical journey, and no matter your budget, you shouldn't have to compromise on sound quality. Meet the CT-X700. Its modest price makes it the right choice for casual or beginning players, and its stunning sound makes it a must-have for keyboardists of any level who need a portable instrument.
What truly sets the CT-X700 apart from other portable keyboards is its heart: The powerful AiX Sound Source. This technology makes the CT-X700 sound like a keyboard costing hundreds, if not thousands of dollars more.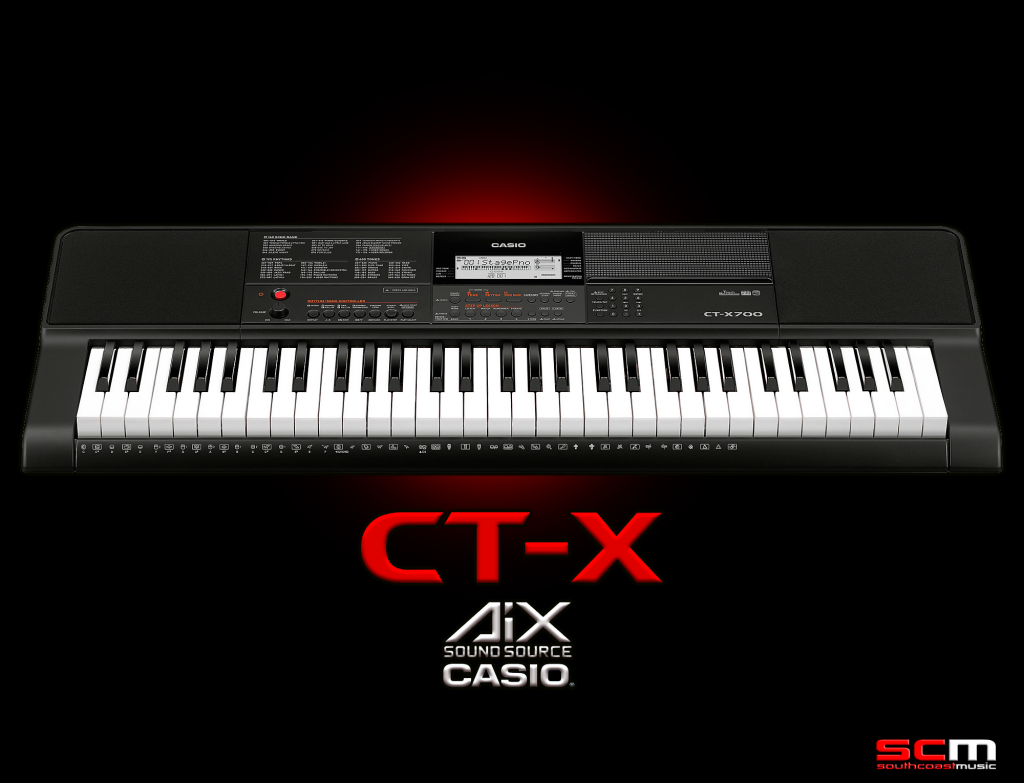 Sound Your Best!
Play a grand piano, and hear a meticulously-recorded 9-foot grand in a virtual concert hall. Play an electric piano, and hear vintage phasers and amplifier models that take you back in time.
Play a flute, trumpet, or saxophone, and hear natural breath and vibrato. Play a bass, and hear the player switch techniques based on how hard you press the keys. Play a synth, and add an arpeggiator and drum part, and create the next Electronic Dance Music hit.
The list goes on. Use the Category button to explore the 600 Tones, and in each category you'll find an incredible variety of lifelike instruments that go far beyond your expectations.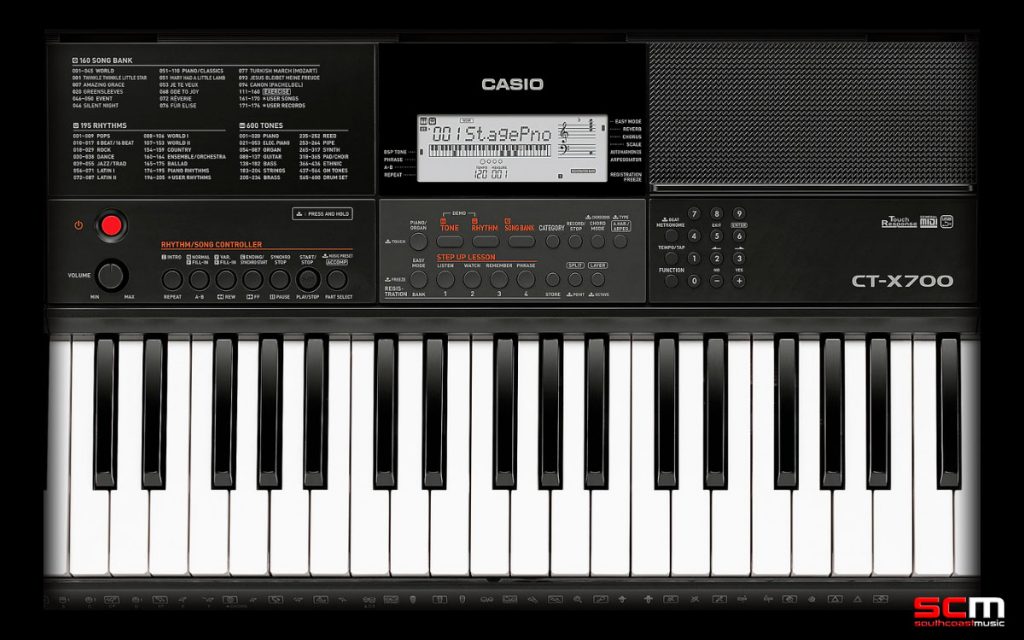 Bring In The Band!
With hundreds of built-in Rhythms, you'll always have a band ready to jam. The variety of Rhythms spans the globe as well as the history of popular music. You'll find old favorites and chart-topping hits, all played with incredibly realistic instruments that sound better than ever. The drum kits come alive with authentic acoustic drums, vintage drum machine sounds, and a huge collection of percussion instruments and sound effects.
Built in song and Lesson System!
Quickly capture your inspiration with the six-track recorder, or enjoy the library of 100 built-in Songs. Use the Step-Up Lesson system, to easily learn the Songs, with the display showing proper fingering and notation.
Connect and Create!
The CT-X700's class-compliant USB-MIDI port connects to any Mac, PC, Android or iOS device with no drivers or installation needed. The included music rest is designed to support tablets, and there's even a built-in smartphone shelf to hold your device as you use the CT-X700 with your favorite music apps.
Sound Amazing – Anytime, Anywhere!
The CT-X700 is compact and lightweight, with a tough molded plastic case. and its optional battery power makes it perfect as a go-anywhere musical partner.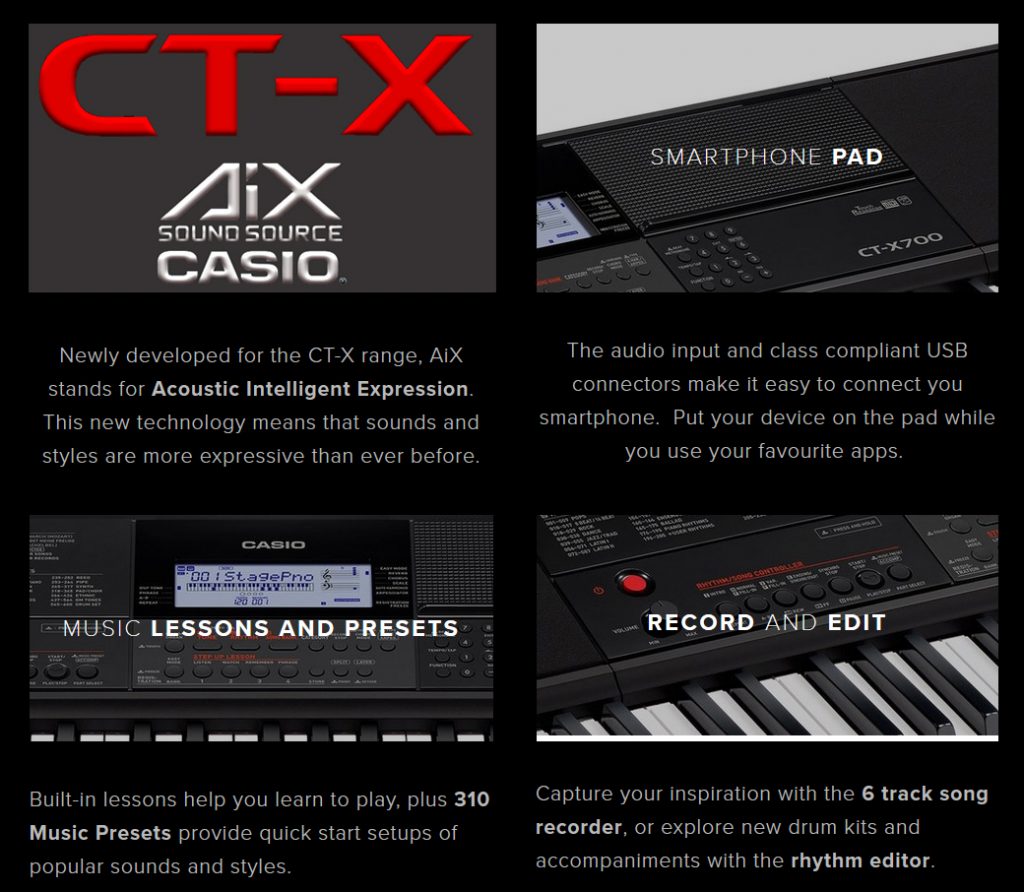 CASIO CT-X700 SPECIFICATIONS
• Display: Backlit LCD Display (108mm x 38mm)
• Numeric Keypad: Yes
• Number of Keys: 61
• Touch Sensitivity: Yes – 3 Variations and Off
• Number of Voices: 600
• Sound Source: AiX
• Polyphony: 48 Notes
• Digital Effects: Yes – DSP, Reverb, Chorus, Delay, Master EQ
• Number of Rhythms/Styles: 195
• Metronome: Yes
• Inputs & Connectivity: Headphones, Sustain Pedal, AUX in, USB to Host
• Recording Playback: Midi, 6 Tracks, 5 Songs, 40,000 notes Per Song
• Melody Cancel via Audio In: Yes
• Arpeggiator: Yes – 100 types
• Registrations: Yes – 4 sets x 8 banks
• Freeze Function: Yes
• Chord Book: Yes
• Transpose: Yes
• Tuning: Yes
• Scale Setting Preset: Yes – 17
• Octave Shift: yes
• Smartphone Shed: Yes
• Power Supply: 9.5VDC-240VAC (included)
• Battery Operations: 6 x AA Batteries (not included)
• Music Rest: Yes (Tablet Supported)
• Amplification System: 2.5W + 2.5W RMS
• Speaker System: 2 x 12cm Speakers
• Product Dimensions: 948 mm x 350 mm x 109 mm
Buy with confidence! southcoastmusic is an authorised reseller of Casio EMI products.