BEALE AK140 PORTABLE KEYBOARD
61 Note Touch Sensitive Keyboard with Lessons, Metronome, USB & Arrangement Functions!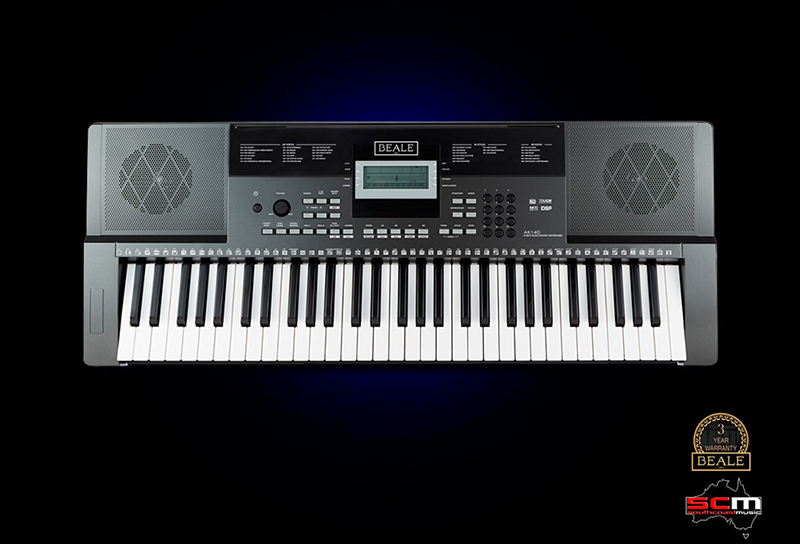 PERFECT FOR BEGINNERS AND BEYOND!
Designed in Australia, the Beale AK140 is the perfect portable keyboard for beginners & those looking for a space efficient learning keyboard. With 100 demo songs and 100 music library presets to assist learning in a fun & interactive environment, the Beale AK140 is the ideal solution for the music classroom too.
The Beale AK140 features a wide range of high quality digitally sampled acoustic & electronic sound selections that include pianos, organs, guitars, orchestral, synths & Drums – 320 Sounds in all to delight and inspire.

PLAY ALONG WITH YOUR OWN BACKING BAND!
You can also play along with any one of the 110 Interactive Arranger patterns in a variety of musical genres, effectively putting a whole backing band at your fingertips to play along with or create real time arrangements.
FULL SIZE TOUCH SENSITIVE KEYS!
The Beale AK140 features 61 full size Touch Sensitive keys that allow for expression & dynamics – an important factor especially for budding piano players.
The Split & Layer keyboard modes allow you use 2 different sounds at the same time. You can split sounds for Left & right hand parts, like Bass & Piano or Layer 2 sounds across the whole keyboard like piano & strings.
The on-board Music Tutor system is an added bonus on what is already a mighty musical instrument – will guide you through on board lessons with Metronome & Chord dictionary functions to assist the learning process.

GET CONNECTED!
Housed in a rugged and modern looking synth style chassis, the AK140 comes complete with a detachable music stand and built-in stereo sound system. A headphone output is included for private practice.
With the added benefit of USB-MIDI Connectivity you can connect directly to your Computer for interaction with the wide range of Music Software Programs available today.
POWER SUPPLY INCLUDED!
The Beale AK140 can be powered by an 240VAC Adapter or alternatively, battery power – either way you're ready-to-go for either home or portable use.
The AK140 has everything you need to start making music today – what are you waiting for!

BEALE AK140 PORTABLE KEYBOARD SPECIFICATIONS
• Keyboards: 61 Full Size Touch Response Keys
• Number of Voices: 320
• Number of Arrangement Styles: 110
• Number of Music Library Presets: 100
• Number of Pre-Recorded Songs: 100
• On-Board Lessons: Music Tutor system with Chord dictionary
• Metronome: Yes (Tempo range 30-280bpm)
• Split, Layer & transpose Keyboard Modes
• Music Song Recorder – Record & playback your performance including backing tracks.
• O.T.S (One Touch Settings): 4 Memory Locations
• Save & Recall all Auto-accompaniment related settings including Voices, digital effects & styles
• Multi-function LCD Display & intuitive control panel
• Detachable Music Stand
• Connections: USB – MIDI, Sustain Pedal, Audio & Headphone Output.
• Includes AC power supply or battery power option available for portable use.
• Auto Power Off timer – 30 or 60 Minutes.
• Sound System: (Stereo)
2 x 3W Built-in Speakers
• Dimensions: W110cm x D30cm x H2.5cm
• Weight: 8kg
• Warranty: Three Years