CASIO CTK5200
61 Note Portable Arranger Keyboard
INCLUDES…61 Note Portable Arranger Keyboard- RRP$399.99
INCLUDES…AC Adaptor – $40 VALUE!
INCLUDES…Delivery to your Door – $30 VALUE!
The all new CASIO CTK5200 delivers a full set of functions conceived to assure complete player satisfaction along with new contemporary styling designed to impress.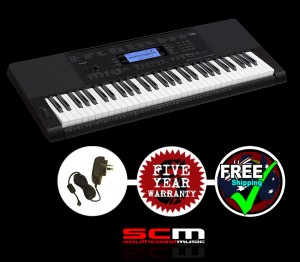 CASIO CTK5200 600 HIGH QUALITY TONES
All of the 600 built-in tones, including piano and acoustic instrument tones, now sound better than ever before! 48 note maximum polyphony provides plenty of margin to minimise the chance of notes being dropped when tones are layered and when playing with Auto Accompaniment.
CASIO CTK5200 PIANO STYLE KEYBOARD
An easy action keyboard with block keys resembling those of an acoustic piano.
CASIO CTK5200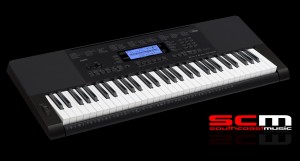 CASIO CTK5200 TOUCH RESPONSE
Touch Response lets you add delicate nuances to notes by varying how much pressure you apply to keyboard keys. The harder you strike the key, the louder the sound…just like an acosutic piano.
CASIO CTK5200 PITCH BEND WHEEL
The pitch bend wheel makes it easy to add realistic sounding guitar choking, sax bending, and other effects to your playing.
CASIO CTK5200 SIX TRACK RECORDER
On board is a 5 song, 6 track recorder where you can compose and store your own music. This is a great tool for capturing your creative moments as well as for practicing.

CASIO CTK5200 SD CARD SLOT
Song sequencer, rhythm editor, and other data can be saved to an SD or SDHC memory card. SMF (Standard MIDI File) data stored on an SD or SDHC memory card can be played back on the keyboard.
CASIO CTK5200 STEP-UP LESSON
Use the step up lesson feature to learn new songs. You can even load in your own user songs (SMF format, via computer USB) and the keyboard will help you learn.
CASIO CTK5200 CHORD BOOK
You can use the Chord Book to look up chords you do not know how to play. You can hear what a chord sounds like and view on the screen the notes that make up that chord. It can even show you inverted forms of the chord, making the Chord Book a valuable reference.
CASIO CTK5200 REGISTRATION MEMORY
Using Registrations, you can save your favourite setups, including tone, rhythm, and other settings for instant recall when you need them. Registration memory simplifies performance of complex pieces that require successive tone and rhythm changes.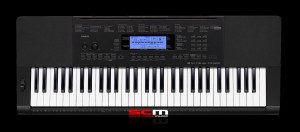 CASIO CTK5200 SAMPLING FUNCTION
You can sample a sound from a portable audio player, or other device, and then play the sound on the keyboard. You also can use sampled sounds to compose music. The sampling feature is a great way to create new sounds that are highly creative.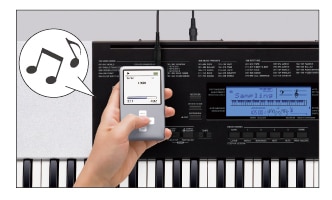 CASIO CTK5200 AUDIO-IN
Connecting a music player to the AUDIO IN jack causes the audio from the player to be output through the keyboard's speakers. Of course, you can play along with the audio, which means you can enjoy jamming with your favourite artists.
CASIO CTK5200 ARPEGGIATOR AND AUTO HARMONISER  
With the arpeggiator, you can play various arpeggios and other phrases automatically by simply pressing keys on the keyboard. Both arpeggio and stroke play are available for guitar, which provides you with a wide range of versatility. An Auto Harmonise feature automatically adds harmony to melody notes you play with your right hand to add greater depth to your melodies.
CASIO CTK5200 FIVE YEAR WARRANTY
All Casio keyboards, digital pianos and synthesisers purchased from an authorised Australian retailer are backed by a 5 year warranty.
CASIO CTK5200 PLUS BONUS AC ADAPTOR AND FREE P+H!