CASIO® AP-470BK DIGITAL PIANO
A VIRTUOSO PERFORMANCE!
With all new European and American Grand Piano tones, an Acoustic Lid and a wealth of new inspiring features, the elegant Celviano AP470BK is the ideal companion for the modern pianist.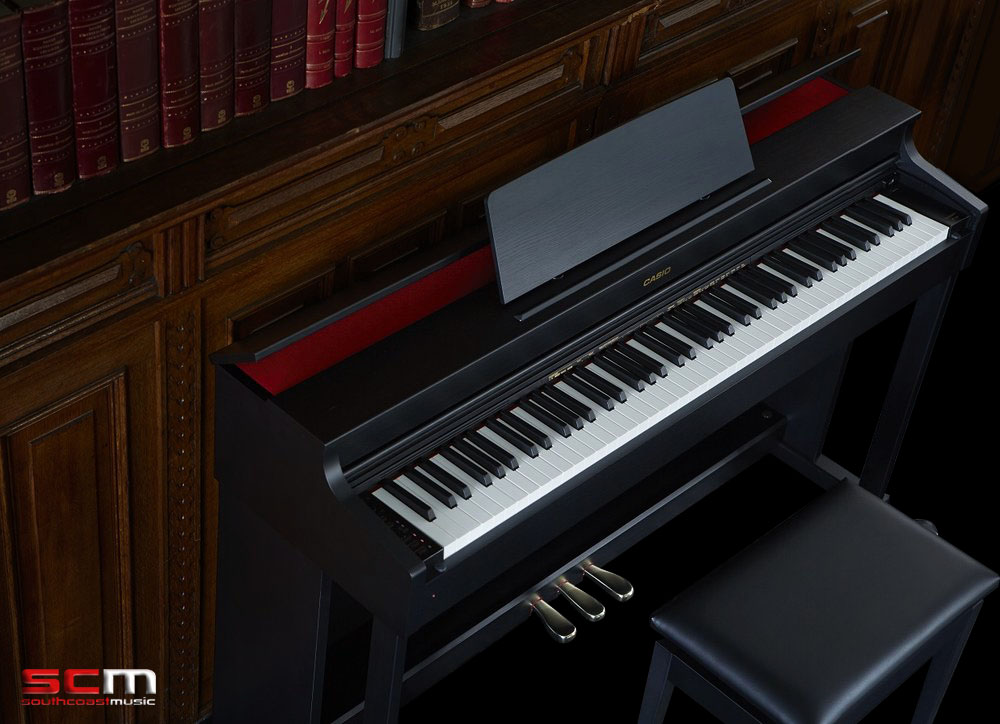 Whatever your preferred style of music, the Celviano AP470 will delight and inspire, providing unbridled potential for fulfilling your musical ambition.
• Two superb AiR Sound Source Piano sounds with 256 notes of Polyphony
• Ebony and Ivory textured keys provide real Concert Grand Piano touch
• Authentic Hammer Response, Damper and String Resonance Simulation
• Concert Play lets you play along with a symphony orchestra
• Digital Audio recorder and playback (WAV) via USB
• 2 Track MIDI Recorder plus 60 built-in Songs
• Class Compliant USB with Chordana Play for Piano App Connnection (iOS & Android)
• Split, Layer and Duet Mode, Hall Simulator, Chorus and Brilliance Effects
• Stereo Amplification System with Volume Sync EQ
• Dual Headphone Jacks with Headphone Mode
• Elegant cabinet with Sliding Lid
• Deluxe Padded and Height Adjustable Bench Included
• Five Year Warranty
SUPERB SAMPLED GRAND PIANO SOUNDS AND MORE
The Celviano AP-470 includes two stunning grand piano sounds, with varieties of each to suit any mood. The AiR Sound Source delivers incredible piano realism with advanced sympathetic string resonance, which highlights the complex harmonic relationships between undamped strings.
Damper resonance, hammer response and lid simulation add even greater detail, capturing every nuance of your performance.
A total of 22 Tones are provided, including electric pianos, organs, and other essential instruments. Adjustable Chorus and Brilliance are included along with a Hall Simulator, which places your piano in a virtual concert space of your choice.
THE KEYS TO VIRTUOSITY
The tri-sensor scaled hammer-action keyboard in the AP-470 features 88 ebony and ivory-feel keys – just as you would expect to find on a concert grand piano and provides both authentic feel and superior dynamic expression. Just like an acoustic grand, this high-resolution keyboard allows for fast repetition of notes without needing to return the key to its topmost position each time. The simulated ebony and ivory textures reduce slippage, ensuring you'll always play your best. The AP-470 even recreates the mechanical sounds of grand piano keys, drawing you deeper into the piano experience.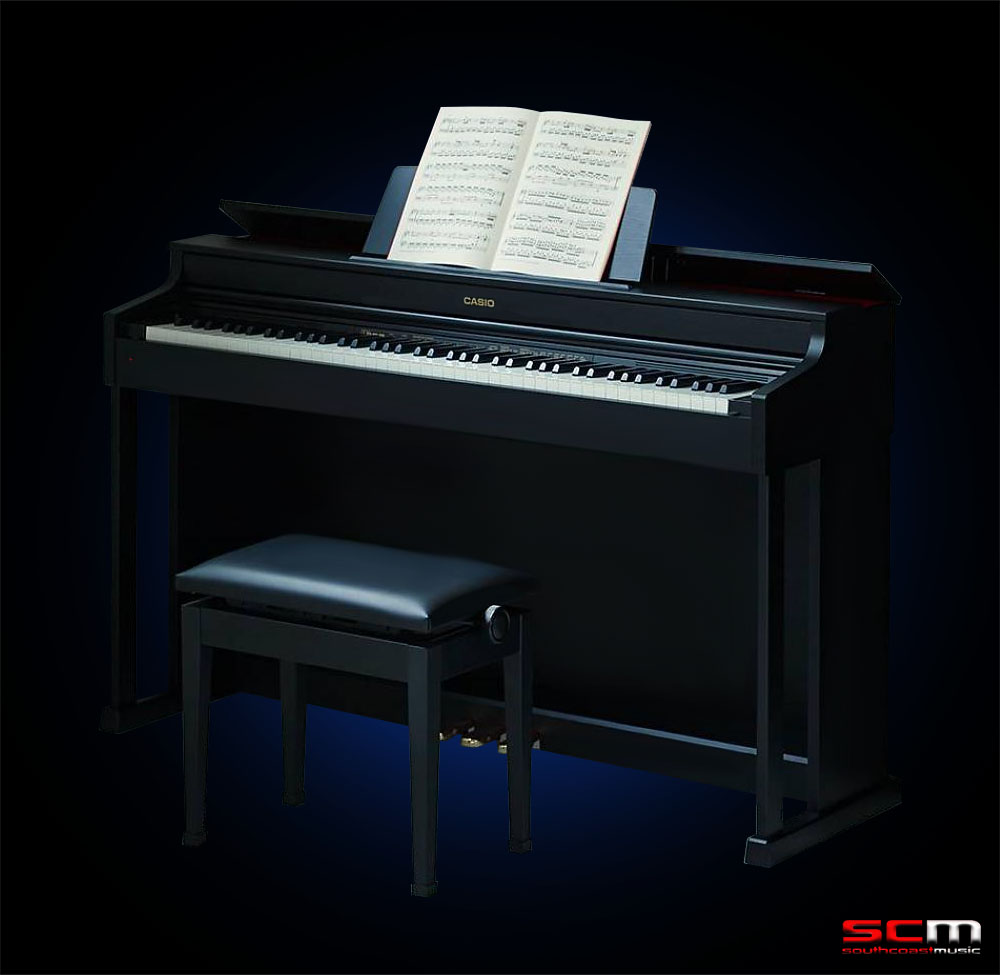 INNOVATIVE FEATURES TO ENHANCE YOUR PRACTICE AND PERFORMANCE
The Concert Play feature provides 10 audio recordings of a full symphony orchestra, which can be played with the left and/or right hand piano parts removed allowing you to play along. With Duet Mode and dual headphone jacks, you can take lessons or practice at any time, with built-in two-track MIDI and USB audio recorders ready to capture your inspiration. The AP-470 even includes a special Headphone Mode, which optimizes the piano's stereo image for private listening.
CLASSIC ELEGANCE – MODERN CONNECTIVITY
The AP-470's rich, powerful speaker system is housed in an elegant cabinet and has been designed to compliment any space. The lid may be raised or lowered to adjust the tone the same way you would on an acoustic piano and the sliding key cover protects the instrument when not in use.
FREE APPS TO ENHANCE YOUR PIANO PLAYING EXPERIENCE
A class-compliant USB port offers instant, no-hassle connectivity to Mac, PC, iOS and Android devices. The free Chordana Play for Piano app, available for iOS and Android devices, provides complete control over every function in your piano.
It also displays PDF scores, lets you play downloadable MIDI songs using your piano's internal sounds and speaker system, and learn to play MIDI songs with an interactive scoring system. You can record your performances, explore the different tones available, learn new pieces or view music PDF files via the free app available for iOS and Android.
(A USB cable is required and iOS users will require the camera connection kit).
The Celviano AP470 is the perfect piano for jazz and popular music performance. Bright, clear and with a contemporary tonal colour.
• Keyboard: 88 keys, weighted scaled hammer action, Tri-Sensor Ivory Touch keys
• Touch Response: 3 Sensitivity levels / Off
• Sound Source: AiR (Acoustic & intelligent Resonator) "Multi-dimensional Morphing AiR Sound Source"
• Acoustic Resonance: Yes
• Polyphony: 256
• Tones: 22
• Key Action Noise: Yes
• Digital Hall Simulator: 4 types
• Digital Chorus: 4 Types
• Digital Brilliance: -3 ~ 0 ~ +3
• Digital Signal Processing (DSP): built into some tones
• Layer/Split Function: Yes
• Registration Memory: Yes
• Duet Mode: Yes
• Preset Concert Play Songs: 10
• Preset Music Library Songs: 60
• Song Expansion: 10 Songs (max) up to approximately 90 KB/song
• Lesson Function: Yes – Part on/off (lesson part: right hand/left hand)
• Headphone mode: Yes
• Volume Sync EQ: Yes
• Connection to App: Yes
• Metronome: Beats: 0 to 9 (Tempo range: quearter note = 20 to 255)
• Transpose: 2 Octaves(-12 semitones ~ 0 ~ +12 semitones)
• Tuning Control: A4 = 415.5Hz ~ 440.0Hz ~ 465.9Hz
• Auto Power Off: Yes – after approximately 4 idle hours
• Other Functions: Grand piano 1 button, Grand piano 2 button
• MIDI Recorder: 2 Tracks / 1 Song approximately 5,000 notes maximum
• AUDIO Recorder: Real time recording/playback. 44.1 kHz WAV format/ up to 25 minutes per song
• USB Storage: Yes – to PC
• Speakers : 2 x 4.7″ and 2 x 2.0″
• Amplifier: 20W + 20W
• USB: Type A, Type B Class Compliant USB included
• Headphone Hook: Yes
• Headphones Output: 2 x 6.3mm Stereo Outputs
• Line Out: Yes – Left/Mono & Right
• AC Adaptor: 24VDC included
• Pedals: Built-in 3 pedals
• Pedal Half Damper pedal Operation: Yes
• Bench: Yes – height adjustable
• Music Book Rest: Yes
• Score Book: Yes
• Sliding Keyboard Cover: Yes
• Dimensions and Weight
• Unit size with stand: 54.2″ x 16.8″ x 33.1″ (without music book rest)