YAMAHA CVP605B Digital Piano satin black finish with matching bench
Featuring the RGE Sound Engine for outstanding playing response and the GH3 (Graded Hammer 3) keyboard with synthetic ivory keytops for maximum playing comfort, the CVP-605 offers extremely high quality piano performance. You'll experience a degree of playing satisfaction unique to the CVP Series. Plug in a microphone and display the lyrics on the panel for karaoke or singing along to your own playing. Plus, you can add lush harmonies to your singing voice. The interface is simple to understand and the touch panel makes operating a wide selection of functions quick and easy. You can also use your iPhone, iPad or iPod touch with Yamaha apps to manage music data or make settings for the songs you want to play. With the CVP-605, endless musical fun is always close at hand.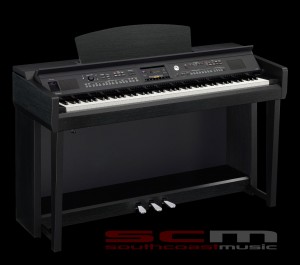 click on image to enlarge
88-key GH3 (Graded Hammer 3) keyboard with synthetic ivory keytops
Contemporary Black Walnut finish with matching bench
RGE (Real Grand Expression) Sound Engine
Smooth Release, Key-Off Samples and String Resonance
128+128-note polyphony
Coloured 800 x 480 dots TFT WVG 7.0 inch Touch Screen LCD
420 Accompaniment Styles
Three Year Warranty
The new Yamaha CVP605 brings to you a completely new way to enjoy playing music thanks to the all new cutting edge technology of Yamaha's 'Real grand expression'. Experience the true feeling of playing a Grand Piano with perfect sound, intelligent touch and realistic pedal control without any of the hassles associated with traditional acoustic pianos.  No tuning, no servicing costs…ever! Just like the most expensive Yamaha Concert Grand Pianos, the keys have synthetic ivory tops so as soon as you place your hands on the 88-Note, Graded Hammer 3 keyboard, you'll have complete Piano realism and expression. Even the release of the keys has been accounted for with smooth release, key off samples and string resonance.
The CVP-605 digital piano is not only a premier digital grand piano but also a full accompaniment machine with 420 separate styles, you can also plug in your favourite microphone to sing along to your music and the CVP605 will add intelligent harmonies if selected in the key that you are playing in allowing you to sing polyphonically. Choose from a range of 1327 Instrument voices including, mega and super articulation voices. All this choice means you can really make your music uniquely and of the best quality sound especially with the on-board Acoustic Optimiser and Intelligent acoustic control.

click on image to enlarge
To find your way around the CVP 605 has an intuitive touch-screen display allowing quick and easy selection and customisation of the styles and voices. Completely customise your Piano sound with 'Piano Room', allowing you to change your playing environment from churches to stages, change the lid position and type of Piano you are playing, all from the comfort of your home or studio.
Choose from one of the preset songs or import your own audio data or MIDI file and improve your skills using the guide lamps and scores on the display screen. Audio data can be transposed without changing the speed to suit the key you wish to play in and the tempo can be changed without altering pitch so you can manipulate backing tracks with ease. You can record your performances as Audio via USB in MP3 format and you can also connect an iPhone or iPad wirelessly.
For the ultimate Digital piano experience, the Yamaha CVP605 Clavinova brings you unrivalled realism with cutting edge arrangement and audio technology with easy access, ideal for home and studio use, whatever your playing level.