BOURBON STREET BSR-1C-N RESONATOR GUITAR
The legendary single cone resonator guitar has been a favorite with blues and bluegrass artists for more than 90 years!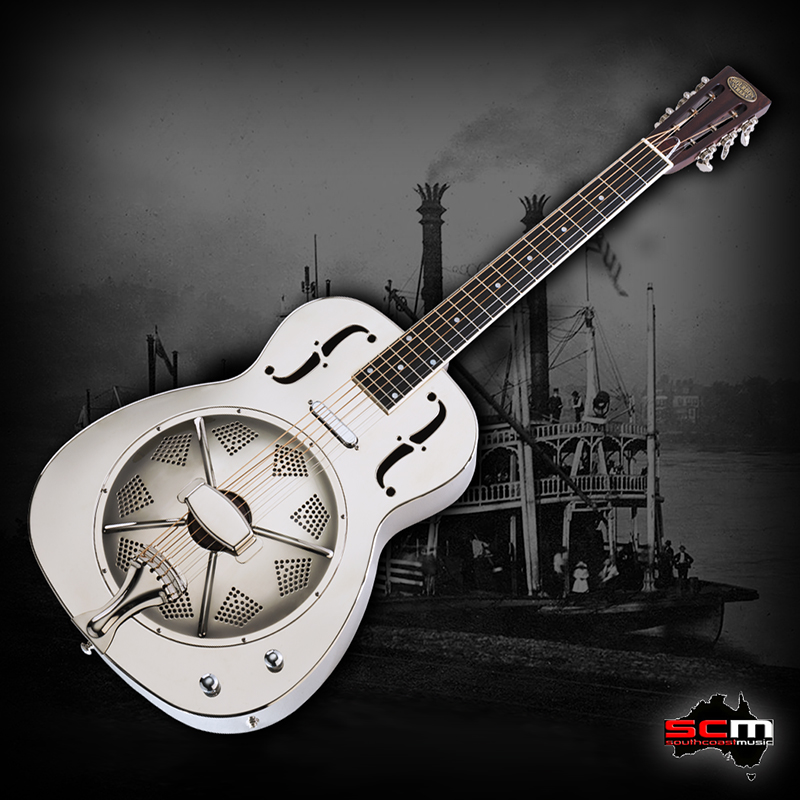 Resonator guitars – also known as resophonic guitars were originally designed to be used in dance orchestras. Regular acoustic guitars were simply overwhelmed by the horns and percussion instruments in those orchestras. By conducting string vibrations through the bridge to a spun aluminium cone (resonator), instead of the guitar's sound board (top), resonator guitars became prized for their loud and distinctive tone. Eventually electric amplification solved the problem of inadequate volume and the resonator guitar settled into its new life with bluegrass and the blues.
The Bourbon Street '1C' is more than a tribute to those great guitars. Bourbon Street are a small boutique manufacturer specialising in steel guitar design and innovation. Their mid-priced instruments punch well above their weight comparing to much more expensive instruments.
Featuring a Bell Brass Body with a polished Nickel Finish, hand spun Continental aluminium cone and a comfortable round mahogany neck, the BSR-1C-N combines tradition with modern manufacturing techniques along with a punchy single coil pickup and makes a beautiful addition to any guitar collection.
Our guitar will undergo a comprehensive Pro-SCM setup to ensure the perfect playing experience. Let us know when you buy whether you play slide, fingerstyle or both and our experienced technicians will set you guitar up accordingly.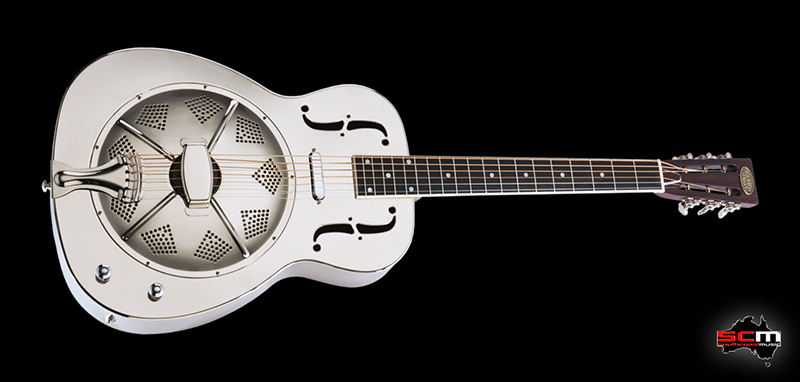 BOURBON STREET RESONATOR GUITAR SPECIFICATIONS:
• Model Number: BSR-1C-N
• Body Material: Bell Brass
• Body Finish: Polished Nickel
• Resonator: Hand Spun Continental Aluminium Cone
• Neck Material: Mahogany
• Neck Profile: Round
• Scale Length: 25 1/2″ (65.3cm)
• Fingerboard Material: Blackwood Tek
• Truss Rod: 2-way Adjustable
• Number of Frets: 19
• Neck/Body Join: 14 frets to the body
• Saddle Material: Maple
• Fingerboard width at Nut: 1 13/16″ (46mm)
• Headstock: Vintage Style Slotted Headstock
• Machine Heads: Waverly Vintage Style Tuners
• Pickup: Passive Single Coil Pickup
• Controls: Volume and Tone
• Guitar Weight: 4 kgs
• Case: Included