BEHRINGER XENYX 502 MICRO MIXER
Small is Beautiful
Weighing in at a mere .55kg (1.2lbs), the XENYX 502 is the portable, practical way to turn a speech or scaled-down performance into a sound to behold. Schools, meeting rooms, restaurants and songsmiths the world over agree this mighty mite is a high-fidelity lifesaver.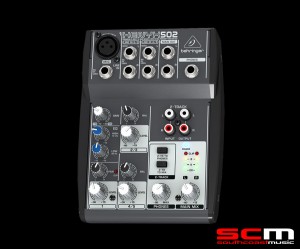 The Ins and Outs
The 5-input, 2-bus XENYX 502 with XENYX mic preamp can accommodate either a dynamic or condenser microphone. The 2-band British EQ is famous for its warm, musical sound. Play music between sets via the RCA CD/Tape Inputs (main mix or control room/phones assignable) and record your performance to an outboard recording device via the RCA outputs.
Sonically Superior Mic Preamps
All XENYX mixers have one thing in common – great-sounding, high headroom XENYX mic preamps. These state-of-the-art mic pres represent a major step in the evolution of audio technology – and they can easily hold their own, even when compared to the most expensive stand-alone mic preamps.
XENYX preamps offer a staggering 130 dB of dynamic range, with a bandwidth that extends from below 10 Hz to well above 200 kHz. Armed with these outstanding mic preamps, XENYX mixers provide such transparent, crystal-clear performance you just might think someone upgraded your mics while you weren't looking.
Sublimely Musical British EQ
The British consoles of the 1960s and '70s changed the sound of rock and roll – without them the British Invasion might not have happened. Those legendary mixing desks soon became the envy of engineers and producers all over the world.
The channel EQ is based on that very same circuitry, allowing you to imbue signals with incredible warmth and detailed musical character. Even when applied generously, these equalisers exhibit sweet forgiveness and superb audio quality.
You Are Covered
We always strive to provide the best possible Customer Experience. Behringer products are made in their own MUSIC Group factory using state-of-the-art automation, enhanced production workflows and quality assurance labs with the most sophisticated test equipment available in the world.
As a result, they have one of the lowest product failure rates in the industry and confidently back it up with a generous 3-Year Warranty program.
XENYX 502
So if you've got a solo gig at the local coffee shop or need to make a quick public announcement, the simply superb XENYX 502 compact mixer has you covered. All you need is your XENYX 502 along with an amplifier and speakers to give an intimate setting incredible sound. The ultra-compact XENYX 502 mixer's 5 Inputs (1 mic, 2 stereo) allow you to effortlessly achieve premium-quality sound, thanks to the studio-grade, phantom- powered XENYX Mic Preamp and ultra-musical "British" channel EQ.