Mackie DL806
Digital live mixer with iPad control
– Digital Mixer with 8 x Onyx Preamps
– 24-bit Cirrus Logic Digital Converters
– DSP Processing
– Support for Up To 10 Wireless iOS Device Connections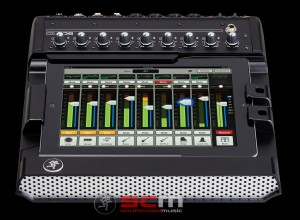 click on image to enlarge
Proven at millions of gigs worldwide, the Mackie DL Series combines the power of a full-featured digital mixer with the unmatched ease-of-use of an iPad. Ideal for bands, rental house and production/installations, the DL Series provides the mobile freedom to wirelessly control the mix and powerful plug-in processing from anywhere in the venue.
Digital Mixers are the favoured tool of Professional Engineers and with southcoastmusic's buying power, Digital Mixing is now more affordable than ever!
The Mackie DL806 Digital Mixer gives you the processing power and performance of their revolutionary DL1608 console, but in a more compact 8-channel version. Featuring studio-quality 24-bit Cirrus Logic converters, built-in DSP for great-sounding effects and processing plus eight of Mackie's award-winning Onyx microphone preamplifiers, the DL806 is a must have tool for any sound engineer.
The Mackie DL806 also provides integration with up to 10 iPads or other iOS devices which means extremely flexible mix and processing control as well as wireless remote monitor control and mixing.
Proven Hardware That Sounds Great
8 Onyx mic preamps
High-end Cirrus Logic® converters
Ultra low-noise, high-headroom design
4 stereo-linkable aux sends for monitor mixes
Master L/R output for mains
Tons of Built-In Processing
Choice of powerful, touch-sensitive Modern and Vintage plug-ins
4-band EQ + High Pass Filter, Gate and Compression on inputs
4-band Parametric EQ + HPF/LPF, 31-band Graphic EQ, comp/limiter and alignment delay on outputs
Global Reverb and Delay
4 mute groups
Wireless Mixing
Seamless wired to wireless mixing
Tune the room from anywhere
Get on stage to ring out monitors
Personal monitor mixing with access control and view groups
Use up to 10 wireless devices simultaneously
Total Control from Your iPad, iPhone or iPod touch
Intuitive Master Fader™ app for all iPad models
My Fader™ app for quick control from iPhone or iPod touch
Multi-touch "Grow and Glow" visual feedback
Preset and snapshot recall for fast setup
Record the mix to the iPad for instant sharing
Integrate music from any app into the mix
Ready for the Road or Install
Rugged, compact and "Built-Like-A-Tank"
PadLock™ feature locks down iPad for permanent installs
Industry standard Kensington lock secures mixer
Locking power connector
Compact footprint saves precious workspace
15.5″ x 11.5″ x 3.9″
6.9 lbs / 3.2 kg
The Mackie DL806 normally sells for $1429.
PRICE
SLASHED…$819.00!
*Please note that the iPad is not included.
Australia-wide delivery is INCLUDED!