YAMAHA EMX212S POWERED MIXER
Experienced musicians, performers, speakers, and club operators know the importance of a high-quality sound system with the right features and performance to deliver their sound. Where portability and convenience are important criteria, a system based on a high-performance Yamaha EMX-series powered mixer is definitely the way to go.
In one integrated, portable unit you have a mixer to combine and balance your microphone and instrument and line sources, effects to refine and polish your sound, and power to drive the main speakers and even monitor speakers as well. The Yamaha EMX212S Powered Mixer offers a range of features that let you mix, process, and deliver your sound with maximum quality and creative control … and, of course, that unrivalled Yamaha sound.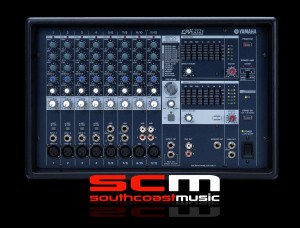 YAMAHA EMX Integrated Solutions for Superior Live Sound
Top-quality effects, two Graphic Equalisers and 400 watt ( 2 x 200 watt stereo) power output in a portable brick-type mixer.
YAMAHA EMX212S Features
YAMAHA EMX All-in-one for Easy Operation and Fast Setup
The EMX212S powered mixer integrates mixer, power amplifier, graphic EQ, and digital effects into a compact, portable unit. No need for complex setup and wiring – simply plug in and play! The entire system is optimised, so it's easy to get great sound just about anywhere.
YAMAHA EMX Superior Sound through Painstaking Design and Parts Selection
Parts selection is crucial to achieving the best possible sound, and Yamaha spares no effort in selecting the best. The critical head amplifier circuit, for example, uses special low-noise chip resistors that are deposited on a thin film of nichrome for accurate, noise-free reproduction. Special care has also been taken in laying out the system's grounding as well as the circuitry in general to ensure that no unwanted noise or interference degrades the quality of the sound.
YAMAHA EMX Intuitive, Functional Controls and Connectivity
The mixer section offers a total of 12 inputs in a very versatile configuration:
o channels 1 through 4 are mono microphone or line inputs
o channels 5/6 and 7/8 can function either as mono microphone/line inputs or stereo line inputs
o channels 9/10 and 11/12 are stereo line inputs.
Connectors are also provided for connection to external power amplifiers and effect processors. Stereo channels 9/10 and 11/12 include 6.3mm phono jacks for direct connection of CD players or other music playback devices, to which the 3-band channel equalisers can be applied as required. There are also two 7-band Graphic Equalisers that can be used to match speaker and/or room response for optimum sound.
YAMAHA EMX Built-in SPX Effects
Yamaha's SPX effects are widely recognised as being some of the finest available for both recording and live sound. The EMX312S powered mixer features an SPX effect processor built in, delivering extraordinary effect quality with 32-bit processing. 16 effect programs with adjustable parameters give you top-quality digital reverb, echo, delay, modulation, and distortion.
YAMAHA EMX High-efficiency Digital Power Amplifiers
To make the EMX212S powered mixer light and manageable, the power amplifiers used must be extremely efficient while providing superior sound quality. In fact, the EMX power amplifiers are remarkably efficient, delivering high power with relatively low power consumption and heat generation. At the same time they deliver outstanding audio quality with excellent transient response and low distortion. Power output from the EMX212SC is 200W + 200W.
YAMAHA EMX Lightweight, Practical Design
In the EMX series reduced weight does not mean reduced performance. The cabinet is formed of a special lightweight-but-rugged material, while a switching power supply delivers all the clean power the system needs. The power amp itself has also been refined for outstanding sound, extra high efficiency, and reliable performance. The cabinet design allows normal or angled placement for improved visibility and access.
YAMAHA EMX Uncompromising Reliability and Safety Standards
The EMX212S powered mixer not only meets worldwide safety and electronic emission standards, but is also subject to more than sixty rigorous internal Yamaha tests that guarantee the highest possible level of reliability.
YAMAHA EMX Forced Air Keeps the System Cool Even in Difficult Conditions
Airflow can be compromised when a powered mixer is rack mounted, and direct sunlight in outdoor applications can raise temperatures to dangerous levels. The EMX212S mixer features a forced-air cooling system that has been custom-designed for each model to ensure reliable operation and high performance even under difficult conditions.
YAMAHA EMX Practical Utility Features
The Yamaha FCL (Feedback Channel Locating) system makes locating and eliminating feedback easier than ever. FCL indicators provided on each input channel indicate which channel feedback is occurring in, so you can identify it visually and adjust levels or EQ as required. Another handy features is a Standby switch that mutes channels 1 through 8 so that, for example, after rehearsal or between sets you can mute performer's inputs 1 through 8 without having to change fader settings, while stereo inputs 9 through 12 remain active for background music playback. There's even a footswitch connector that will accept an optional FC5 footswitch for effect on/off control.
YAMAHA EMX Yamaha Speaker Processing
Yamaha Speaker Processing provides optimised matching with Yamaha Concert Club series, BR series or AX series speakers, for clean, solid reproduction that will deliver your music with maximum impact.
YAMAHA EMX Power Amp Mode Selector
The power amp mode switch allows the internal power amplifiers to be configured in a variety of ways. A simple switch setting allows you to set up the ideal main and monitor output configuration for your application.
YAMAHA EMX Optional Rack Mount Hardware
Your EMX-series mixer can be conveniently rack mounted using the optional RK512 rack-mount kit – contact us for pricing and availability.
YAMAHA EMX212 S RRP $749.99 – OUR PRICE $599 INCLUDING GST!