The Barnes & Mullins BJ500M Troubadour 5 String Banjo
• Based on Early 1900s Barnes & Mullins Banjos
• Burl Maple Resonator & Neck
• Elegant Engraved Antique Gold finished Hardware
• Maple Laminate Rim
• Rosewood Fretboard
• Rolled Brass Tone Ring
• Geared Planetary Machine Heads
• PRO-SCM Setup
The Barnes & Mullins Troubadour is a superb burled maple 5 string banjo named after the monthly music publication 'The Troubadour' issued and created by Mr Bowley Barnes and Albert Mullins beginning in their music-hall heyday of 1895. Along with Barnes & Mullins' banjo specific title 'The Jo', the Troubadour represented the cutting edge of contemporary music news, comment and transcription.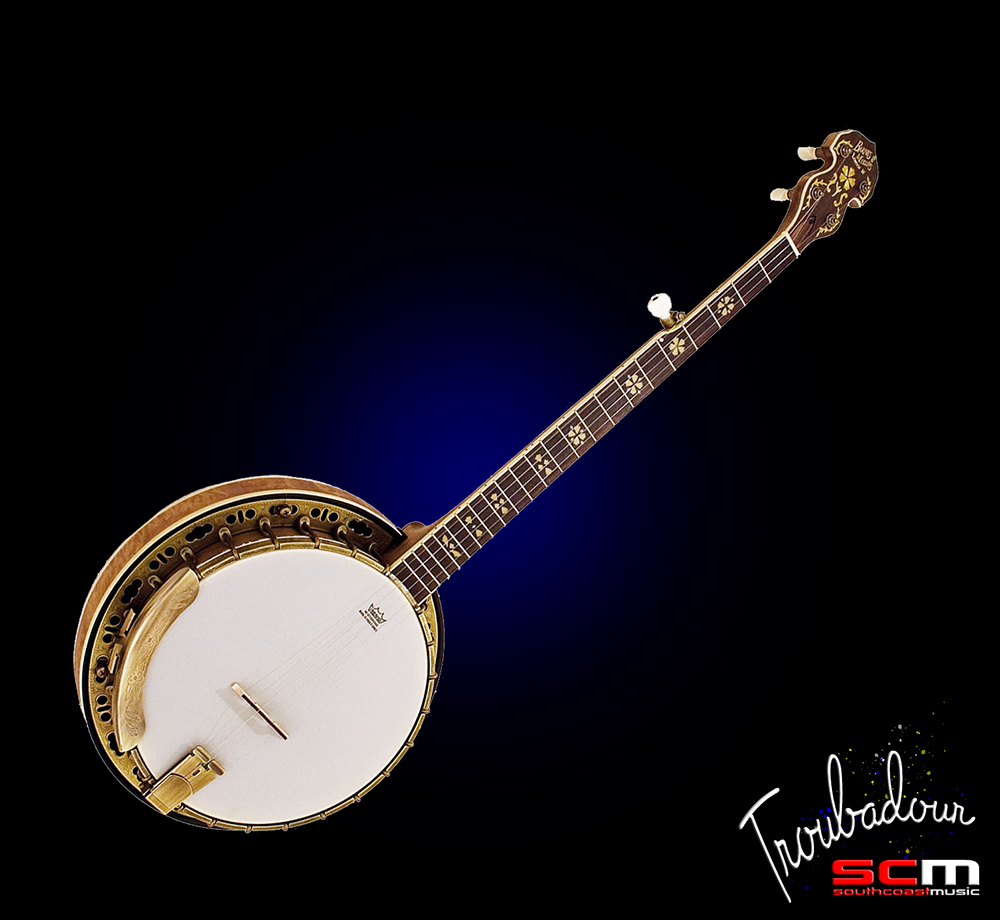 Originally established in London in the early 1900s, Barnes & Mullins became one of the most famous names associated with high quality banjos. Today, the company reissues some of its most popular models. These instruments allow today's musicians to enjoy a fantastic high quality banjo at an affordable price, developed with the same expertise and attention to detail as they were over 100 years ago.
The Barnes & Mullins Troubadour 5 string banjo features classic maple construction and hand engraved hardware in a beautiful antique gold finish which adds a further air of class to what is already a superb instrument. The rosewood faced headstock is elegantly inlaid with a Victorian style Barnes & Mullins logo and floral motif that continues along the Rosewood fingerboard. The truss rod cover is set into the headstock. The Troubadour also has quality planetary geared tuners and a geared 5th string peg.
The pot is made in the classic style from laminated maple which is both robust and attractive. The vintage looking notched tension hoop is elegantly engraved. Other premium appointments include a rolled brass tone-ring, a Remo Vellum head and a Burl Maple resonator.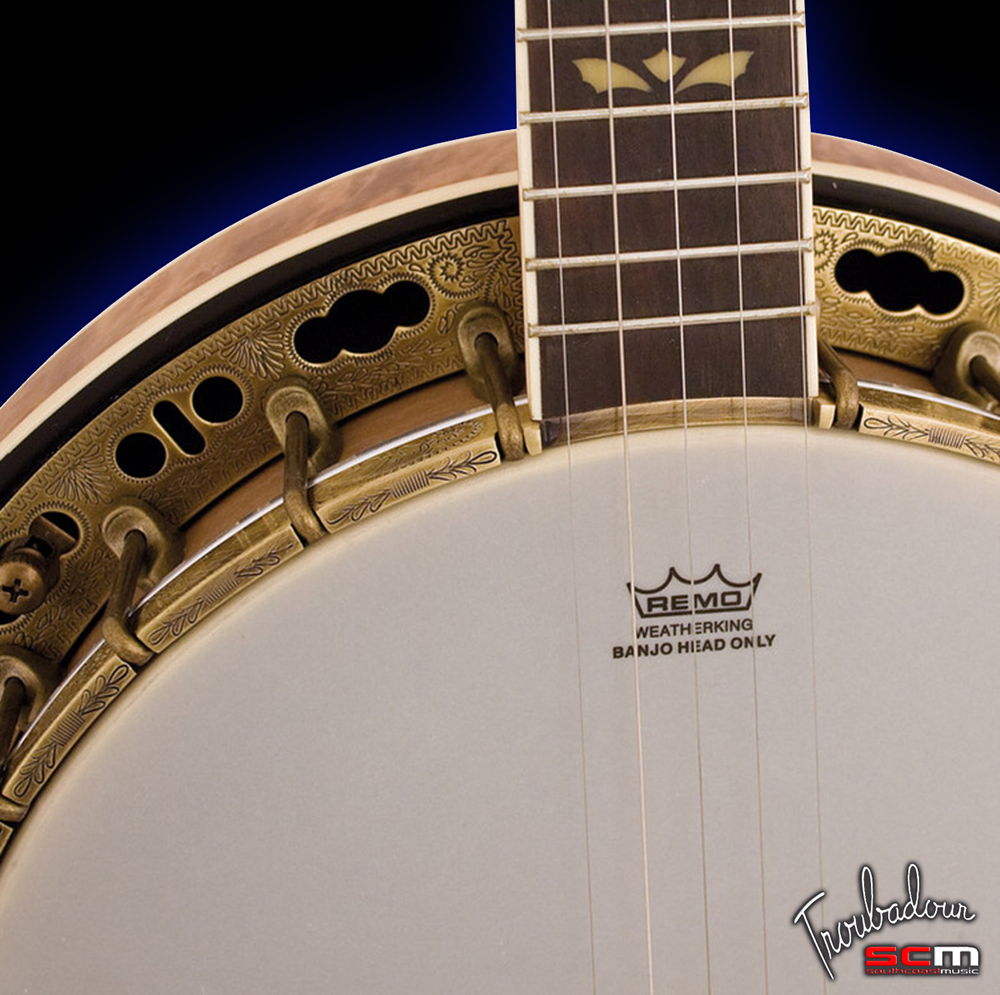 Our PRO-SCM setup completes what is an exceptional 5 string banjo and especially so – at this price. The 22 nickel silver frets will be checked and if required, lightly dressed, crowned and hand polished. The fret ends will also be hand rolled. The head will also be tensioned and as required, adjustments made to the connecting rods, truss rod and nut.
Our attention to string height and intonation all contribute to a comfortable and quick neck making the Barnes & Mullins BJ500M Troubadour 5 String Banjo a joy to play. The end result is a low, comfortable action and bright, sparkling, ringing tone. We can set up your banjo too! Expect to pay up to $200 for similar work.
The Barnes & Mullins Troubadour is a great Bluegrass banjo. It's also great for simply strumming with excellent volume and projection.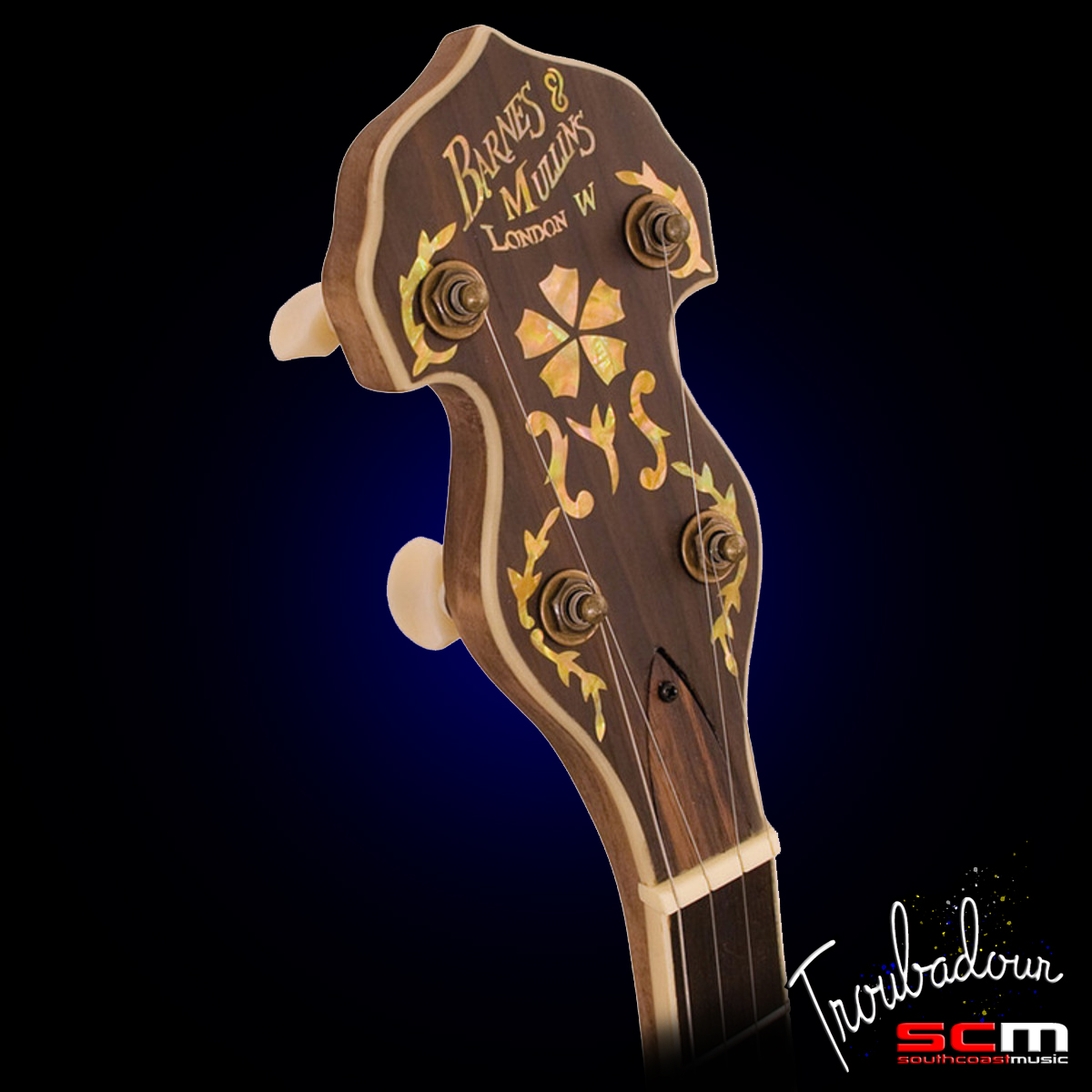 Barnes & Mullins BJ500M Troubadour 5 String Banjo Features & Specifications:
• Neck: Hard Maple
• Headstock Facing: Rosewood
• Resonator: Figured, Burl Maple
• Fingerboard: Rosewood
• Frets: 22 Nickel Silver Frets
• Rim: Maple Laminate
• Tone Ring: Rolled Brass
• Brackets: 24
• Hardware: Antique Gold
• Head: Remo Vellum
• Machineheads: Geared, Planetary Style
• Setup: PRO-SCM
• Warranty: One Year