The Ashton Transporta is a superb wireless PA system. Tailor made for marriage Celebrants, Schools, Churches, Buskers…in fact anywhere where high quality portable sound is required!
Ashton have already made a name for themselves in the portable PA market with their WMA Series systems. The Ashton Transporta takes their previous achievements to the next level.
Here at southcoastmusic we have sold more than our fair share of wireless PA systems and this is by far the most powerful system that we have offered at this price. We have used the Ashton Transporta Portable PA system for live music and speeches at both indoor and outdoor functions and it performed beautifully!
Perfect for a wide variety of applications, Ashton has got your wireless PA needs covered with the lightweight and ultra-portable Transporta range.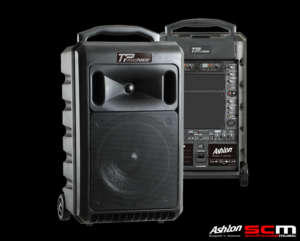 o Frequency Band: Fully compliant and legal Australian frequencies
o Cabinet Construction: High Impact Resistant moulded Plastic
o Output Power: 120 watts
o Speaker Configuration: 1 x 10″ Woofer and 1 x 1″ Tweeter
o Inputs: 6.3mm (1/4″) Line Input, RCA Inputs, 6.3mm (1/4″) Jack input, XLR input
o Outputs: 6.3mm (1/4″) Extension Speaker Out, 6.3mm (1/4″) Line Out
o iPod/Smartphone MP3 Connectivity: 3.5mm TRS to 2 x RCA Connection Cable included
o Receiver Modules: 2 x UHF PLL 16-Channel True Diversity Receivers
o Transmitters: 1 x Handheld Wireless Microphone, 1 x Wireless Bodypack Transmitter
o Bodypack Microphone: Lapel Microphone (Optional Headset available)
o Transmitter Power: Rechargeable batteries included with battery charger built into main unit
o Operating Power: Internal Rechargeable AA Batteries or 240VAC mains operation
o Battery Operating Capacity: Approximately 8 Hours on full charge
o Dimensions: 50cm x 32cm x 29cm
o Weight: 16kgs
o Trolley: Integrated Trolley Unit with wheels and Retractable Handle
o Cover: Protective Cover included