Artesia DP-150e Spinet Digital Piano Polished Ebony Cabinet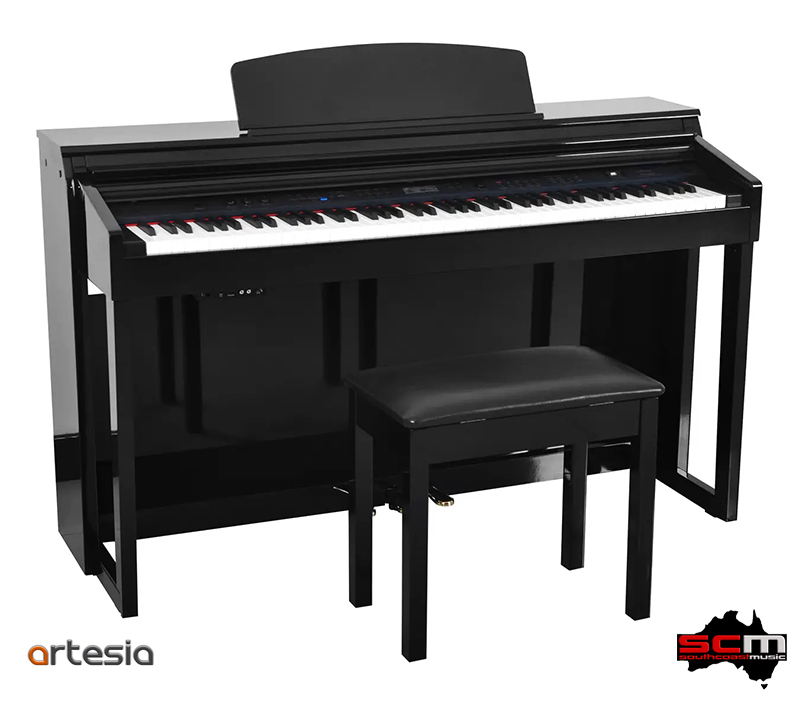 • Elegant Traditional Spinet style Piano Cabinet
• Hand Rubbed High Gloss Ebony Deluxe finish
• 88 Key Weighted Natural Balanced Hammer Action Keybed
• 3-layer and 3D Instrument Sound Samples plus Concert Hall Sound
• Fully loaded with 137 Digitally Sampled Instrument Voices including 3D Stereo Grand Piano
• Compose and store all your practices and performances on the included 4Gb USB Thumb Drive
• Includes iPad compatible features that allow interaction with the exciting iPad teaching apps
• Includes Duet Bench, Songbook, and Thumb Drive with Pre-recorded Songs
• Bluetooth and USB Connectivity for Phones, Tablets and Laptops
137 Instrument Voices
The Artesia DP-150e comes fully loaded with 137 high quality digitally sampled instrument voices including 3D Stereo Grand Piano and 3D sound samples.

USB Port
USB Port comes with a thumb drive that is loaded with hundreds of pre-recorded songs that you can playback for your listening pleasure. You can play along with these pre-recorded pieces. Practice sessions can be recorded onto the thumb drive for later review.
Bluetooth Connectivity
The Artesia DP-150e is Bluetooth compatible which allows you to play along with your favorite songs or turn your piano into a home entertainment center for the whole family to enjoy. Simply adjust your Bluetooth device (smart phone, tablet or laptop) to play through the DP-150e's powerful four speaker stereo amplifier system.
Duet Function
This handy function allows both the teacher and student to play on the same keyboard together. The Piano is divided into two keyboard areas, which allow both teacher and student to play the same piano sound in the same octave. Additionally the pedal function changes so that the left and right pedals are now designated as sustain pedals for both teacher and student to use.
Elegant and Thoughtful Design
As one would expect from a digital piano of this calibre, the Artesia includes a a sliding key cover. This innovative addition has been designed to hide the panel controls but not the piano keys making the instrument appear like an spinet size acoustic piano.
Ipad Compatible
Includes iPad compatible features that allow interaction with the exciting iPad teaching apps and sounds. An iPad connection cable is also included at no extra cost.
Artesia DP-150e Piano Hand Polished High Gloss Ebony Cabinet
Inspired by the classic concert grand pianos, the Artesia DP-150e's cabinet is finished in a hand rubbed, high gloss polished ebony finish. With its elegant aesthetic appeal, the Artesia DP-150e is sure to add a touch of elegance to any room and decor.
Weighted Hammer Action Keyboard
The Artesia DP-150e natural balanced weighted hammer action keyboard brings the feel of an acoustic piano to your fingertips. Its advanced hammer action design offers excellent response and smooth playability that will satisfy even the most demanding teacher, student or performer.
180 Song Library
An easy-to-use internal song recorder will save your playing or sudden inspiration at any moment with just a touch of a button. For more advanced projects, the Multi-track Recorder offers a full 16-tracks of recording channels. The included Jump Drive (as shown) has over 180 Jazz, Classical, Holiday and popular songs that you can play anytime you want to set the mood.
USB / MIDI
With the DP-150e, Artesia have included a variety of connectivity options including two convenient USB Ports that offer connectivity to all your USB devices including Smartphones, Tablets and Laptops. It's great for accessing all the great music software and Apps that are available. With Artesia's USB connectivity options the musical possibilities are endless. Additional ports include Aux In, Aux Out, Line In Control, Dual Headphone jacks and more.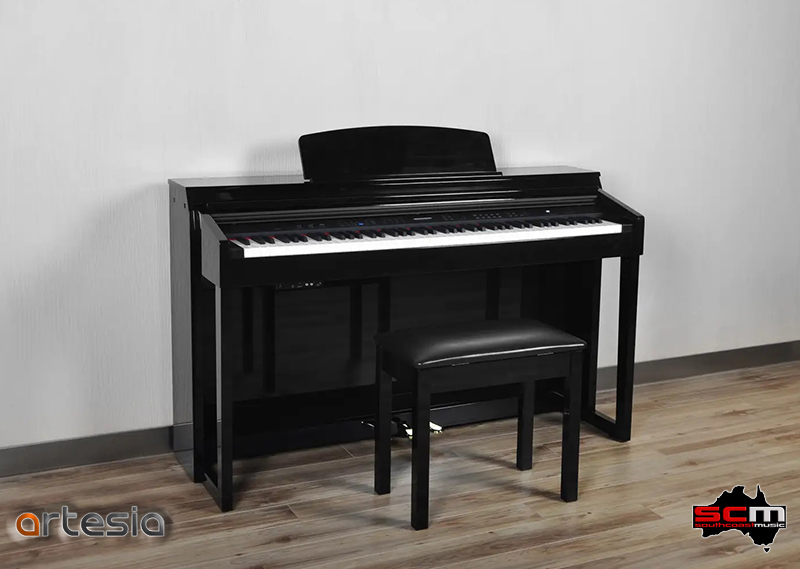 Artesia DP-150e Includes
• Matching Polished Ebony Bench
• Play Along Songbook
• 4GB Thumb Drive with 100s of pre-recorded songs
• iPad Connection Cable
• Assembly Guide and Instruction Manual
• Assembly Tools