southcoastmusic exceptional instruments at exceptional prices… everyday!
YAMAHA P105B PORTABLE DIGITAL PIANO
– PORTABLE DIGITAL PIANO
– 88 WEIGHTED KEYS
– GRADED HAMMER ACTION
YAMAHA P105B DIGITAL PIANO at a glance…
• 88-Keys with Graded Hammer Action
• Four Levels of Touch Sensitivity
• Pure CF Sound Engine
• Built-In Speakers
• 128-Note Polyphony
• Duo Mode for Side-by-Side Practicing
• 10 Pianist Styles
• Rhythms Feature offers 10 Drum Patterns
• Aux Outs, Headphone Out, and USB Port
• Three Year Warranty
The Yamaha P-105 Digital Piano is an 88-note, weighted-action piano that offers useful features for everyone from beginning players to professionals. The unit is equipped with Graded Hammer Standard (GHS) action, which gives it a similar feel to an acoustic piano.
The P-105's PureCF sampled piano sound and internal stereo speakers make it ideal for practicing. The keyboard offers a Split mode and also an innovative Duo mode. The latter lets two people play simultaneously on the keyboard, with each having his or her own middle C.
Another innovative aspect of the P-105 is the Intelligent Acoustic Control feature. It's essentially an adaptive EQ that changes the tonal balance based on the keyboard's volume setting, making sure that the P-105 sounds as good as possible at any level.
In addition to its built-in speakers, the P-105 features line-level Aux outputs. You can use these to connect to a mixer or other external device without cutting off the speakers. A USB port gives you the ability to interface with a computer. In conjunction with Apple's optional iPad Camera Connection Kit, you can even connect with music apps such as Yamaha's Piano Diary and NoteStar.
You also get 10 built-in styles for practicing with, including boogie woogie, stride piano, and ballad arpeggios. A built in Rhythms feature gives you 10 drum patterns to play with, offering a great alternative to a standard metronome.
• The P105 is a portable solution for keyboard players and pianists
• 88-note Graded Hammer Standard (GHS) weighted action keyboard
• USB and audio connections offer maximum versatility
• 128-note polyphony for the most demanding piano pieces
• Intelligent Acoustic Control provides full, balanced sound that adapts to each user's volume setting for the best possible tone at any level.
• The internal speakers stay on when an external connection is made via the P105's Aux Out jacks.
• Duo mode allows for side-by-side piano practice. Ideal for schools teaching group lessons, it accommodates two students per piano, each with their own middle C
• 10 pianist styles give the user a virtual built-in duet partner that plays along in one of ten different playing varieties including boogie woogie, stride piano, or ballad arpeggios.
YAMAHA P105B FEATURES:
Compact and stylish digital piano
The P-105 is a compact digital piano with Yamaha's oustanding acoustic piano touch and tone.
It is portable, easy-to-use and versatile for everyone from beginner to pro.
Pianist StyleQ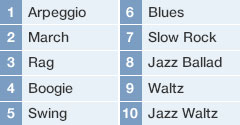 Pianist Style
Pianist Styles turn your simple chords into exciting accompaniment.
Play a chord and the Pianist Style gives you a full piano accompaniment. 10 built-in Styles offer the variety of backings to fit your performance and help you sound great!
Rhythm function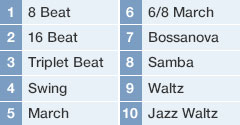 Rhythm
Piano sound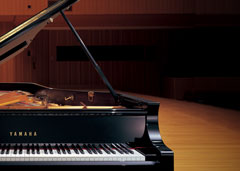 The P-105 uses Yamaha's "Pure CF sound engine," a first for the P-series.
This piano sound was recorded from Yamaha's renown CFIIIS concert grand piano, which can be heard on stages all over the world.
Built-in speakers
P-105 has built-in, true-circle speakers. The true-circle speakers vibrate naturally with good balance to convey full, rich, low-frequencies.
Newly added tweeters offer a clear and brilliant sound due to their strategic positioning. Together, they provide and excellent balance of power and clarity.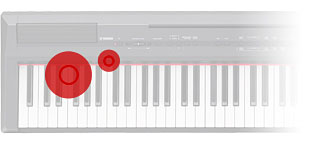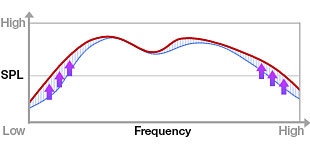 Red: P-105 Blue: P-95
88 weighted keyboard
Just as on a traditional acoustic piano, the keys of the lower notes have a heavier touch, while the higher ones are more responsive to lighter playing. The keyboard's sensitivity can even be adjusted to match your playing style. This Graded Hammer technology allows this lightweight instrument to provide an authentic touch.
Great Connectivity
The P-105 is equipped with USB TO HOST to connect directly to your computer for use with various education, notation and music production applications. There's also an AUX LINE OUT to connect to a computer sound card, mixing console or powered speakers – great for recording or performing live. Since it's a true line-output, the built-in speakers remain on for monitoring as opposed to switching OFF when using the more common headphone output.