YAMAHA PIAGGERO NP32 76 KEY PORTABLE DIGITAL PIANO KEYBOARD
EXQUISITE PIANO TONE IN A LIGHT AND COMPACT FORM
QUALITY HEIGHT ADJUSTABLE KEYBOARD STAND INCLUDED!

A stylish and portable 76 note Digital Keyboard with pure YAMAHA Piano Tone and a delightful Graded Soft Touch keyboard – it doesn't get any better at this price – thank you southcoastmusic and Yamaha!
LIGHT in WEIGHT – BIG in SOUND
With superb tone in a light and compact instrument, the YAMAHA Piaggero NP-32 is the perfect combination of elegance and simplicity. Designed around the essential elements that let you concentrate on playing, the YAMAHA Piaggero NP Series keyboards focus on the inspiration and enjoyment of playing a piano and feature the pure tone of one of the finest grand pianos that Yamaha has ever made.
PIAGGERO – THE COMPACT DIGITAL KEYBOARD WITH PURE YAMAHA TONE
The compact, elegant silhouette of the YAMAHA Piaggero NP32 is certain to catch your eye and make a lasting impression. Featuring an elegantly simple, yet practical design, the Piaggero can be played right out of the box!
The control layout is simple to navigate with only a few clearly marked buttons to get you started straight away.
The space saving aspect of the Piaggero NP32 makes it ideal for just about anywhere from the bedroom to the classroom and anywhere inbetween.
SUPERB SOUND SAMPLED FROM ONE OF YAMAHA'S FINEST GRAND PIANOS
From the very first note, Piaggero will amaze you with its compact size and high-quality sound. The superb piano sound has been digitally sampled from one of Yamaha's finest concert grands and a selection of other high-quality instrument voices are also included.
LIGHT TO THE TOUCH – HEAVY IN INSPIRATION
The NP-32 features a "Graded Soft Touch keyboard" with keys in the bass register having a heavier feel while the high notes are lighter. It's amazingly natural and expressive and you can take it virtually anywhere to play.
GO WHERE YOU WANT TO GO – PLAY WHERE YOU WANT TO PLAY
YAMAHA have designed the Piaggero so that you can practice and play more — who knows, friends might even start asking you to play at their parties! Because it's light enough to be carried in one hand and works on battery power, you can take it anywhere you want – and setup is an absolute breeze.
CONNECT TO YOUR iOS DEVICE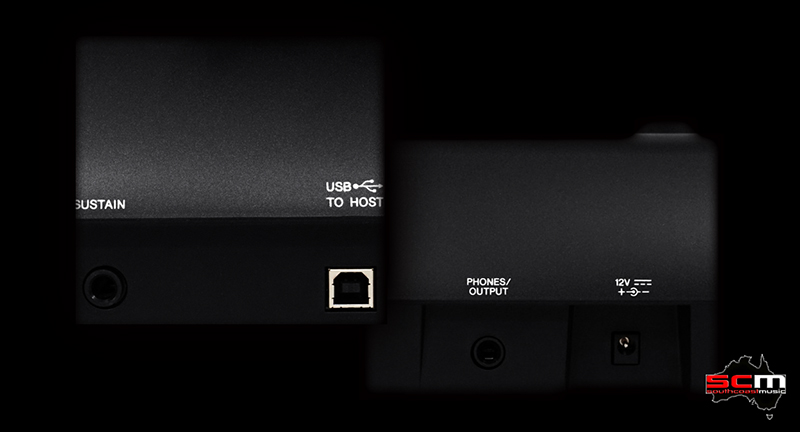 Yamaha offers a wide range of Apps for use with the Piaggero NP-12 including Digital Piano Controller, Metronome and NoteStar. You can connect your iOS device* to the USB TO HOST terminal** on your Piaggero or use the optional Yamaha UD-BT01*** wireless adaptor, for easy operation and added performance functions.
*iOS device not included.
**Requires Lightning Camera Adaptor (sold separately)
***Only available in some regions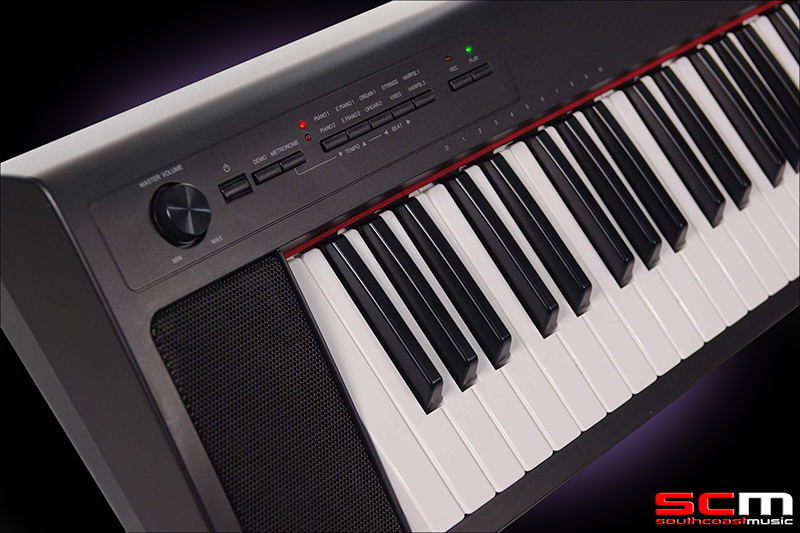 YAMAHA PIAGGERO NP32 SPECIFICATIONS
• Number of Keys: 76
• Keyboard Type: Piano-style keyboard, Graded Soft Touch
• Touch Response: Yes
• Panel Language: English
• Tone Generating Technology: Advanced Wave Memory (AWM) Stereo Sampling
• Polyphony: (Max.) 64
• Preset Voices: 10 (Piano1, Piano2, E.Piano1, E.Piano2, Organ1, Organ2, Strings, Vibes, Harpsi1, Harpsi2)
• Digital Reverb: 4 types
• Dual Function: Yes
• Layer Function: Yes
• Voice Demo Songs: 10
• Preset Piano Son: 10 Piano Preset Songs
• Recording Number of Songs: 1
• Number of Tracks: 1
• Recorder Data Capacity Approx. 7,000 notes
• Metronome: Yes – Tempo Range 32 to 280bpm
• Transpose Function: Yes -6 to 0, 0 to +6
• Tuning Function: 414.8Hz – 440.0Hz – 466.8Hz
• Connectivity DC IN: DC IN 12V
• Headphones Output: [PHONES/OUTPUT] x 1
• Sustain Pedal Jack: Yes (Half pedal available with optional FC3A)
• USB TO HOST: Yes
• Amplifiers 6W + 6W rms
• Speakers 2 x (12cm x 6cm)
• Power Supply: Included AC Adaptor (12VAC)
• Battery Power: 6 x "AA" Alkaline, Manganese or Ni-MH rechargeable batteries(not included)
• Power Consumption 18W
• Battery Life 7 hours (with alkaline batteries)
• Auto Power Off: Yes
• Music Rest: Yes – included
• Accessories: Owner's Manual, My Yamaha Product User Registration, Music Rest & AC Adaptor
• Dimensions: W124.4cm (49″) x H10.5cm (4-1/8″) x D25.9cm (10-3/16″)
• Weight: 5.7kg (12lbs., 9oz.)
• Warranty: FIVE Years
• KEYBOARD STAND: Height Adjustable Single Braced X-Frame