STEINBERG UR12 2 x 2 USB 2.0 AUDIO INTERFACE WITH 1 x D-PRE and 192 kHz SUPPORT
Combining an extremely compact design, extraordinary build quality, full iPad connectivity and the outstanding D-PRE mic preamp, the UR12 redefines quality for its class of 2-in 2-out USB interfaces. 24/192 converters offer you outstanding levels of audio fidelity, while the D-PRE gives your microphone recordings incredible detail, depth and dynamics.
24-bit RESOLUTION /192 kHz SAMPLING
Top-of-the-range converters provide a maximum sampling rate of 192 kHz and a resolution of 24 bits, delivering pristine audio quality.
PRISTINE CLASS-A D-PRE MIC PREAMP
Yamaha's highly acclaimed D-PRE preamp delivers a truly transparent and beautifully detailed sound that is unrivaled in this product class.
RUGGED METAL HOUSING
Built to the most exacting standards by Yamaha's experienced engineers, the UR12's metal chassis is rugged enough to withstand all the rigors of the road which adds up to a virtually indestructable home recording solution.
COMPATIBLE WITH ALL MAJOR RECORDING SOFTWARE
The UR12 is compatible with all major audio editing, mastering, and music production software supporting ASIO, Core Audio or WDM standard.
iPad CONNECTIVITY
The mighty Steinberg UR12 offers connectivity with Apple's iPad. When paired with Steinberg's Cubasis music app or other iOS audio apps such as Garage Band, the UR12 offers a portable and intuitive production experience.
LATENCY FREE HARDWARE MONITORING
The UR12 features latency-free hardware monitoring with an easy-to-use monitor source switch that allows you to choose between the direct signal and the output of your host application.
POWER SOURCE SELECTOR
The UR12 is equipped with a 5V DC port designed to supply sufficient power when using it with an iPad. A standard USB power adaptor or an external USB battery can be connected to guarantee power stability.
LOOPBACK FUNCTION
The Steinberg UR12 provides an easy way to stream performances live to the internet, with incoming audio signals merged to the playback signal from Cubase or other DAWs inside the computer.
STEINBERG CUBASE AI SOFTWARE INCLUDED
Based on the same core technologies as the popular studio standard DAW software – Steinberg Cubase, Cubase AI offers an intuitive feature set for composing, recording, editing and mixing. For newbies, Cubase AI is a fantastic introduction to the modern recording world.
Cubasis LE is a streamlined version of Steinberg's popular iOS music production app, offering professional music production on your iPad.
STEINBERG UR12 IN DETAIL
ULTRA COMPACT . . .
With the UR12, Steinberg and Yamaha have rewritten the book on how many first-class components can fit into a compact device and remain affordable. Its cleverly engineered capabilities give you all the Inputs/Outputs you need to quickly record your tracks…
WORLD CLASS RECORDING QUALITY . . .
The audio capability and sound quality of the UR12 are of a standard that only a few years ago would have seemed impossible on a recording device at this price point. The acclaimed Yamaha D-PRE preamp offers a sumptuously detailed, wonderfully dynamic sound, while the second input provides access to a Hi-Z input for instruments such as guitars, basses and similar instruments equipped with a pickup. You can record your musical masterpiece in stunning 24-bit quality with a massive sampling rate of 192kHz making the Steinberg UR12 a sensational audio solution with almost unheard-of fidelity for recording in its class.
PORTABLE AND AFFORDABLE
The UR12 has been engineered not only to offer the maximum functionality and quality in an extremely compact design, but also to be available at a very low price point. Often, smaller interfaces that are affordable for those on a tight budget mean (at best) average audio quality; this ethos has been transcended by the UR12, with its first-rate components, fantastic price/value ratio and exceedingly portable design.
iPad CONNECTIVITY
Cubasis LE included
The UR12 offers a Class Compliant mode for connectivity with Apple's iPad. Combining the UR12 with an iOS audio application like Steinberg's Cubasis gives you a remarkably intuitive music production experience. If you're running your UR12 with an iPad, just add a portable USB battery or any standard USB power supply to provide the interface with the required current.
INTEGRATE YOUR SYSTEM
The UR12 is compatible with all major audio editing, mastering and music production software supporting the ASIO, Core Audio or WDM standard.
UR12 also includes a special version of Cubase, Cubase AI, to offer a complete production environment in one package. And Cubase users also benefit from the auto-setup functionality which handles configuration of input and output channels and buses from within Cubase for a uniquely integrated music production environment.
NEWCOMERS TO MUSIC PRODUCTION
The UR12 is the ideal interface for newcomers to digital music production, looking to record their first tracks and explore a new world of writing, recording and mixing music on their computer. Offering all the I/O needed to record vocals and guitars in outstanding quality, the UR12 also includes a streamlined and upgradable version of Cubase, Steinberg's legendary music production system.
Available from southcoastmusic at a price point that will appeal directly to musicians making their first foray into making music on a computer, the UR12 is nevertheless built to exacting standards of quality, with first-class preamps and rugged metal casing that is made to last.
PROFESSIONAL TOURING MUSICIANS
Professional musicians on tour requiring an ultra-compact interface that makes no compromises in terms of either build or recording quality need look no further. The UR12 offers the outstanding D-PRE preamp, a Hi-Z input for connecting electric guitars and basses and a headphones output for monitoring on a plane, tour bus or in a hotel room. Its small size means that it will easily fit into your hand luggage, while the rugged metal case means that it is designed to deal with life on the road.
LIVE STREAMING OF AUDIO TO THE INTERNET
The UR12's loopback function lets you broadcast your audio production live via the internet! Combine your live microphone signal feeding into the UR12's mic input with the audio coming from, say, a recording of a college lecture and stream both live to the web. Or add a live voiceover to a music backing track, with both signals merged and looped back to your internet broadcasting software. You're ready to reach the world…
RECORDING YOUR FRIENDS AND FAMILY – WITH PROFESSIONAL STUDIO AUDIO QUALITY
Creating recordings of those once-in-a-lifetime moments you share with the people around you can be so rewarding. And what a difference it can make if your child's first faltering words are recorded at the poor sound quality offered by mobile phones or dictation devices but in sumptuous 24-bit/192 kHz resolution. The UR12 has everything you need to build a personal recording station in your own home, with a first-class microphone preamp and an easy-to-use program based on professional production software used by recording engineers around the world.
UR12 SETUP EXAMPLES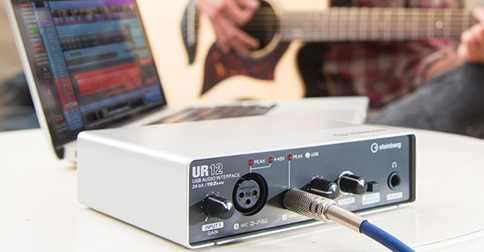 The UR12 is an exceedingly compact recording system with all the I/O and features you really need on the road.
The Steinberg UR12 is one of our most popular interfaces and with good reason. Stocks never last long so if you see that it is in stock and available for sale on our website – buy it now!