VOX StompLab IIB Bass Modeling Effects Processor
o Compact multi-effects pedal with user-friendly interface
o Rugged road-ready metal chassis
o 61 modelling effects
o Effects are categorised into musical styles – Pop, Rock, Jazz/Fusion, Funk, Dance, Heavy, Other and User Presets
o Effects include Pedal, Amp, Drive, Cabinet, Modulation, Noise Reduction, Delay and Reverb
o 20 user programs
o 100 preset programs
o 2 x footswitches for preset selection
o Expression pedal for controlling effects and volume
o Built-in chromatic tuner
o 6.3mm (1/4″) phono jack input and output
o Headphone output for silent practice
o Powered by batteries or optional 20VAC/9VDC power adapter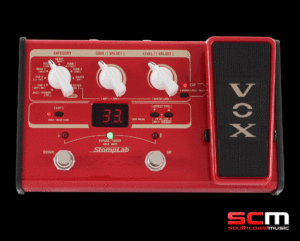 The VOX StompLab IIB is Bass Guitarist's dream come true. The IIB is a superb multi-effects pedal, complete with great range of amp models and studio quality effects. With it's built-in expression pedal and rugged steel chassis, the VOX StompLab IIB looks and sounds as though it should cost much more than our modest asking price.
You don't have to be a rocket scientist to use the VOX StompLab IIB – it provides a straightforward user interface that is as easily approachable for beginners as it is for professionals.
Onboard the Stomplab IIB you will find 61 effects split into categories such as Pop, Rock, Heavy, Funk and Dance amongst others. You have access to ten variations of each style and the effects, which are categorised as pedal, amp, drive, cabinet, modulation, delay and reverb, can be used mixed and matched to create user-made presets.
The simple interface of the StompLab features three chicken-knob dials, for choosing effect categories, controlling gain or effect parameters and the pedal's overall volume. The StompLab also features an expression pedal to control the pedal's Wah effect as well as volume.
There's also a handy built-in chromatic tuner and two pedals for switching between presets. The VOX StompLab IIB sounds amazing and will take your Bass playing to another level.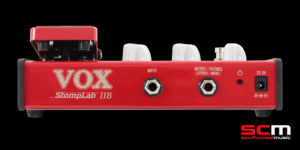 VOX StompLab IIB Effect Types:
o Pedal (9 types): COMP, EXCITER, WAH, AUTO WAH, BRN OCTAVE, ACOUSTIC, U-VIBE, TONE, RING MOD
o Amp (10 types): VALVE 1, VALVE 2, CLASSIC, SCOOPED, LA STUDIO, GOLD PANEL, JAZZ, STUDIO, AC100, UK MAJOR
o Drive (8 types): TUBE OD, FAT DIST, ORANGE DIST, SHRED DIST, FUZZ, OCTA FUZZ, TECHNO FUZZ, CRUSHER
o Cabinet (12 types): LA 4×10, LA 1×18, METAL 4×10, UK 4×12, UK 4×15, CLASSIC 8×10, MODERN 4×10, STUDIO 1×15, JAZZ 1×15, AC 2×15, COMBI, CUSTOM
o Modulation (9 types): CE CHORUS, MULTI CHORUS, FLANGER, ORG PHASE, TWIN TREM, G4 ROTARY, PITCH SHIFT, FILTRON1 (AUTO), FILTRON2 (MANUAL)
o Delay (8 types): ANALOG DELAY 1, ANALOG DELAY 2, ANALOG DELAY 3, ANALOG DELAY 4, ECHO 1, ECHO 2, ECHO 3, ECHO 4
o Reverb (3 types): ROOM, SPRING, HALL
o Noise Reduction (1 type)
o Volume (with the built-in expression pedal)
VOX StompLab IIB Technical Specifications:
o Number of Effects: 61
o Number of Programs: 120 (20 x User / 100 x Preset)
o Audio Input: 1 x 6.3mm (1/4″) Phono Type Mono
o Audio Output: OUTPUT/PHONES (Stereo Standard)
o Signal processing A/D conversion: 24-bit
o Signal processing D/A conversion: 24-bit
o Tuner: Measurement Range: A0 – E6
o Calibration Range: A=438Hz – 445Hz
o Battery Power: 4 x AA size batteries
o Battery Life: 7.5 hours (Alkaline battery)
o AC Power: Optional 240VAC/9VDC adaptor (Approx 200mA current consumption)
o Dimensions: W207mm x D125mm x H64mm (8.15″ x 4.92″ x 2.52″)
o Weight: 780g (1.72oz)
o Included items: AA battery x 4 for verifying proper operation
o Optional items: AC Adapter
*Specifications and appearance are subject to change without notice for improvement.