VOX Joe Satriani Big Bad Wah Pedal.
L I M I T E D   E D I T I O N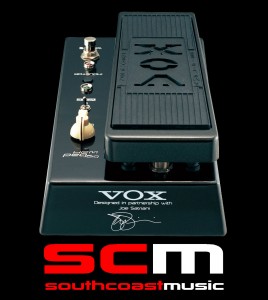 The  Big Bad Wah  dual-mode wah pedal was the third effect pedal created in collaboration between the world-renowned guitarist Joe Satriani and VOX. With two wah modes and some unique features, it delivers a wide range of wah sounds.
Main features
o Dual-mode design offers two distinct wah sounds in a single pedal
o Wah One is classic VOX; with that decidedly sweet UK tone
o Wah Two provides Joe Satriani s original drive and voice controls, delivering a wide range of sound-creation possibilities.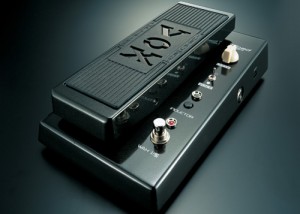 Big Bad Wah is one in a series of pedals designed by VOX and guitarist extraordinaire Joe Satriani. Joe contributed numerous ideas that were unheard of in existing wah pedals, endowing the Big Bad Wah with an unparalleled range of sounds from vintage to modern, as well as those that are totally original. The heart of any wah pedal is the "inductor." The Big Bad Wah allows you to select between a vintage UK style inductor, and the more modern USA style. Designed to Joe Satriani's custom specs is the design of the pedal pot itself, delivering a smooth, musical tone throughout the entire sweep of the pedal.
Big Bad Wah features a dual-mode design. Wah One faithfully replicates the classic VOX wah sound that conquered the world.
Wah Two delivers all the wah pedal know-how that Joe has accumulated over his many years of experience. The Drive knob mimics the Wah 1 gain at its lowest setting, and delivers a 10 dB boost at the maximum settings for those aggressive, growling overtones. One of the most powerful aspects of Wah Two is the Voice switch, providing traditional wah voicing; or a dark, resonant tone reminiscent of a vintage talk-box.
This is the ultimate wah pedal not just for Joe Satriani fans but for any wah pedal user who enjoys creating their own sound.
Big Bad Wah specifications
Control: Drive knob, Voice toggle switch, Inductor switch, Wah 1-2 footswitch
Jacks: 1x INPUT, 1x OUTPUT, 1x DC9V
Input impedance: 1M-ohms
Output impedance: 22k-ohms
Power supply: 9V battery  6F22, 6LF22 6LR61  or AC adapter  sold separately
Current consumption: 4 mA
Battery life: approximately 90 hours  when using zine-carbon battery
Dimensions:  W x D x H : 130 x 253 x 78  mm   5.12 x 9.96 x 3.07  inches
Weight: 1.2 kg  2.65 lbs.  without battery
Included items: 9V zine-carbon battery  6F22
Optional  sold separately : 9V AC adapter
LAST ONE! OUR PRICE INCLUDES DELIVERY WITH TRACKING!