SEIKO SAT501 Pitch Perfect – Perfect Pitch Chromatic Tuner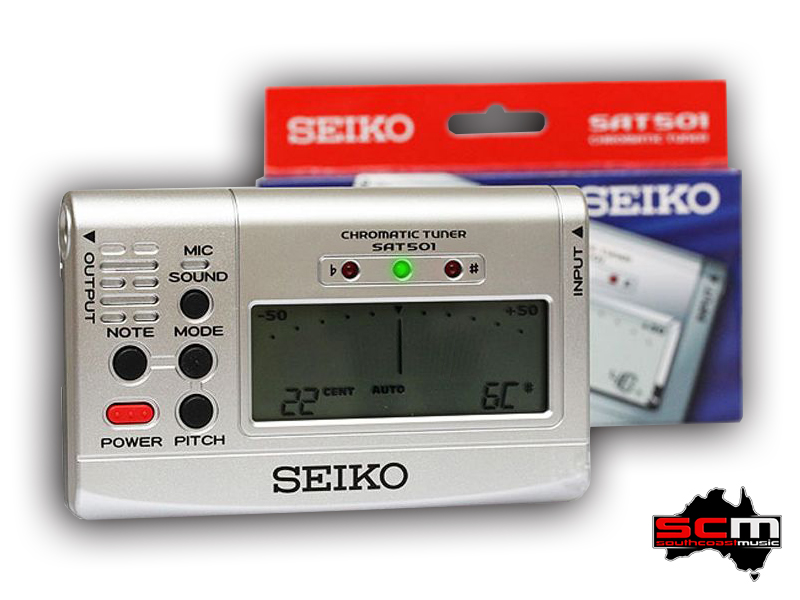 Made by Seiko is assurance that this Tuner is stylish, reliable and highly accurate.
The Seiko SAT501 Chromatic Tuner is an important tool that has been designed to ensure you are playing in tune.
The SAT501 offers a broad tuning range, a tone generator for pitch reference tone, input and output jacks a highly sensitive built-in microphone.
The SAT501s incredible tuning range recognises notes as low as A0 and right up to C8. That's the range of an 88 key piano and is enough for virtually all musical instruments. Tuning may be performed in a number of ways:
• The onboard microphone
• Via an instrument cable into the 6.35mm (1/4″) input
• With an optional vibration sensor connected to the 6.35mm (1/4″) input
The SEIKO SAT501 Tone Generator
The built-in tone generator can play reference notes with a range between C4 – B4 (from middle C and up one octave).
This feature alone sets the SAT501 apart from other tuners. With the reference tone, you can tune your instrument to the note you have selected. Once you feel you are close to being in-tune, select the tuner mode and fine tune the note to pinpoint accuracy.
The SEIKO SAT501 Tone Generator has three modes:
• Chromatic Mode (denoted by a tuning fork logo): select this and the SAT501 becomes a useful tool for vocalists and for practice tuning by ear.
• Guitar Mode: Select this mode and you can scroll through the 6 notes of standard guitar tuning from Low E through A, D, G, B and up to High E.
• Violin Mode: Select this mode and the tone generator will play the 4 notes of the violin and mandolin – G, D, A, E.
Seiko have also made the SAT501 suitable for on-stage and studio use. The SAT501 includes a 6.35mm (1/4″) output jack, allowing musicians to insert the tuner into their signal chain for rapid tuning checks.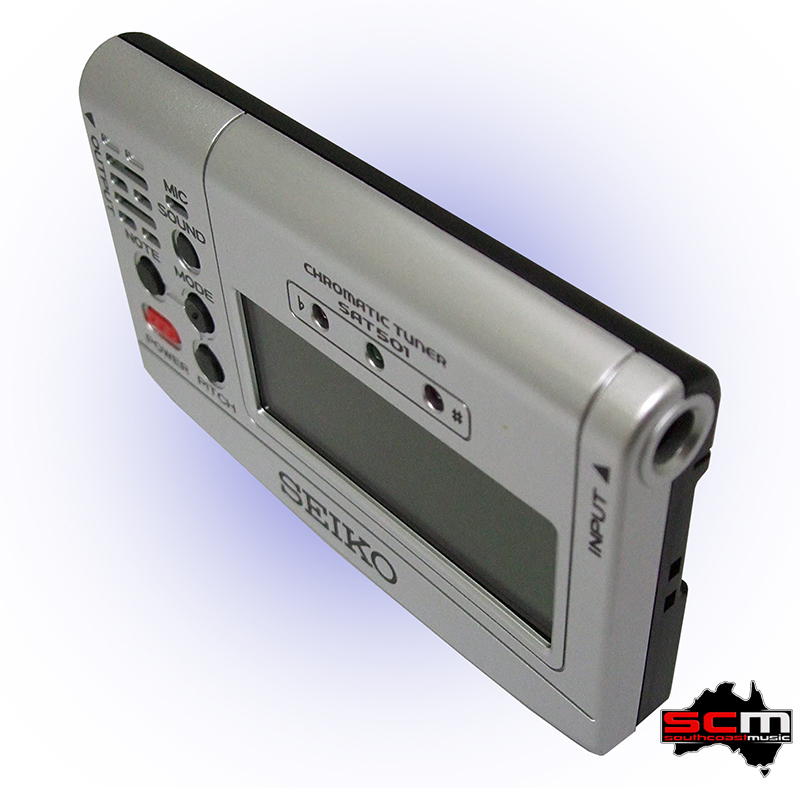 SEIKO SAT501 Features
• Large display and bright leds provide high visibility
• User friendly buttons offer easy operation
• Runs on 2 AAA batteries (included)
• Highly Efficient Ecological design for long battery life
• Last Function Memory back up
• Auto power off
• Digital cent indication
• Octave indication
• Tuning Range: A0 – C8
• Sound Generation: C4 – B4
• Pitch Shift: A4=410Hz – 450Hz
• Note Detection: Built-in Microphone, 6.35mm Input Jack
• Input: 6.35mm (1/4″) Jack
• Output: 6.35mm (1/4″) Jack
• Weight: 90g (including battery)
• Dimensions: W105.6 x H64 x D17.7mm
• Colour: Silver
• Warranty: Two Years
• Warranty: Two Years