SAMSON CARBON 61 USB CONTROLLER KEYBOARD
Bundled with Native Instruments' Komplete Elements software
IDEAL FOR SCHOOL MUSIC PROGRAMS!
o 61-key, velocity-sensitive, semi-weighted keyboard
o Compact design, perfect for live performance and studio applications
o Assignable data encoder and volume slider
o Edit key for adjusting up to fourteen control parameters
o LED display provides real-time feedback
o Includes MIDI out, sustain pedal input, and USB connection
o Dedicated transpose and octave buttons, pitch bend and modulation wheels
o Integrated iPad cradle
o iPad or USB bus powered
o Bundled with Native Instruments' KOMPLETE ELEMENTS software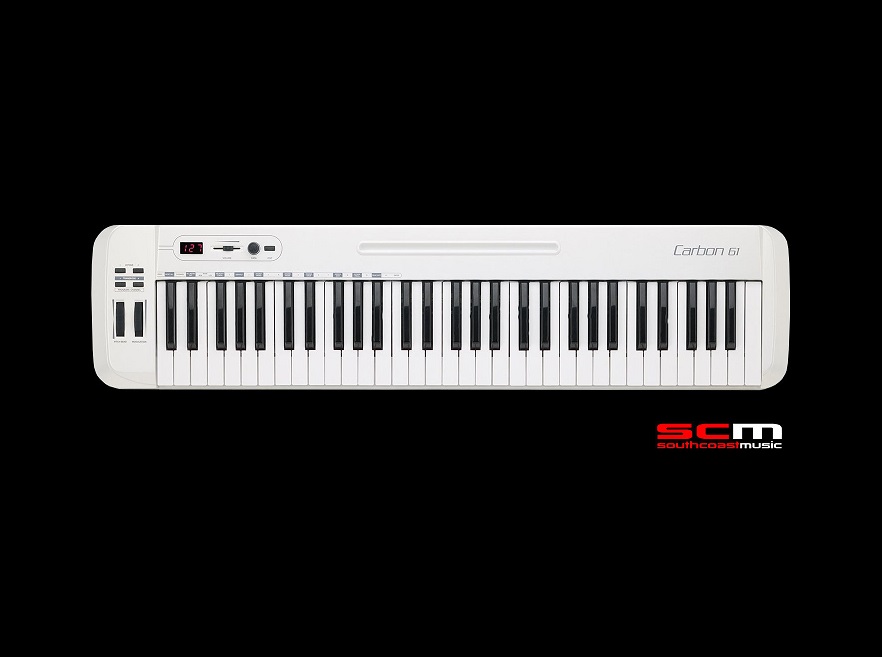 Apps such as Apple's GarageBand are impressively designed, however they can't replicate the experience of playing a piano or keyboard with full-sized, pressure-sensitive keys. For this very reason, Samson developed the Carbon 61. A complete MIDI keyboard solution for use with GarageBand, other iOS apps and computers, the Carbon 61 has a cradle designed to hold an iPad and offers versatile, easy-to-use features in a compact, lightweight controller.
The features and quality of Samson's Carbon 61 make musical performance and production accessible to everyone and thanks to southcoastmusic's buying power, it's affordable too. Perfect for seasoned musicians and young creators alike, the Carbon 61 is equally at home on the stage and the studio…
o Versatile 61-key controller with iPad support.
The Samson Carbon 61 USB MIDI Controller makes musical performance and production accessible to everyone. For seasoned musicians and young creators alike, the Carbon 61 offers versatile, easy-to-use features in a compact, lightweight controller that's well suited for the stage and studio.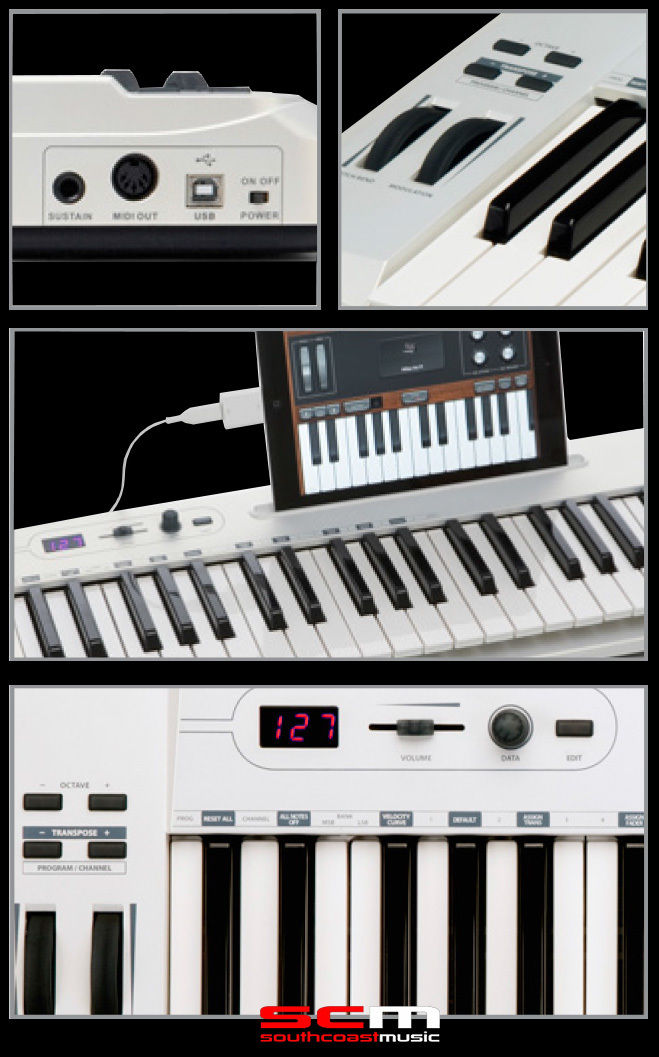 o Dynamic Feel
The Carbon 61's semi-weighted keyboard provides musicians with a responsive and expressive platform that is designed to feel more like an instrument than a controller. It comes equipped with velocity-sensitive keys that accurately capture the dynamics of a performance. With 61 keys, the Carbon 61's pitch range is perfect for performing, while remaining highly portable.
o Expand Your Expression
With dedicated Transpose and Octave buttons, you can change the key of any given instrument, as well as expand the keyboard to a full 4-octave range, without using any sub menus or shift keys. With all of these comprehensive features, not to mention classic Pitch and Mod wheels, the Carbon 61 puts a wide range of musical expression and tone manipulation at your fingertips.
o Performance Control
Take control of your music software with the Carbon 61's assignable Data encoder and Volume slider. For easy editing, players can use the Edit key to adjust up to 14 performance-related control parameters. Also, the Carbon 61's 3-digit, 7-segement LED displays the behavior of every function in real-time. For added versatility, the Carbon 61 includes traditional MIDI Out, Sustain pedal input and USB connections.
o Add Your iPad
Designed with the iPad in mind, the Carbon 61 features an integrated iPad slot. When combined with the iPad using Apple's iPad Camera Connection Kit (not included), the Carbon 61 is a great tool for making music on-the-go. Use it with your favorite music and synth iPad apps that support MIDI controllers, and for additional mobility, the Carbon 61 can be directly powered by the iPad.
o Kompleting The Carbon
Bundled with the Carbon 61, Native Instruments' Komplete Elements software offers a comprehensive selection of studio-quality sounds, effects and tools for modern music production, composition and sound design. With over 3GB of samples, Komplete Elements provides you with more than 1,000 premium sounds and three mighty player engines – all carefully compiled to provide a strong toolkit for both stage and studio.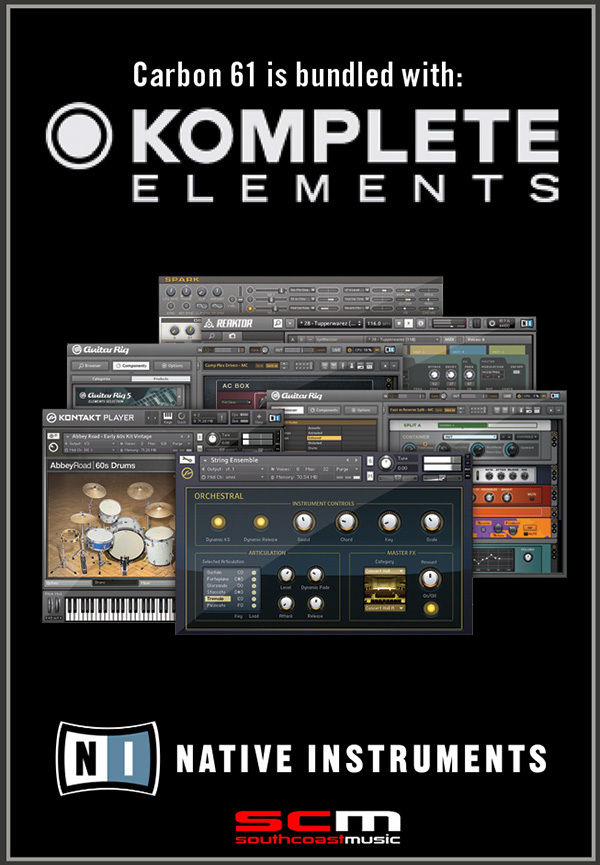 SAMSON CARBON-61 SPECIFICATIONS
KEYS:
o 61 semi-weighted
o velocity sensitive
CONNECTORS:
o 1 x 5-pin DIN MIDI Out
o 1 x 6.3mm (1/4″) TS Sustain Pedal Input
o 1 x USB Type-B
CONTROLLERS:
o 1 x Modulation Wheel
o 1 x Pitch Wheel
o 1 x Data Slider
o 1 x Data Encode
o 5 x Function Buttons
DISPLAY:
o 3-digit, 7-segment LED
POWER REQUIREMENTS:
o iPad or USB bus power
DIMENSIONS:
o W100cm x D29cm x H13cm
o 4.68 kgs.
WARRANTY:
o One Year
southcoastmusic is an authorised SAMSON Dealer – One Year Australian SAMSON warranty applies.
Includes delivery to anywhere in Australia!