NOVATION IMPULSE 25 KEY MIDI USB CONTROLLER KEYBOARD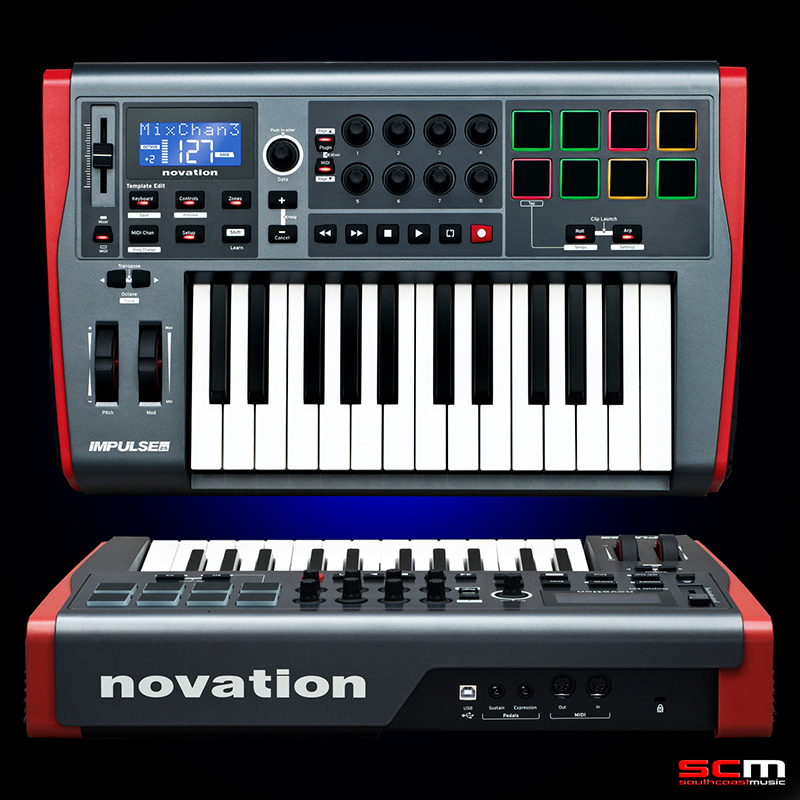 Impulse is the ultra-responsive and expressive keyboard with loads of fully assignable controls. Designed for people who love to play keys, it's a pleasure to play and integrates seamlessly with Ableton Live, Logic Pro, Pro Tools and other major music software
Novation's Most Expressive Keyboard
Novation have specifically designed the Impulse keyboard to let you create truly expressive performances. Ultra-responsive with semi-weighted action and aftertouch, its full-size piano style keys adapt perfectly to any instrument you want to play, including organs, synths and pianos.
While you're playing, the unique High Rate Scan (HRS) technology will scan the keyboard 10,000 times per second to capture every nuance of your performance.
You can choose between a 61, 49 and 25-key version of Impulse. The only difference is that the 25-key sacrifices its faders to make it easier to carry around.
Produce Better Music
Mix and sculpt your sound using endless smooth-action knobs, low-profile 45mm faders, loads of buttons and a custom LCD screen. All controls work seamlessly with major music software and can be mapped to any parameter.
The Impulse 25 is Novation's cutting-edge professional 25 key USB/MIDI controller. Featuring an ultra-responsive, semi-weighted keybed with aftertouch, Novation have engineered the Impulse 25 to feel and play like a real, expressive professional keyboard making it a must have for any DAW.
The Impulse 25 controllers have eight rotary encoders, full transport control, a large LCD and 55mm faders, enabling highly expressive performance and unsurpassed control of your music software, with excellent value for money.
Impulse is designed to give you complete control of your music-making software. The knobs, faders and buttons put your mixer, instruments and effects at your fingertips, with the convenience of the included Automap control software. Impulse's large LCD screen shows important information about what you are controlling, as you are touching it, and transport buttons provide direct hardware command over your session and easy navigation around your music software.
As well as a precision keyboard, drums pads and a full control surface, your Impulse controller comes with Novation's award-winning Automap control software, for fast and simple DAW and plug-in control. Impulse also comes with Ableton Live Lite, Novation's Bass Station soft synth and a Loopmasters sample pack, giving you all you need to start making music.
Impulse controllers are powered via the computer's USB connection so there is no need for an external power supply or batteries! There are also expression and sustain pedal inputs on the rear panel, as well as a MIDI input and output, so you can use Impulse as part of a larger hardware setup.
Unleash your creativity with the Novation Impulse 25.
Do More with Your Drum Pads
You can play drums in real time with the pressure-sensitive pads for rolling beats, looping drum samples and designing arpeggios. All eight of Impulse's drum pads are backlit with multi-coloured LEDs and they operate in different modes, such as following the pattern being played by Impulse's on-board groovebox-style arpeggiator/step sequencer.
You can change the pattern in real time and engage a beat roll function, to improvise with drum patterns on the fly. In addition to this, the drum pads can be used to trigger clips in Ableton Live's session view – illuminating yellow if a clip is loaded, green if it is playing and red if it is set to record. You can add further character to your performance with the pitch and modulation wheels.
Connect To Just About Anything
Impulse is class-compliant and USB bus-powered, so you can simply plug it into Mac or Windows and get started straight away, without the need for a power supply.
Impulse is gig-ready, too; 5 pin MIDI outputs allow you to connect to your favourite synth or module.
Make Music Straight Out of the Box
Ableton Live Lite comes in the box and integrates seamlessly with all the controls to provide:
• Mixer control (all channels)
• Transport control
• Clip launch (using Impulse's back-lit drum pads)
• Scene launch
• Plug-in/Device control
You'll also get an impressive library of free samples from Loopmasters, as well as Novation's Bass Station software plug-in, which recreates the sound of the legendary analogue bass synthesiser.
Impulse also gives you instant hands-on control of other major music software, including:
• Pro Tools: Mixer control (all channels), Transport control
• Logic: Mixer control (all channels), Transport control, Plug-in instrument/effects control (instant control of Logic's own plug-ins and 3rd party VST/AU plug-ins)
• Cubase: Mixer control (all channels), Transport control, Plug-in instrument/effects control
• Reason/Record: Mixer control, Transport control, Instant control of rack devices (Thor, Dr Octo Rex etc.)
• Cakewalk/Sonar: Mixer control (all channels), Transport control, Plug-in VST instrument/effects control