ROLAND FP60 DIGITAL PIANO BUNDLE
BLACK CABINET – A CONTEMPORARY DIGITAL PIANO WITH GRAND PERFORMANCE
If you are looking for no-compromise Piano Performance for Home, Studio, classroom or live performance, the FP-60 is a fantastic choice. This portable digital piano offers exceptional sound and touch housed in a sleek, stylish cabinet that looks great and is easy to transport. Included are the purpose built matching wooden stand and three-pedal board.
The specially designed onboard speaker system produces rich, impressive sound with ample projection for performing at small venues, while a range of non-piano sounds allow you to cover a variety of musical styles and with modern Bluetooth® wireless connectivity built in, you can connect a smartphone or tablet and enhance your playing and practice sessions with Roland's Piano Partner 2 and other music apps.
The Roland FP-60 Bundle offers truly outstanding value, delivering premium piano quality in a streamlined instrument that will take you anywhere your heart and mind desires!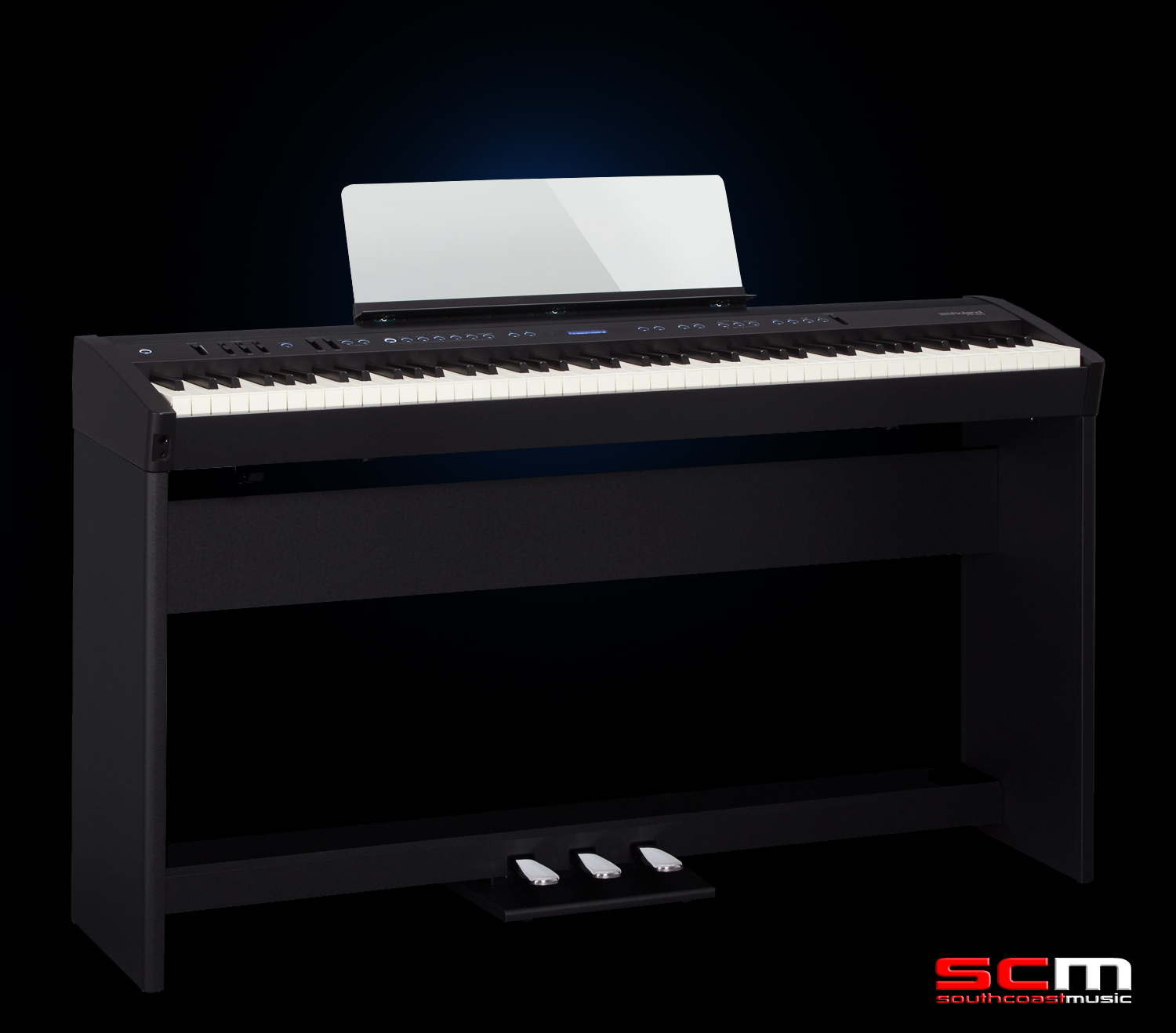 SuperNATURAL Piano sound engine with 288-voice polyphony for true acoustic piano sound and response
PHA-4 keyboard with escapement and Ivory Feel keys for inspiring grand piano touch
Connect your smartphone or tablet via Bluetooth and play along with favorite songs through the piano's speaker system
Advanced onboard speaker system provides rich, powerful sound for home playing and intimate live performances
Also includes electric pianos, strings, organs, and synth sounds from Roland's flagship instruments
Enhance performances and practice sessions with Roland's Piano Partner 2 app and create music with Apple's GarageBand for iOS and other leading music apps
Three-band EQ with dedicated front-panel controls
DP-10 damper pedal included for portable use
Includes the KSC-72 stand and KPD-90 three-pedal unit for an elegant integrated look
ROLAND FP60 – SOUND AND TOUCH WITH SUPERIOR PIANO PERFORMANCE
Why should a portable piano mean you have to compromise on sound quality and keyboard feel? With the FP Series portable piano, you don't have to settle for less, as it includes the sound engine and premium keyboard construction from Roland's flagship pianos housed in a stylish, cabinet. Roland's advanced piano technologies offer superior tone and touch that will satisfy the most experienced pianists.
ROLAND FP60 – COVER ANY MUSICAL STYLE WITH A VAST RANGE OF SOUNDS
Even if you usually play with classic acoustic piano sounds, there are often situations when you need additional sounds to play various songs and styles. The FP60 has you covered with a selection of pro-grade electric pianos, strings, organs and others, giving you a multitude of sound options for nearly any musical genre.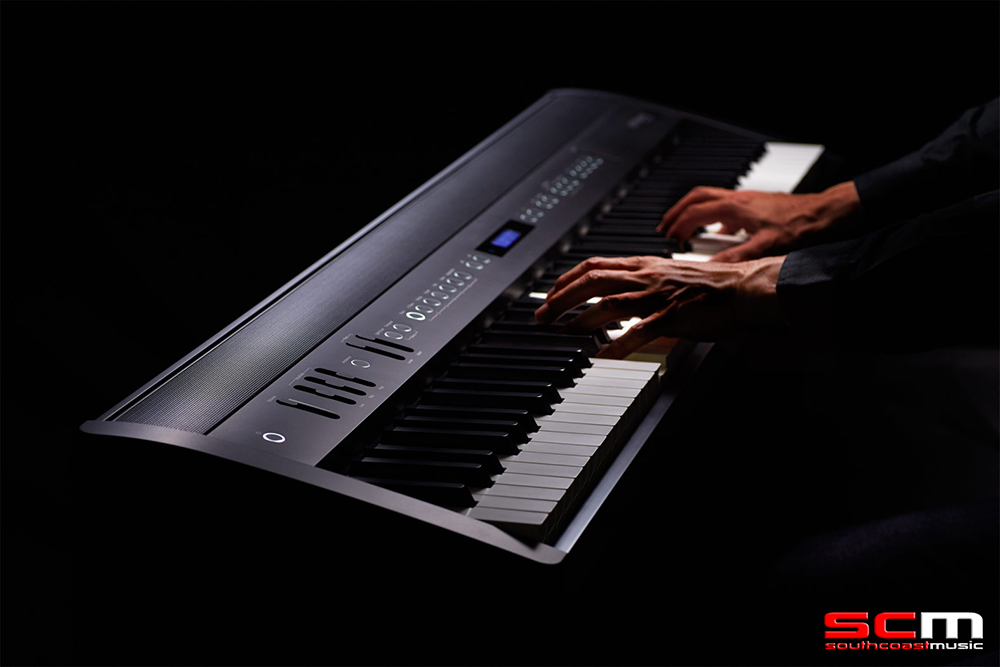 ROLAND FP60 – ONBOARD SPEAKER SYSTEM – READY FOR GIGGING IN SMALLER VENUES
Due to size limitations, the onboard speaker systems in typical portable pianos only produce sufficient sound for playing and practicing at home. But thanks to Roland's sophisticated design approach, the FP60 has a big, powerful sound that projects beautifully in small performance venues, eliminating the need to bring an external sound system. The speakers and integrated amplifier have also been carefully tuned for precise reproduction of every tonal detail.
ROLAND FP60 – BLUETOOTH CONNECTIVITY – EXPAND THE RANGE OF YOUR CREATIVITY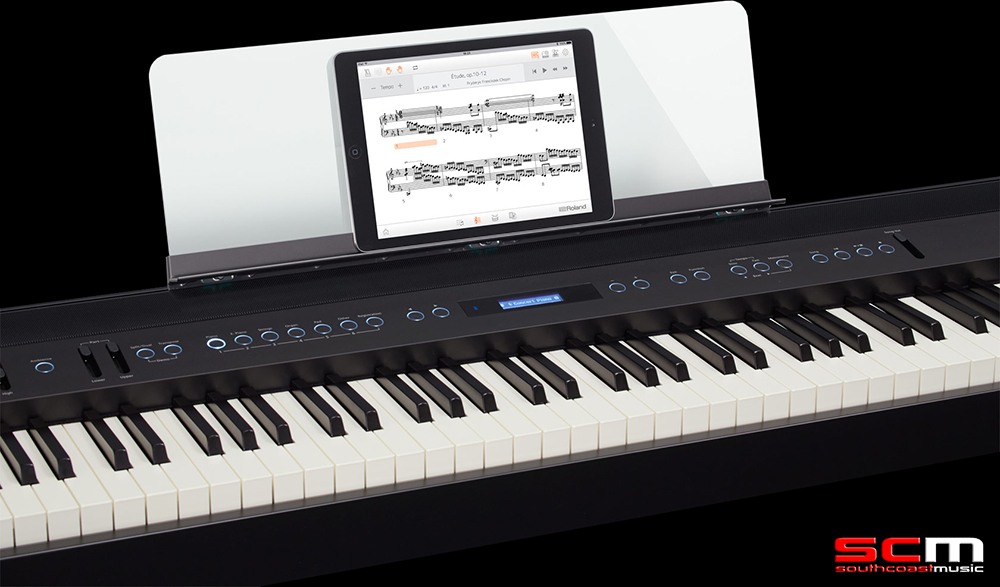 These days, people often play piano along with favorite songs stored on their smartphone. With built-in Bluetooth wireless support, the FP-60 goes a step further by letting you stream music through the piano's powerful internal speakers, resulting in a far more immersive experience. Installing Roland's free Piano Partner 2 app on your tablet lets you get even more creative, providing access to rhythm accompaniments from genres including pop, jazz, and blues. They even follow the chords you play, and it all happens wirelessly thanks to Bluetooth technology.
*The Bluetooth feature may not be available, depending on the country where the product is purchased.
ROLAND FP60 – FLEXIBLE SETUP – CONTEMPORARY LOOKS – EASY SETUP
Unusually for a portable piano, the FP60 looks great at home too, thanks to the simple and refined exterior design. This bundled package includes the KSC-72 stand and KPD-90 three-pedal unit for an elegant integrated look.
If you like to make your music on the move, thanks to the portable cabinet design and onboard speakers, the FP60 is also ideal for gigging in smaller venues. The DP10 single damper pedal is also provided for those duties.
ROLAND FP60 – SOUNDS LIKE AN ACOUSTIC GRAND PIANO
The FP60 features the Roland SuperNATURAL Piano Modeling engine, providing the dynamic, expressive sound of an acoustic grand piano, with rich, complex overtone changes that naturally follow your touch.
ROLAND FP60 – PLAYS LIKE AN ACOUSTIC GRAND PIANO
The FP60 keyboard offers maximum comfort, playability and response comparable to an acoustic grand piano. The FP-60 features Roland's PHA-4 keyboard with escapement and ivory-feel keys for a tactile and inspiring piano experience.
ROLAND FP60 – PLAY ANY MUSICAL STYLES
The FP series includes a wide range of pro-quality sounds ready for playing a variety of music styles. The FP-60 include a total of 86 tones, including 15 Piano, 16 E.Piano, 11 Strings, 15 Organ, 15 Pad and 14 Other.
ROLAND FP60 – EASY ACCESS TO YOUR FAVORITE SOUNDS
The FP-60 allow you to save your favorite sound and useful settings – including layers and splits – via one of the 30 user registrations, for quick recall during your performance. Also, dedicated Upper and Lower volume sliders on the FP-60 front panel let you adjust the sound in an instant.

ROLAND FP60 – NO NEED TO BRING SMALL MONITOR SPEAKERS
Each model in the FP series is equipped with powerful onboard speakers that are ideal for home playing or intimate performances. Since the onboard speakers are meticulously designed to make the piano sound great, you won't need to bring external monitor amps for your performances in smaller venues.
ROLAND FP60 – SUPERIOR SOUND SYSTEM DESIGNED FOR A PIANO
The FP-60 projects rich, well-balanced piano sounds from its main stereo speakers (12 cm x 8cm) housed in a dedicated speaker box and with the convenient three-band equalizer on the front panel, it's easy to shape the sound to fit the venue you're playing in too!
Roland's uncompromising sound quality means beautifully inspiring piano sound that exceeds the typical speaker quality in its class.
ROLAND FP60 – ENHANCE DAILY PIANO LEARNING AND ENJOYMENT
The Piano Partner 2 app for iOS and Android mobile devices provides a friendly, interactive way to help you learn and enjoy music on your FP piano. Songs and DigiScore Lite show the piano's internal music collection on your device's screen, while Rhythm and Flash Card modes allow you to build skills with intelligent accompaniment and engaging music exercises. And the Diary feature allows you to log your daily practicing to check the progress. To use Piano Partner 2, connect your device and a compatible Roland piano wirelessly via Bluetooth, or wired with a USB cable. Piano Partner 2 is available for free from the App Store or Google Play.
*Compatible with iPhone, iPad, and Apple Watch, as well as Android devices.

ROLAND FP60 – PERSONALISE  THE SOUND OF YOUR PIANO
Inside the instrument are many parameters that allow you to finely adjust the sound elements of the piano, just like how an experienced piano technician fine-tunes an acoustic piano for a specific artist or musical style. With the Piano Designer app, you can easily control these elements from the graphical touchscreen on your mobile device. In addition, the app includes many ready-to-play settings, allowing you to enjoy custom sounds created by world-class piano technicians. *Piano Designer app is available for FP-90/FP-60.
ROLAND FP60 – IF A FURNITURE PIECE IS IMPORTANT OPTIONAL STAND AND PEDAL CONFIGURATION AVAILABLE
This sleek and portable FP60 is also a contemporary modern upright home piano with the simple addition of  the KSC-72 stand and KPD-90 three-pedal unit. The inclusion of a matching bench makes for an elegant and integrated look. The simple, modern design is stable and durable while the KPD-90 pedal offers three-pedal configuration with *Progressive Damper Action providing continuous response for traditional playing techniques. This is a great way to complete your setup, giving you authentic piano performance.
ROLAND FP60 – EASY TO SET UP ANYWHERE
The portable FP60 is perfect for small gigs at smaller venues. You can leave the dedicated stand at home and simply load the piano into your car, using the piano with a portable keyboard stand such as Roland's KS-12 keyboard stand or any of the other suitable stands available from scmusic. Additionally, the optional compact RPU-3 Pedal Unit is suitable for a mobile setup, offering a grand piano pedaling experience by combining three pedals into a compact and portable clutter-free unit.