ROGERS DRUMS
♦ ROGERS MODEL 37
♦ DYNA-SONIC 14″ x 6.5″ SNARE DRUM
♦ BEAVERTAIL LUGS
♦ RED ONYX FINISH
♦ HAND MADE IN THE USA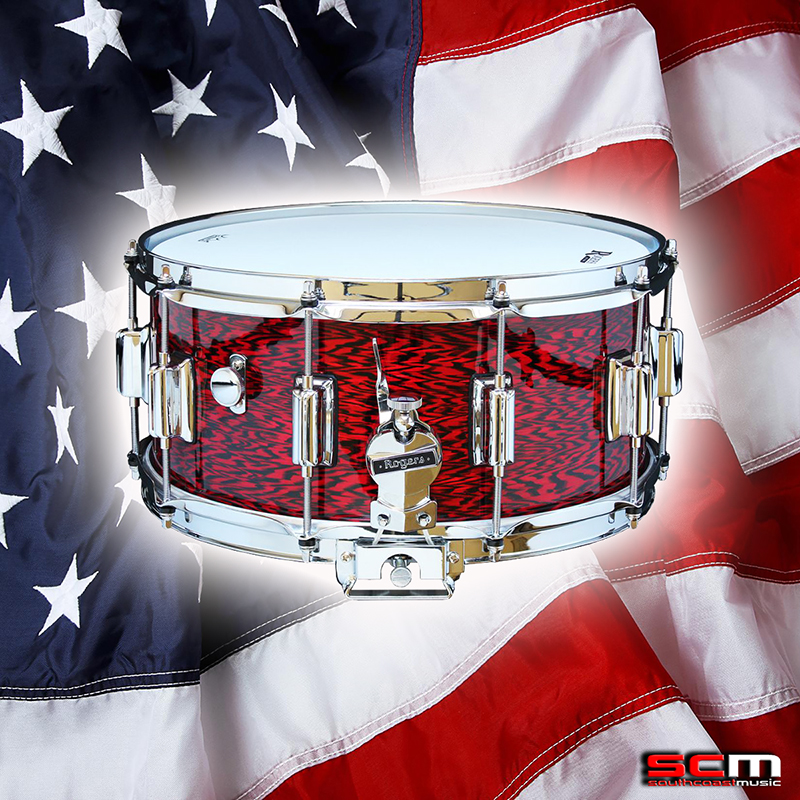 Rogers Model 37 Dyna-Sonic 14″ x 6.5″ Snare Drum in Red Onyx Finish
Red Onyx – Deep Shell Edition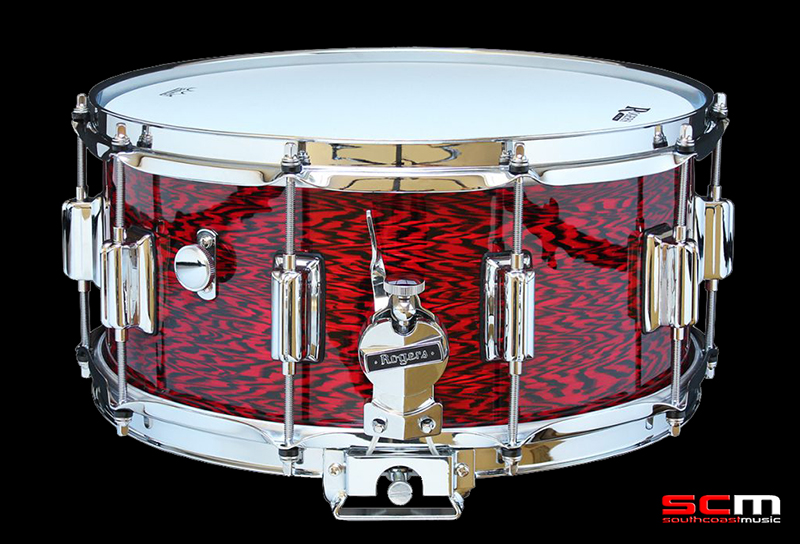 As a drummer, you know that your most important drum is your snare drum – it is the one that gets the biggest workout and it is the snare drum's clock stroke working in tandem with the bass drum that keeps everything in the groove. It makes simple sense that your choice of snare drum should be completely without compromise.
Red Onyx . . . the show stopping hit of the last NAMM show – simply stunning.
If you have had the privilege of playing Rogers' drums before, you will know exactly what the fuss is all about – if you're a newbie – welcome to the world of ROGERS Drums!
The traditional yet striking Red Onyx is a Rogers' classic and simply 'lights up' this extended depth wood-shell Beavertail Dyna-Sonic.
The Concert Depth 6.5″ x 14″ Model 37 Dyna-Sonic snare drum features proprietary Rogers Maple and Poplar blend shells.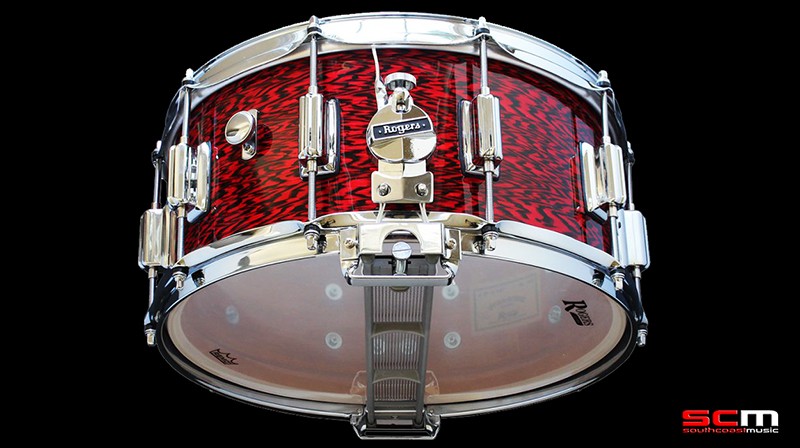 Original specification reinforcement rings are included as well as the classic Swivo-Matic Throw Off along with the beautifully crafted Rogers script logo custom built Dyna-Sonic oval badge.
This Rogers snare drum is faithfully appointed with the second generation lug profile, chrome script logo, oval badge and finished in Rogers' stunning Red Onyx finish.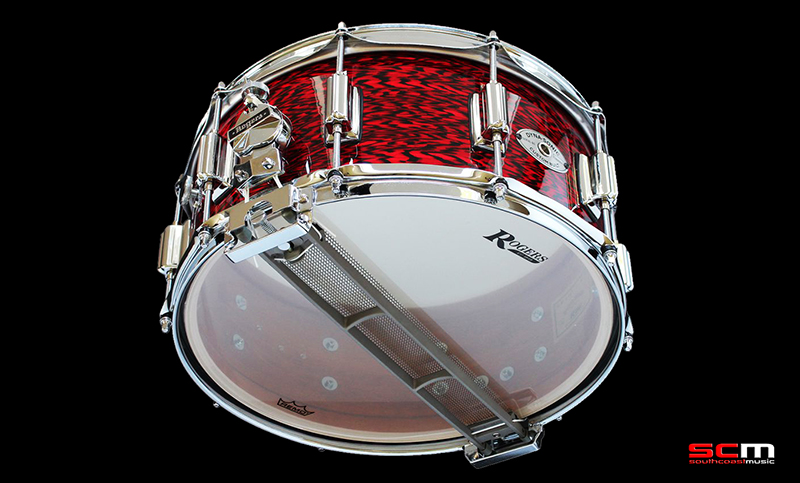 At the heart of the drum is Rogers legendary floating snare rail system, which provides extraordinary sensitivity and control that has never been duplicated.
Hand-built in Roger's USA workshop, the Dyna-Sonic No. 37-WMP is another masterpiece of art and sonic excellence.
FEATURES:
♦ Concert Depth Wood Drum Shell
♦ 5-ply Maple/Poplar Shell with Reinforcement Rings
♦ 1.6mm Triple Flanged Batter and Snare Side Hoop with Snare Gates
♦ 10 Beavertail Double Sided Die-Cast Lugs
♦ Swivo-Matic Throw Off
♦ Exclusive Floating Snare Rail System with Adjustable 20-Strand Snare Wires
♦ Rogers Script Logo Badge – Dyna-Sonic "Custom Built" Oval Badge
♦ Red Onyx Wrap
♦ Fruitwood Stain Interior Finish
♦ Size: 14″ x 6.5″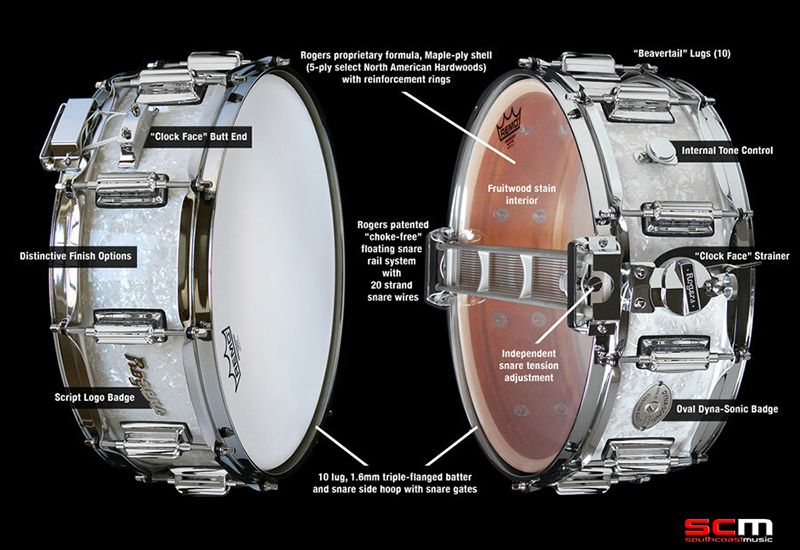 THE VISION AND A LEGACY . . .
Rogers is the brand that helped shape the modern drum industry. Formed in 1849, Rogers Drums rose from humble beginnings as the first U.S. Calfskin drum head manufacturer into one of the most innovative drum and percussion brands on the planet. Rogers hit its stride during modern history's most transformative decade – the 1960s and this "Golden Era" of the brand brought new inventions, sound and a style to the world of drumming – that had never been imagined before. Like a Phoenix, Rogers returns – celebrating the vision and the legacy of that Golden Era and carrying forward the brand's creed for percussion innovation into the 21st Century.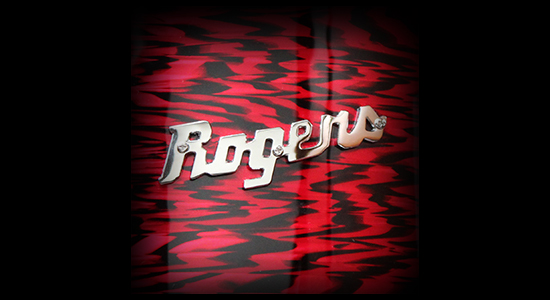 A BRIEF HISTORY of ROGERS DRUMS . . .
♦ 1849
Joseph H. Rogers establishes USA's first calfskin head company in Brewster's Station, New York, followed later by a second tannery in Farmingdale, New Jersey, operated by son Joseph H. Rogers Junior.
♦ 1930
In addition to drum and banjo head production, grandson Cleveland S. Rogers begins to manufacturer the first "Rogers" drums at the Farmingdale tannery. 1955 Cleveland S. Rogers sells the Rogers company to distributor Henry Grossman. Subsequently, Grossman moves Joseph Rogers Inc. from Farmingdale to Covington, Ohio.
♦ 1956
With the combined skills of Henry Grossman, inventor Joe Thompson and marketing manager Ben Strauss, the Rogers Company rises to become a leading innovator in drum & percussion manufacturing at the Covington plant.
♦ 1966 – 2006
After an inspired decade at the company's Covington facility (considered the "Golden Era" of the Rogers brand), the company's assets are subsequently sold to a series of musical instrument corporations including CBS (1966), Brook Mays (1999), and Yamaha (2006).
♦ 2017
Rogers returns . . .
Buy with confidence, southcoastmusic is an authorised ROGERS USA Drum Dealer!