ODERY FLUENCE SERIES 10″ x 6″ POPCORN SNARE DRUM
Stunning finishes, top quality materials, superb attention to detail and exceptional value … these are the hallmarks of Odery Drums.
From humble beginnings in Brazil, Odery have brought something new to the table, something special with a Latin twist and in a congested market where drums appear to have more similarities than differences, Odery is a breath of fresh air.
Odery Drums are designed in Brazil and offer an innovative approach to the drum maker's craft – with impressive results. Odery drums have the look, feel and tone of an expensive drum yet Odery's mission is to produce superb quality drums at really affordable prices and he has succeeded.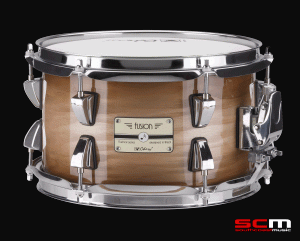 Odery's Fluence series Snare Drums deliver exceptional performance, volume, attack and tight rim-shots. Designed as an effect snare dum, Fluence series Snare Drums are finding increasing use as a main snare. With the sound, build quality, features and great visual appeal you expect from Odery, Fluence Series Snare Drums are helping drummers find their own unique voice and now the most used drum in the kit has a playmate – at a remarkable price.
The Odery Fluence 10″ x 6″ represents great value for such a nice little popcorn snare drum. The construction, finish and tone are amazing especially considering our modest asking price. The shells are made of Basswood and Maple with an outer ply in beautifully finished exotic Ash. The shells are made of a Basswood/Maple mix with the outer ply in beautifully finished exotic Ash. The throw-off is very smooth and easily adjusted and the drum has been pre-tensioned and tuned in-store. Of course you may wish to fine-tune it to your own taste but we are sure that you'll agree that the Odery Popcorn Snare Drum sounds amazing!
This Popcorn Snare Drum may be used as a "sound effect" drum with a tone that really cracks and cuts through. You may even find yourself using it as your main snare!
THIS ITEM INCLUDES FREE SHIPPING