PRICE SLASHED! Mesa Boogie Bass Strategy Eight:88 All Valve Bass Amplifier Head RRP$6399 ONE ONLY!
*DELIVERED! PLUS…if you find a better price, we'll match it (some conditions apply).
PRICE DEMOLITION!
BRAND NEW – UNOPENED BOX!
MESA ENGINEERING
MESA BASS STRATEGY™ Eight:88™
KT88 POWERED – ALL VALVE BASS AMPLIFIER HEAD
FIVE YEAR WARRANTY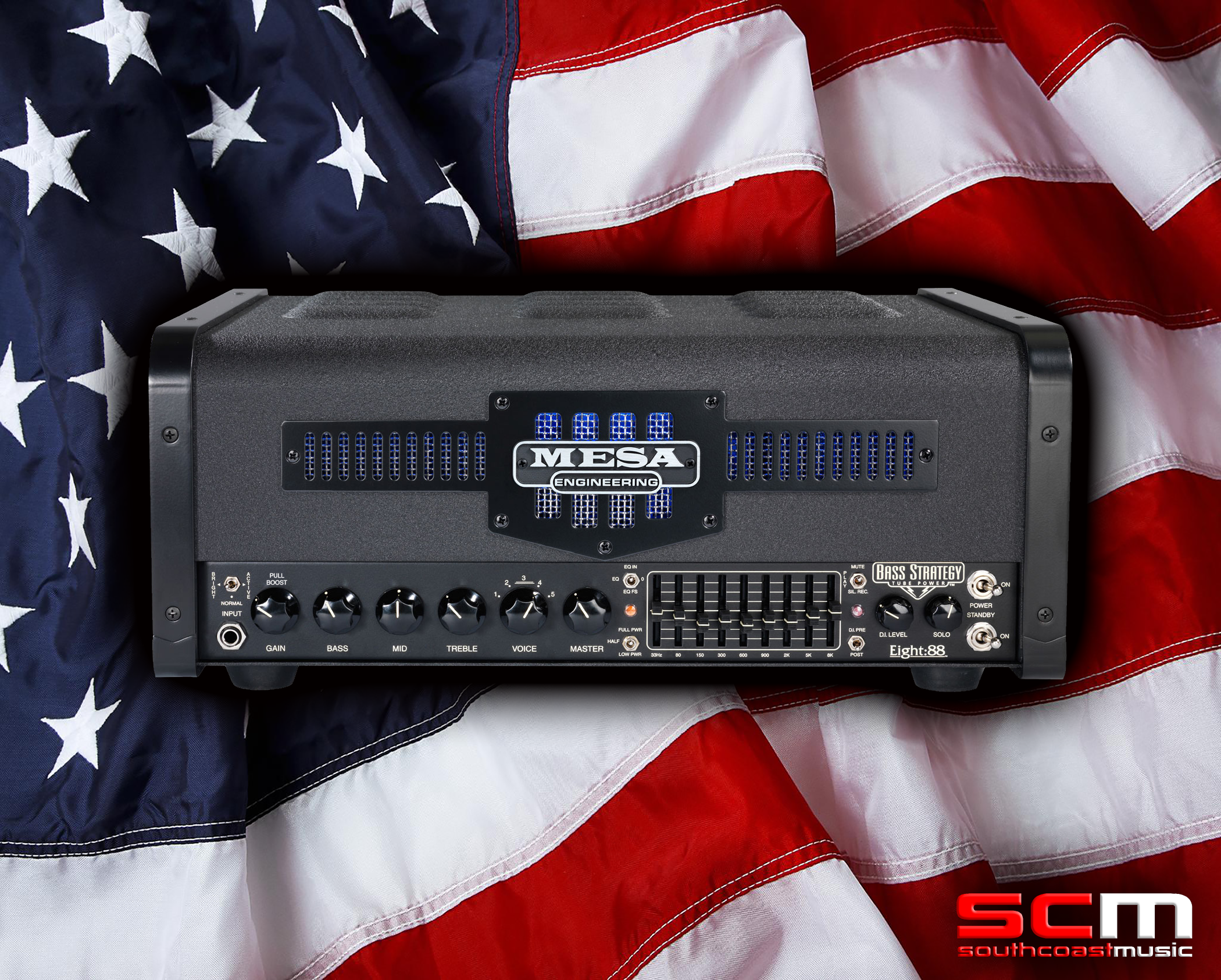 The first Mesa® amp ever was built for Bass. In fact, five of the first seven amps Mesa made from scratch were all made for bass, and these included the Snakeskin heads that toured throughout the 70's with Lee Michaels. Right from the beginning, Mesa has been dedicated to bass. World Class Tone, Power, Portability, and Control over the entire spectrum make the BASS STRATEGY™ Eight:88™ the worthy Tone King in the MESA All-Tube Bass Amp Bloodline.
The Bass Strategy™ Eight:88™ features an all Tube Preamp, Five Position Rotary VOICE Selector, Nine Band Graphic Equalizer, Footswitchable SOLO and VOICE control (footswitch sold separately) and a Rear Tuner Output. Mesa's patented Multi-Watt™ 3-Way Selectable Power Output Control is on hand to the tame the massive high output power section that utilises eight KT88 Tubes – the Bugatti Veyron of Power Tubes. Mesa's STRATEGY is THE big horsepower, big venue tube Bass Amp for the new millennium.
MESA BASS STRATEGY™ Eight:88™ 22.2kg OF SHAPEABLE KT88 POWER
Custom Designed AND Handcrafted Exclusively in Petaluma, California, the Bass Strategy weighs in at only 22.2kgs, similar to a Triple Rec™ Head. Compact for a full size amp, dimensions for the metal chassis head are 18.89cm in height, 47.94cm in width and a depth of 33.5cm
Power in the Bass Strategy Eight:88 originates from an all tube power amp and preamp featuring 8 x KT88 power tubes & 3 x 12AX7 preamp tubes. It's important to note that tube amps sound as loud as solid state amps rated at several times their power (wattage) rating. Plug in and compare – Amazing power, unmatched fat, enveloping tone and inspiring feel.
MESA BASS STRATEGY™ Eight:88™ TUBE PREAMP WITH POWERFUL EQ OPTIONS
The Bass Strategy Eight:88 offers BRIGHT, NORMAL and ACTIVE INPUT choices along with an a Tube Preamp that includes features from Mesa's CARBINE™ hybrid architecture.
This preamp design gives you increased control over a broad spectrum of frequencies and incorporates active BASS and TREBLE controls with increased shaping power, while retaining the sweet, musical blend of Mesa's traditional passive MID control. Easy to setup, the Bass Strategy Eight:88 can take you from elastic, mid-scooped thumbing to articulate, mid-flat finger-style, to the classic metallic, scooped American pick sound – all with the simple twist of a knob. The ability to jump right to these classic "curves" makes re-voicing on the fly in performance situations a snap. It is also footswitchable (footswitch sold separately) and adds immensely to the Strategy's versatility.
MESA BASS STRATEGY™ Eight:88™ GRAPHIC EQUALISER
The Bass Strategy™ Eight:88™ also features Mesa Engineering's revered Nine Band Graphic Equaliser fine-tuning your tone. This inductor-based circuit is a tried and true, yet expanded carry-over from the BASS 400+™, and has been an integral part of MESA/Boogie's guitar and bass amplifiers for well over 40 years. The EQ can be controlled by a mini toggle switch on the Front Panel or via the EQ button on the (optional) STRATEGY Footswitch or any tip-to-ground latching switch that is plugged into the EQ External Switch Jack located on the rear panel.
MESA BASS STRATEGY™ Eight:88™ MULTI-WATT™ OUTPUT POWER CONTROL
Wattage ratings are often misleading and irrelevant to actual volume when it comes to describing tube power which is why the STRATEGY describes its output power as FULL, HALF and LOW power settings on the MULTI-WATT™ switch.
Each of these choices has a distinct tonal colour and persona:
– FULL delivers the maximum punch, authority and headroom
– HALF delivers valuable and surprising mid to lower power applications for tube-driven bass while still offering plenty of volume for a lot of live situations
– LOW opens up many stylistic possibilities in the recording domain and may also work for some lower volume gigs
An important collection of vintage-inspired sounds are on tap in HALF and LOW POWER, ranging from round and warm, to edgy, to clipped and growling – depending how you dish it out from the MASTER and best of all, the sounds in HALF and LOW are incredible recording tones.
MESA BASS STRATEGY™ Eight:88™ MUTE/PLAY/SILENT RECORD
A MUTE/PLAY/SILENT RECORD switch allows convenient front panel muting for instrument changes, silent tuning or recording, or any time where signal muting is needed.
The SILENT RECORD setting allows you to safely mute the signal at the power amp and use the Strategy's preamp (including processing in the EFFECTS LOOP) to record using the D.I. OUTPUT without the need for a speaker cabinet.
MESA BASS STRATEGY™ Eight:88™ D.I. OUTPUT
The rear panel D.I. OUTPUT signal can be derived from either PRE (your instrument) or POST (the entire preamp) with the front panel D.I. Switch. The D.I. OUTPUT signal strength is controlled by the Front Panel D.I. LEVEL located at the far right side of the Chassis next to the SOLO Control. The Strategy's D.I. OUTPUT provides a standard XLR interface to mixing consoles for both live and recording environments.
MESA BASS STRATEGY™ Eight:88™ SOLO FEATURE
The Strategy incorporates MESA/Boogie's popular SOLO feature. This gives you a pre-settable and footswitchable boost (footswitch sold separately) for any time you want to feature a specific part, solo in a song. It may also be used as a fast and convenient level matching tool when switching between instruments with hotter or weaker pickups or going from finger-style to slapping. The SOLO control can also be used to compensate for EQ settings where several frequencies are cut creating a drop in overall volume.
MESA BASS STRATEGY™ Eight:88™ OPTIONAL FOOTSWITCHABLE FEATURES & CONTROL
The Strategy's 8-Pin DIN jack accepts the 8-Pin Cable from the optional Strategy Footswitch. This optional footswitch allows remote control of the VOICE, MUTE (TUNE), EQ, FX (LOOP) and SOLO. You can also control the Strategy's footswitchabe functions via its five EXTERNAL SWITCHING jacks located on the rear panel, making it compatible with virtually any switching system's architecture. These provide external control of the MUTE, SOLO, EQ, VOICE and FX LOOP features with a master (usually midi) switcher or with any separate "tip-to-ground" latching-type switch.
MESA BASS STRATEGY™ Eight:88™ FX LOOP, TUNER, SLAVE AND SPEAKER OUTPUTS
A buffered Series EFFECTS LOOP allows seamless interfacing of your high quality outboard processing and it also features a LOOP EXT. SWITCH jack, which allows for remote on/off control of the LOOP feature. This switch-jack is handy if you don't have or want the optional Strategy Footswitch, as it allows control of just the FX Loop with a single latching (NEGATIVE TIP) footswitch.
The Strategy also features both TUNER and SLAVE Outputs. The buffered TUNER output captures your instrument and preps it for the long journey to the front of the stage or just upstairs to the top of your amp. The optional Strategy Footswitch also has a buffered TUNER OUTPUT jack right on the pedal itself so you can place your Tuner at the front of the stage without the need to run a separate cable from the amp.
The SLAVE jack provides a 1/4″ output for capturing the sound of both preamp and power section tonality right off the SPEAKER OUTPUTS to send on to additional power sections and cabinets for truly coliseum grade rigs. To handle virtually any speaker cabinet scenario the Strategy is fitted with 5 SPEAKER OUTPUTS capable of handling a variety of impedance loads. 2 x 4 OHM, 1 x 8 OHM and 2 x 2 OHM Outputs ensure that you can always find an impedance-correct match regardless of your cabinet choices.
You can also control the Strategy's footswitchable functions via its five EXTERNAL SWITCHING jacks located on the rear panel, making it compatible with virtually any switching system's architecture.
MESA BASS STRATEGY™ Eight:88™ SETTING THE BIAS IS FAST & EASY – NO TECH REQUIRED
This is a MESA® first – a pair of two position SET BIAS switches and adjacent recessed trim pots reside on the rear Tube Deck labeled OPERATE and SET BIAS. The SET-BIAS position allows you to check and set the correct bias yourself, quickly and easily, when replacing power tubes. There's no need to take the amp to a technician, as this bias method is completely user-serviceable!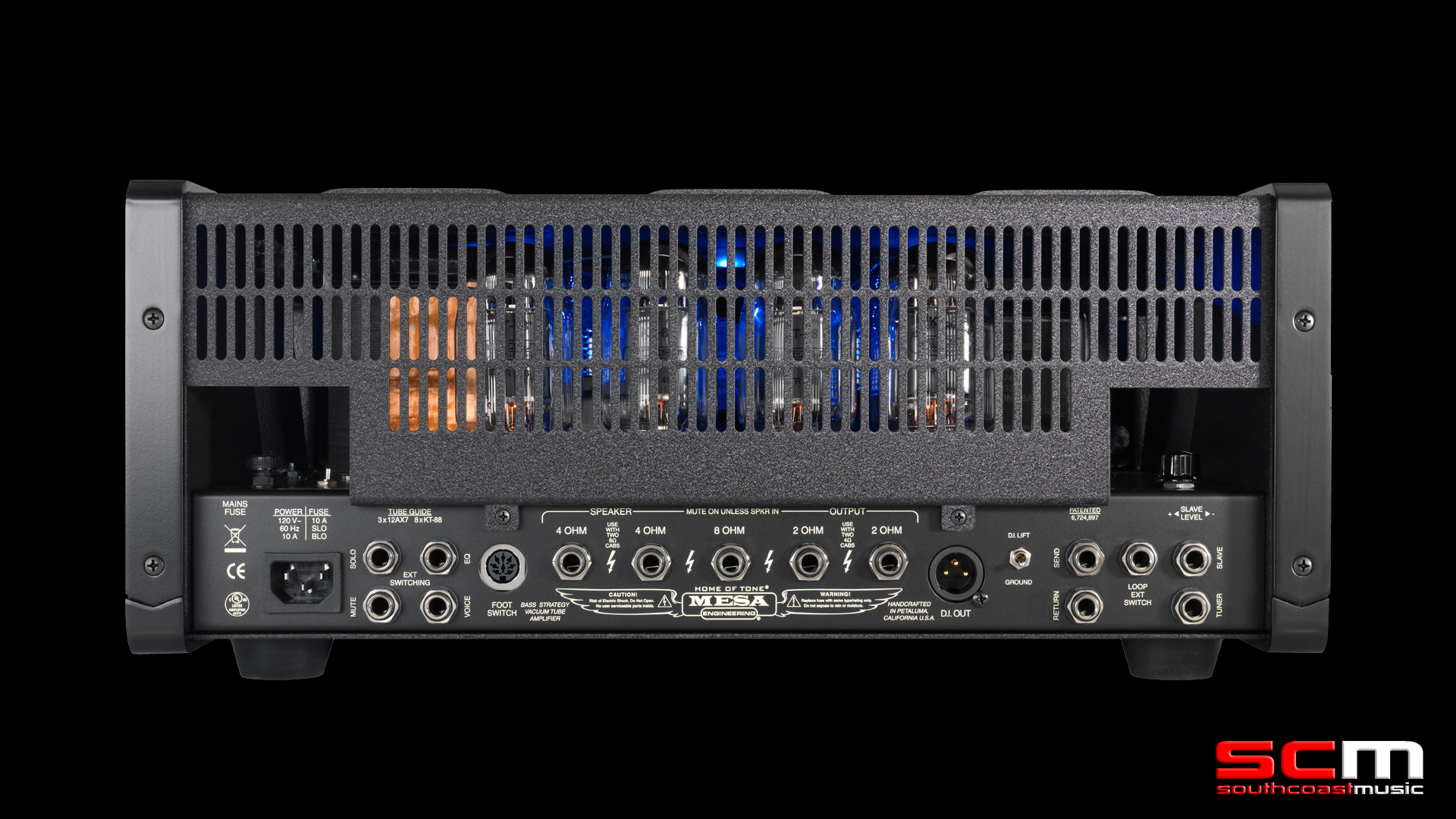 Cool Design, Stunning Looks, Inspiring Tone, Innovative Controls, Earth Shaking Power and Surprising Portability in a USA Built all-Tube Bass Amp!
o Custom Designed AND Handcrafted Exclusively in Petaluma, California, USA
o Weighs Only 22.2kg! (Similar to Triple Rec™ Head)
o Dimensions: H18.89cm x W47.94cm x D33.5cm
o Power Amplifier Output Tubes: 8 x matched MESA KT88 Power Tubes
o Preamp Tubes: 3 x MESA 12AX7 Preamp Tubes
o Class A/B, Multi-Watt™ Power Amp provides three power options via a FULL/HALF/LOW Power Switch.
– FULL Power: uses 8 x power tubes, producing 465 Tube-Watts* (comparable to 1000 watts from a solid-state amp)
– HALF Power: uses 4 x tubes, producing 250 Tube-Watts*
– LOW Power: uses 2 x tubes, producing 125 Tube-Watts*
o Adjustable Bias control with LED indicator to accommodate the wider tolerances found in KT88's
o Input Select Switch (Bright, Normal or Active)
o All-Tube Preamp featuring: Gain, Active Bass, Passive Mids, Active Treble, 5-Position Active Voice Switch and Master Volume
o Assignable or Bypassable 9-Band Graphic EQ
o Footswitchable Solo Level Control (Patent 6,724,897) REQUIRES OPTIONAL Strategy™ Footswitch or a Tip-To-Ground, On/Off, Latching Footswitch (each sold separately)
o Fully Buffered FX Loop
o Tuner Output (back panel) with Play/Mute Switch (front panel)
o Balanced XLR Line Out w/Ground Lift (back panel) and Pre/Post Select, Silent Record & D.I. Level Control (front panel)
o Silent Record allows direct preamp output from the Balanced XLR without the need for a speaker cabinet
o 5 x 6.3mm (1/4") Speaker Output Jacks (1×8 Ohm, 2×4 Ohm & 2×2 Ohm)
o Slave Out w/Level Control
o Fan Cooled
o External Switching Jacks for: Voice, EQ, Solo, Tuner Mute & FX Loop
o OPTIONAL 2×3 FIVE Button Strategy Footswitch (sold separately) provides footswitchable Voice, EQ, Solo, Mute & FX Loop control – PLUS provides an additional 6.3mm (¼") Tuner-Output Jack
o FIVE Year Warranty
The MESA Bass Strategy Eight:88 is the last word in Bass Amplification. The Amp of choice for some of the biggest names in the business – it will change your perception of what a Bass Amp can do. It's available right now at a sweet price from southcoastmusic. We have a wide range of Speaker Cabs to suit as well.
southcoastmusic is an authorised Australian Reseller of MESA/Boogie products.