MESA/BOOGIE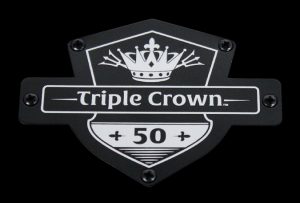 MESA/BOOGIE TRIPLE CROWN TC50
FIFTY WATT TUBE AMPLIFIER HEAD
o Hand Made in Petaluma, California from the world's finest materials
o All-Valve Amplifier 2 x matched EL34 Power valves / 6 x 12AX7 & 1 x 12AT7 Preamp valves
o Fifty watt Class A/B Power Amp delivers exceptional power, punch & clarity
o Bias Select Switch for use with EL34, 6V6 or 6L6 Power valves
o Three Fully Independent Channels each with Two Modes
o Built-In CabClone™ Cabinet Simulator and more featuring:
o MIDI Switchable/Programmable
o All Aluminum Chassis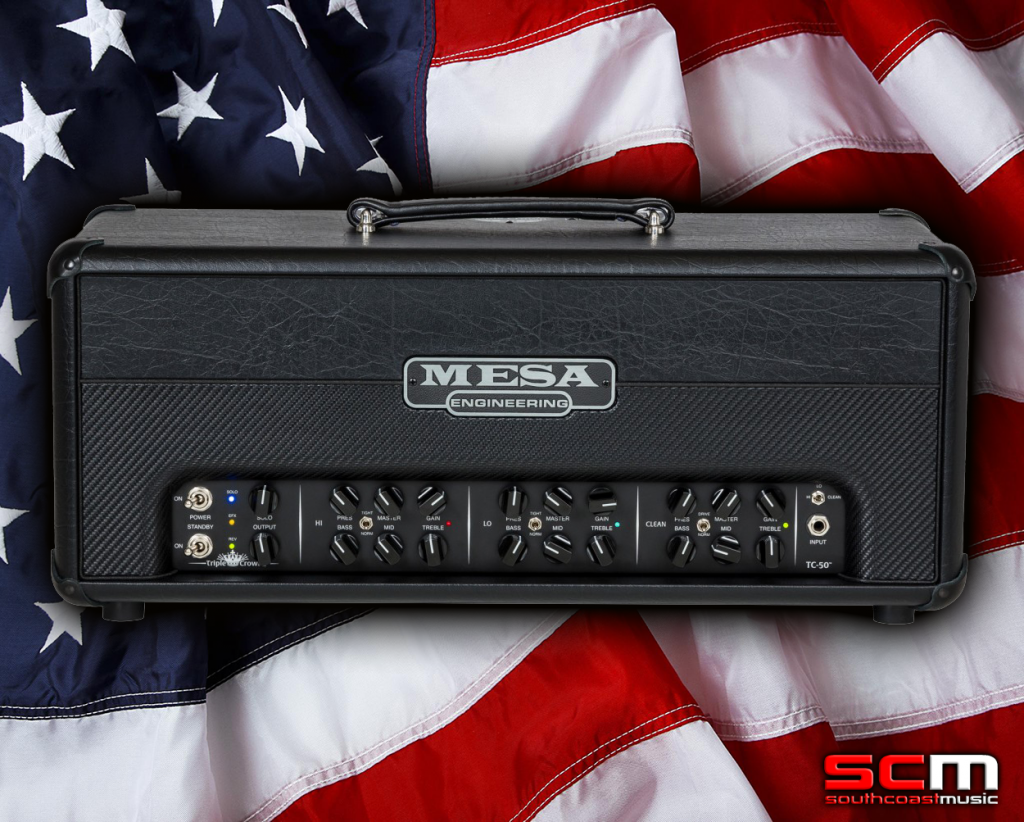 If you only ever owned one amp . . .
This is the new Triple Crown™ Series from MESA Engineering® – a sensational guitar amplifier that captures the essence of Rock and beyond with the ability to inspire new genres in a way that only a MESA® can.
Emanating from the "other side of MESA" that spawned Rock's iconic Dual Rectifier®, the new Triple Crown features unique circuitry and a bold voice unlike anything else in their lineup.
From chimey, sparkling clean sounds to an amazingly tight and aggressive wall of Rock Crunch and on to one of Mesa's most vocal, harmonically rich and gain-laden high-gain channels ever, the Triple Crown is aimed squarely at Rock's high-gain throne! Much more than simply a Game of Thrones – step up with southcoastmusic and join the new generation of Rock Royalty with the Mesa/Boogie Triple Crown!

MESA/BOOGIE Triple Crown 50 watt Tube Head – Three wide-ranging channels
The Triple Crown's three channels are pretty straightforward but that doesn't make them any less versatile and powerful than other Mesa designs.
Channel One's toggle switch selects between Normal and Drive modes and can deliver sparkling performance or vintage-style breakup.
Channel Two offers Normal and Tight modes to control its mid-gain voice. Rock players will love this channel.
Channel Three also offers Normal and Tight modes to deliver the classic Mesa Boogie high-gain drive and beyond.

MESA/BOOGIE Triple Crown 50 watt Tube Head – Built-in CabClone
The Triple Crown TC50 head packs a built-in CabClone internal amp load and speaker simulator. The CabClone provides an incredibly realistic speaker-emulated direct output to plug right into the PA system or recording chain. Of course you can still use it in conjunction with your favorite speaker cabinet.
If you fancy some silent practice you can use the CabClone feature with headphones. The CabClone also allows you to cut down on stage volume, which will help give your band a tighter, more controlled live sound. Your FOH Engineer will love it!
Closed-Back, Open-Back and Vintage Voices
Internal Amp Load & Headphone Output
Speaker On/Off & Ground Lift Switches
Uncompensated, +4db Direct Line Output (for external cab sims/IR, etc.)
MESA/BOOGIE Triple Crown 50 watt Tube Head – Loaded with guitarist-friendly features
The Mesa/Boogie Triple Crown TC50 50 watt all-tube amp head is a fantastic-sounding amplifier and it boasts a bevy of features that every guitarist will find beneficial. The true spring reverb tank is foot switchable, along with the tube-buffered effects loop.
The amp ships with EL34 power valves for British vibe. If your tonal heart is on the other side of the Atlantic though, in a stroke of pue genius – a bias select switch enables the TC50 to run beautifully with either 6V6 or 6L6 power valves as well!
The Triple Crown is also MIDI ready, enabling it to integrate into even the most advanced guitar rigs.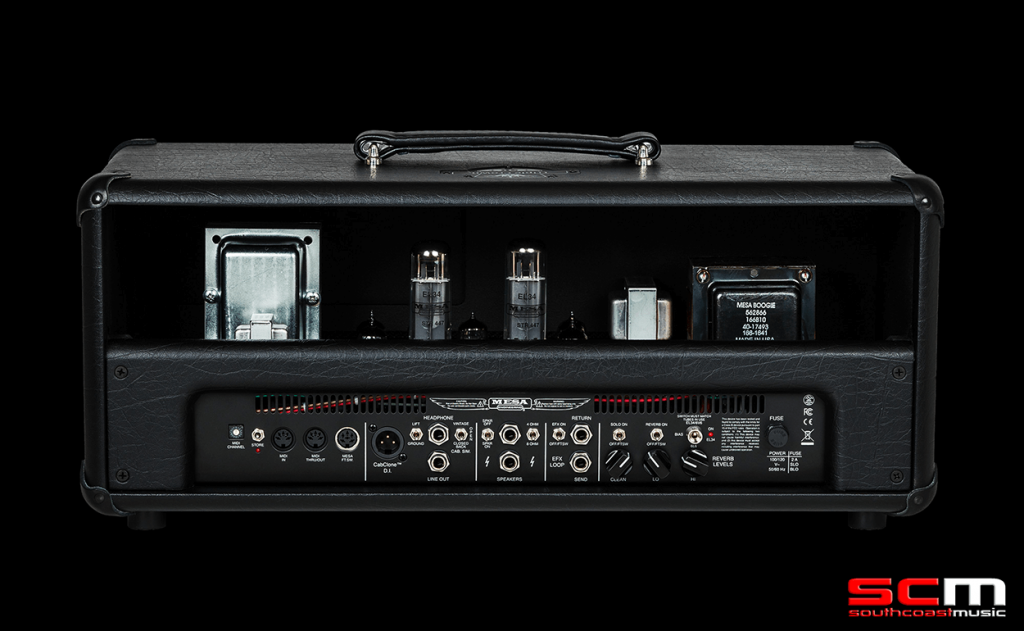 MESA/BOOGIE Triple Crown 50 watt Tube Head Features
Amp Type: Valve (Tube)
Chassis Material: Aluminum
Rectifier Type: Silicon Diodes
Preamp Valves: 6 x Mesa 12AX7, 1 x Mesa 12AT7
Power Amp Valves: 2 x matched Mesa EL34 (can run optional 6V6 or 6L6 tubes)
Bias Switch: Yes – Bias Select for EL-34/6V6 or 6L6 Alternate Power Valve Types
Maintenance Free Fixed Bias: Yes
Power Output: 50 Watts
Power Amp Topology: Class A/B Power for tight punch, exceptional power and clarity
Convection or Fan Cooling: Convection
Number of Footswitchable Channels: Three Channels
Number of Style Modes: Six
Number of Style Modes Per Channel: Two
Types of Style Modes for Channel 1: Normal (Clean) or Drive
Types of Style Modes for Channel 2: Normal (Crunch) or Tight
Types of Style Modes for Channel 3: Normal (High-Gain) or Tight
Individual Channel Controls: Two Position Style Mode Switch, Gain, Treble, Mid, Bass, Presence, Reverb (back panel) and Master Controls
Reverb / Effects & Bypass Options: Footswitchable, All-Tube, Short-Tank Spring Reverb with Independent Channel Controls (rear panel)
Effects Loop & Bypass Options: Footswitchable, Fully Buffered Series Tube FX Loop
Global Output Level Control: Yes (Over all channels)
Global Solo Level Control & Bypassable Options: Yes (Over all channels)
External Switching Jack Options and/or Midi: MIDI Switchable/Programmable via Control Change and Program Change messages, with 256 Preset Location
(MIDI IN, MIDI Thru/Out, MIDI Channel & Store Switches) – Controls Channels 1, 2, 3, Reverb, FX Loop & Solo
Speaker Outputs: 8 Ohm / 4 Ohm Switch with Two Speaker Jacks
Cabinet Simulation – Direct Live/Recording Output: Built-in MESA CabClone™ Cab Simulator Output featuring Closed Back, Open Back & Vintage Cabinet
Simulations, Internal Amp Load
Headphone Output & Uncompensated Line (Slave) Output, Speaker On/Off & Ground/Lift Switches
Headphone Output: Yes (see Cabinet Simulation for more information)
Slave Output: Yes (Uncompensated Line Output works as Slave Out)
Footswitch: Includes 6 Button Footswitch Bottom Row: CH1, CH2, CH3 / Top Row: Reverb, FX Loop, Solo
Warranty: Five Years on Electronics and Speakers / One Year on Valves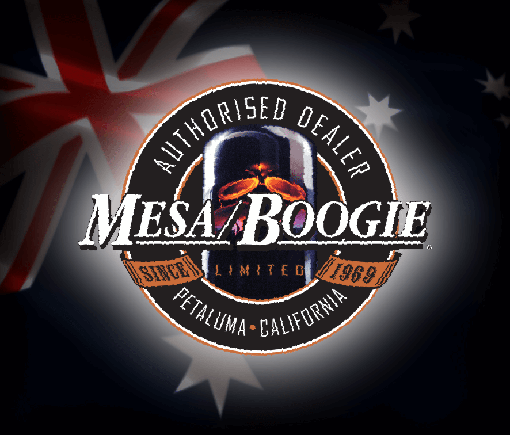 o MESA/BOOGIE products are handcrafted in Petaluma, California.
o southcoastmusic is an authorised reseller of MESA/BOOGIE products.
o All MESA/BOOGIE products sold by southcoastmusic are covered by a Five Year Warranty on Electronics and Speakers.