MESA/BOOGIE
Recto®-Verb™ Twenty-Five 1 x 12″ Combo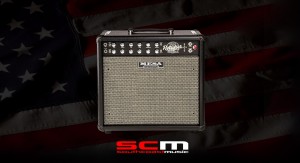 With the world wide success of the Mini Rectifier® Twenty-Five Head, guitarists began asking for all that lightweight expressiveness in a portable and versatile Combo format so that they could enjoy this mighty little-amp too. Well, Boogie have delivered and then some!
This is the Recto®-Verb™ Twenty-Five 1 x 12″ Combo, the Reverb-endowed, fraternal-twins of the little Mini Rectifier lunchbox that's been taking names all over the globe. This even mightier package is slightly larger – just big enough to accommodate a single 12″ speaker and long-spring Reverb tank – and boast all the same great performance that the Mini Rec™ is famous for and more. This is a great sounding amp!
The lush tube-driven Reverb widens the sound and sweetens the attack just a bit, increasing its versatility and appeal for players who favour lower to medium gain in their style. If, of course you are into heavier tones, the trademark Recto® sounds are all here and completely authentic.
So whether you're rockin' out or putting the immense versatility of this new Recto's four Modes to task on a variety of styles, you'll find inspiration and a huge fun-factor in the exciting, super-portable Recto®-Verb™ Twenty-Five 1×12 Combo.
Recto®-Verb™ Twenty-Five 1×12 Combo features and specifications
o Custom Designed AND Handcrafted Exclusively in Petaluma, California
o All Tube Amplifier: 2xEL-84 Power Tubes & 6x12AX7 Preamp Tubes
o Patented Multi-Watt™, Channel Assignable Power Amp
o Proprietary Dyna-Watt™ technology provides two power levels with different wiring configurations via independent 10/25 Watt Power Switches
o Choose from:
2 power tubes operating in Class A/B Triode for lush harmonics and a sweet liquid feel at lower volumes, producing 10 Watts
or/
2 tubes operating in Mesa's exclusive Dyna-Watt™ Class A/B Pentode for maximum power, punch and clarity, producing 25 Watts
o 2 Fully Independent Channels with 4 Style Modes
o Channel 1 features: Clean or Pushed Modes with Multi-Watt™ Power Switch (10/25 Watts) and Independent Gain, Treble, Middle, Bass, Presence, Reverb (rear panel) & Master Controls
o Channel 2 features: Legendary Vintage or Modern High Gain Modes with Multi-Watt™ Power Switch (10/25 Watts) and Independent Gain, Treble, Middle, Bass, Presence, Reverb (rear panel) & Master Controls
o All-Tube, Long-Spring Reverb with Independent Channel Control (rear panel)
o All-Tube, Fully Buffered FX Loop
o Aluminum Chassis
o External Switching Jack for Reverb
o 1 Button Footswitch (Channel 1/2)
o Amp Cover