Marshall MG Gold Series MG10G Combo Amplifier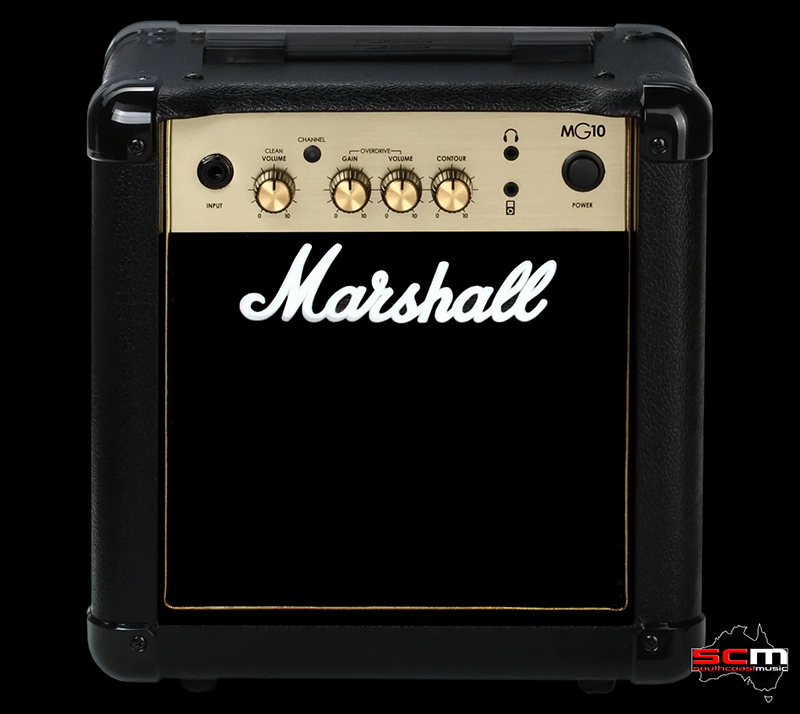 • 10 Marshall Watts for Classic "British" Tone
• Custom 6.5″ 8Ω Speaker
• Switchable (front panel) Sweet Clean and Classic Marshall Overdrive Channels
• Flexible Tone Shaping with the Gain Channel Contour Control
• AUX Line input for jamming along with your favourite Band
• Emulated Headphone/Line output for Practice and Recording
The late Dr Jim Marshall was a legendary figure who helped to transform the dreams of millions of guitarists into rock'n roll reality. As well as the monolithic Marshall stacks that powered some of the world's greatest players, Marshall also became famous for their  combo amplifiers – smaller amps that could be driven harder and capable of unleashing all their Marshall goodness at manageable levels.
Today, that famous Marshall tone is more accessible than ever.
This is the Marshall MG Gold series MG10G combo amplifier. Loaded with pure Marshall tone, there are two switchable channels giving you Clean and Overdrive tones along with a Gain channel Contour control enabling you to shape your sound.
The Marshall MG Gold series MG10G is perfect for bedroom practice or kicking back in the lounge with your favourite guitar. Crank it up . . . your neighbours won't even know you're at home. If you'd like it keep it a little more private and intimate, simply connect your headphones for your own silent session.
There is also a 3.5mm AUX input jack for connection to your smart phone or music player . . . now you can be a part of the band!
Marshall are famous for their Valve technology but they are also certified masters of solid state tone. The MG10G provides the ability to emulate a valve amplifier's tone and response at levels that are wonderfully manageable. Think beyond practice – the MG10G is a great amp for recording – many classic albums were recorded with small ampls driven hard.
Beyond that, the MG10G supplies you with a line input for music players and emulated headphone and line outputs. Part of Marshall's MG Gold series, the MG15G is a great-sounding practice amp for beginners.
Join the music elite with your own Marshall amp – the Marshall MG Gold series MG10G!

Marshall MG10G Technical Specifications:
• Model: MG10G
• Series: MG Gold
• Technology: Solid State
• Amplifier Impedance: 8Ω
• Channels: 2 (Split)
• Output Power: 10W
• Outputs: 1 x 3.5mm (⅛") Mini Jack Headphone Output
• Instrument Input: 1 x 6.35mm (¼") Phono Jack Input
• AUX Input: 1 x 3.5mm (⅛") Stereo Mini Jack
• Controls: Clean volume, channel select switch, overdrive gain, overdrive volume, contour
• Speaker: 1 x 6.5″ 8Ω Custom Designed Speaker
• Covering: Black Levant Vinyl
• Control Panel: Gold Anodised
• Furnished Accessories: IEC Power Cable Included
• Dust cover: M-COVR-00089 (sold separately)
• Dimensions: W290 mm (11.4″) x H310 mm (12.2″) x D170 mm (6.7″)
• Weight: 4.8 kg (10.5 lbs)
• Warranty: One Year