southcoastmusic exceptional instruments at exceptional prices… everyday!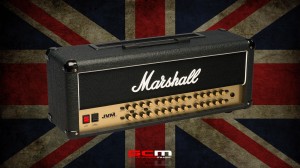 Marshall®  JVM410H

100 WATT 4 CHANNEL ALL VALVE HEAD
The most versatile Marshall Guitar Amplifier ever made.
Proudly British-built, the 100 Watt all-valve JVM410H head has completely redefined what can be expected from a Guitar Amplifier. Featuring four tonally independent channels: Clean, Crunch, OD1 and OD2, each channel with three switchable modes – each mode reconfigures the gain structure of each channel, making twelve modes in total.
This is the most versatile amplifier Marshall Amp ever made and possibly the last Amplifier you will ever have to buy.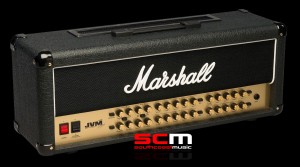 At first glance the JVM410H front panel looks like it belongs in the cockpit of a Jet Fighter with its twenty-eight controls and eight switches! The simple fact however is that Marshall's Design Engineers worked with real Musicians to come up with an interface that is not only intuitively laid out, it is remarkably easy to use. The JVM410H is pure genius.Each of the four channels have their own studio-quality digital Reverb and individual channel EQ. There are also two Master Volumes and a easily programmable memory that can recall your Reverb, FX loop and Master settings.Marshall's revolutionary Stompware® foot switching technology also delivers unprecedented control of your setup, with straight switching or programmable switching. In the box you will also find Marshall's PEDL00044 six-button footswitch which connects to the JVM410H with a standard guitar lead. No longer are you restricted by stage size – and if your cable fails, it's so easy to replace or repair! Stompware® technology was described by Guitar Player Magazine as: 'Clever…very clever.' We describe it as "simply brilliant!"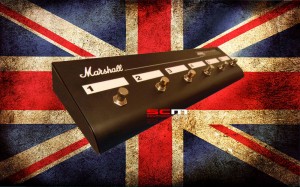 Combining some of the finest Marshall sounds, the JVM410H has a vast tonal palette, taking you from 'Plexi'/JTM45 cleans through JCM800 roar to modern high gain.Marshall JVM410H features and specifications- MODEL: JVM410H
– TECHNOLOGY: VALVE
– CHANNELS: FOUR
– OUTPUT: 100 watts rms
– INPUTS: 1 (+MIDI)
– CONTROLS:
o VOLUME/GAIN/BASS/MIDDLE/TREBLE x 4
o REVERB x 4
o CHANNEL SELECT x 4
o PRESENCEo RESONANCE
o FX LOOP
– MASTER VOLUME: YES x 2
– EFFECTS: STUDIO QUALITY DIGITAL REVERB x 4
– EFFECTS LOOP: YES x 2
– PRE AMP VALVES: 4 x ECC83
– POWER AMP VALVES: 1 x ECC83 , 4 x EL34
– FOOTSWITCH: PEDL00044 PROGRAMMABLE FOOTSWITCH x 3 MODES PER CHANNEL
– CABLES INCLUDED:
o IEC POWER CABLE
o MARSHALL SPEAKER CABLE
–  Dimensions
o WEIGHT: 22KG
o MEASUREMENTS: W750mm x H310mm x D215mm
– MASTER VOLUME: YES x 2
– EFFECTS: STUDIO QUALITY DIGITAL REVERB x 4
– EFFECTS LOOP: YES x 2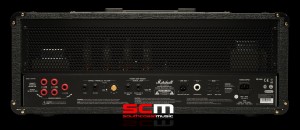 southcoast
music is your Premium Marshall Dealer on the NSW South Coast. Buy from
scm
usic and buy with confidence…"A killer amp that offers plenty of real-world flexibility for the big-stage. Without doubt one of the best Marshalls ever"  GUITARIST MAGAZINE
Marshall® JVM410H 100 WATT 4 CHANNEL ALL VALVE HEAD
our price

AUD$2499.00
…and yes, Australia-wide Delivery with Transit Insurance is included!