LINE 6 FBV3
TOTAL CONTROL—ACROSS THE BOARD
UNLEASH YOUR COMPLETE SONIC POTENTIAL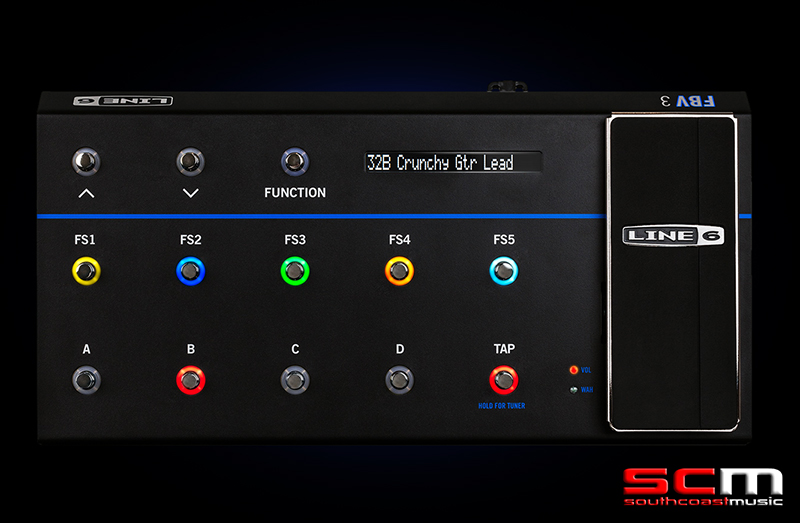 FBV™ 3 is the next-generation foot controller from Line 6 that gives you total hands free control of Line 6 amps and effects. Save and recall your favorite presets and much more. It's the ultimate tool for performing guitarists. Best of all, the Line 6 FBV3 allows to to focus on the most important thing – your performance!
BUILT FOR THE STAGE
When you're performing, the last thing you want to worry about is your equipment breaking down. Featuring steel hardware and a rugged metal casing, the FBV3 is built to withstand even the toughest gigs – night after night. The FBV3 supplies both power and communication to your POD/Amp via a single CAT-5 cable, keeping your setup clean and simple. The illuminated and backlit LCD display is big, bright and easy to read, showing the active preset name, number and the chromatic tuner at a glance.
Multi-color LEDs on five of the footswitches coordinate with selected presets to help you keep track of all active timbres and effects.
INNOVATION IN EVERY STEP
The Line 6 FBV3 isn't your average foot controller. Thirteen steel footswitches — five with assignable color LEDs* – help you easily keep track of active amps and effects. Dedicated footswitches for bank up/down make it fast and easy to scroll through your presets.
A built-in expression pedal with a wah/volume toe switch gives you even more control of sweeping effects. A dedicated tap tempo footswitch enables you to quickly synchronize time-based effects like delay and echo and a chromatic tuner keeps every note sounding great. If required, another expression pedal may be connected via a second 6.3mm (1/4″) input.
Using the USB jack, you can control compatible software on any Mac or Windows computer, back up/store presets, and load sounds off your computer to boot.
COMPATIBLE PRODUCTS
• Firehawk™ 1500
• Spider V Series Amplifiers
• POD® HD Pro
• POD HD Pro X
• POD HD
• AMPLIFi® 150
• AMPLIFi 75
• AMPLIFi TT
• Spider® IV HD150*
• Spider IV 15, 30, 75, 120, 150*
• Spider III HD150, HD75
• Spider III 75, 120, 150
• Spider Valve MkII*
• Spider Jam
* When using the FBV 3 with the Spider IV and Spider Valve MKII series, the FBV 3 cannot be used as the interface to update or edit the amps with your computer. The FBV MKII pedals (Shortboard and Express) must be used for that functionality. Assignable color LEDs available for use with Firehawk 1500 & Spider V only. LEDs are red when FBV 3 is used with other Line 6 products.