Ibanez BTB1606–NTF SIX STRING NECK THRU BASS GUITAR
o Mahogany body
o Poplar Burl top
o BTB6 9-piece Wenge/Bubinga/Maple neck-thru with Graphite reinforcement
o Rosewood fretboard with Abalone offset dot inlays
o 35″ scale (889mm) length
o 24 Medium-Jumbo frets with Premium Hand Rolled Fret Edge Treatment
o Nordstrand "Big Single" pickups
o EQB-IIIS 3-band EQ with mid frequency switch & EQ bypass
o Mono-Rail IV bridge
o Black TUSQ XL nut
o Ibanez Premium case included
This is an amazing Bass Guitar. Ibanez Premium…as good as anything built by anybody – anywhere! This 6 string Ibanez BTB1606 NTF delivers boutique quality, features and playability at what is without a doubt a bargain price. With the BTB series, Ibanez set out to redefine the notion of what could be expected in an instrument at a particular price point and the 1606 NTF scores top marks at every measure.
This brand new Ibanez Premium BTB1606 is a stunning high end model and at our SCMusic-SPECIAL price, it's ready to join you on stage or in the studio…or to simply go into your collection.
Ibanez BTB1606–NTF > Premium Touches
Premium quality hardware and a meticulous build quality mark the Ibanez BTB1606 NTF as a pro grade instrument that will last you for years to come.
Ibanez have given the BTB1606 NTF their premium fret edge treatment so they are rounded for a smoother playing surface. One of the mainstays of our philosophy is to maximise playability so that nothing is in way of your hands and what you want to play. Ibanez have saved us about an hour's worth of meticulous work on the bench. we like it, you'll love it!
Ibanez BTB1606–NTF > Superb Aesthetics
The Ibanez BTB1606 NTF six string bass guitar is simply stunning. Thirty years ago one could only dream of owning a bass guitar built like this and it would have probably been an Alembic costing three time this price.
The nine piece wenge/bubinga/maple laminate neck that runs through the body along with the mahogany wings topped with poplar burl is truly a sight to behold – this is a magnificent Bass Guitar that spans an infinite range of styles and would fit right in on any stage or studio.
The BTB's much deeper cutaways allow effortless access to the upper frets and the Neck-through construction provides massive sustain and excellent stability.
Ibanez BTB1606–NTF > Multi-Ply Graphite Reinforced Neck
Torsional rigidity can be a problem where high string tensions are employed and Ibanez are the masters when it comes to dealing with it. Super thin guitar necks are one thing but when dealing with a six string bass guitar, the pressure is on. For the BTB1606 NTF, Ibanez have employed a nine piece laminated neck. Constructed of layers of African Wenge, Bubinga and Maple, the bass is more structurally sound and able to cope with the heavier string gauges that mark today's musical styles.
Graphite reinforcement rods add a further dimension of stability allowing for a wide yet incredibly thin neck making it easier to play than would be expected. BTB's extra long 35″ scale length provides superior articulation as well as tight, even tension with no flopping on the low end along with added sustain on the high strings.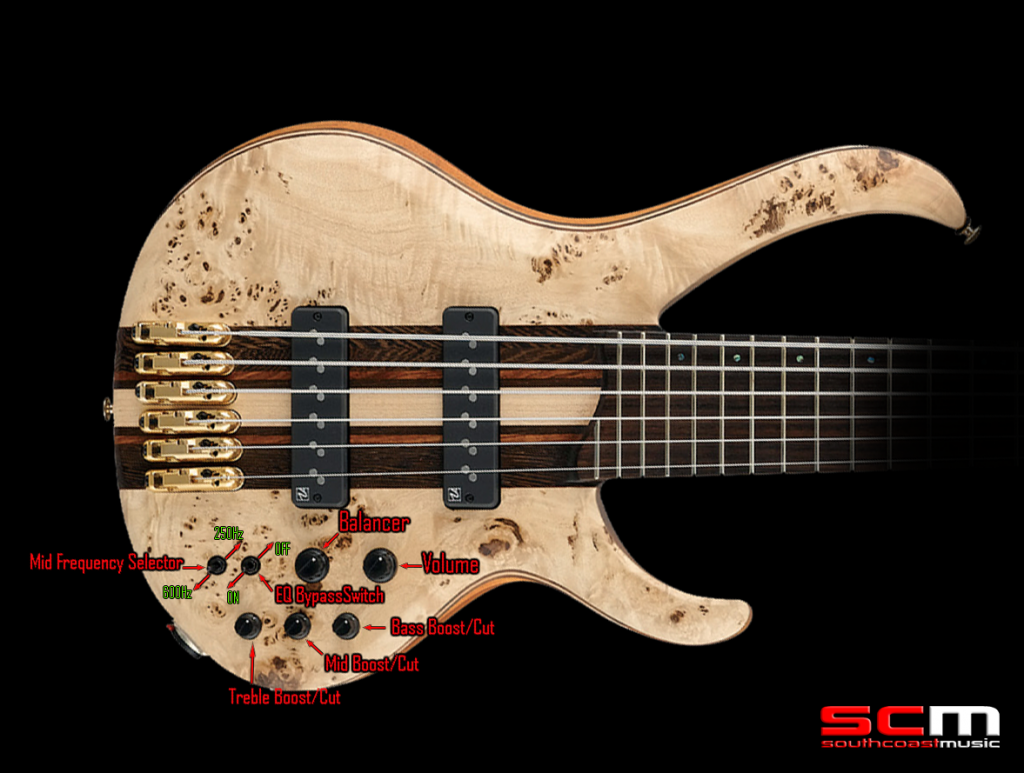 Ibanez BTB1606–NTF > NECK DIMENSIONS
Scale Length: 35″
a – Width at Nut: 54mm
b – Width at Last Fret: 88mm
c – Thickness at 1st fret: 20mm
d – Thickness at 12th fret: 22mm
Fingerboard Radius: 950mm
Ibanez BTB1606–NTF > Nordstrand™ Pickups
Nordstrand™ "Big Single" pickups provide the clarity of single coil pickups, while the large body gives players a full and aggressive tone. An incredible range of tones are on tap with the pair of premium Nordstrand™ Big Single Pickups. Known for delivering a Jazz Bass on steroids sound, Ibanez have taken the tonal potential of these pickups to another level altogether.
Ibanez BTB1606–NTF > Three Band EQ with Mid Frequency Switch
3-band EQ with mid frequency switch fine-tuned specifically for the BTB. The active 3-Band EQ features fully independent bass, treble, and mid Controls with a wide boost/cut range. The preamp system is equipped with a mid-frequency select switch, enabling you to instantly select 250Hz and 600Hz – the heart of the mid zone – for a more dynamic and punchy tone.
With the addition of the EQB-IIISC preamp, the BTB1606 NTF is opened up to some incredible new sounds. The full range 3 band EQ can be switched on or off and a mid frequency control that can take this bass from a blues gig to a metal gig and anything else in-between or beyond. The BTB1606 is a monster.
Ibanez BTB1606–NTF > Mono-Rail Bridge
The Mono-Rail bridge delivers the ultimate in string-to-string isolation, meaning that each string vibrates optimally without be affected by the others. BTB's string spacing is 19mm for 5-strings, and 17mm for 6-strings, offering more freedom on the fretboard, and comfortable access for finger picking and slapping.
Ibanez BTB1606–NTF > No Stone Left Unturned
A Neutrik® locking jack provides stable and secure connections, preventing accidental disconnect, shock or vibration.
Other professional appointments include a GraphTech BLACK TUSQ XL nut and an Ibanez Mono-rail bridge. A Neutrik® locking jack provides stable, secure connections, preventing accidental disconnect or shock and vibration. The Gold finished Hardware completes a look that is both imposing and commanding.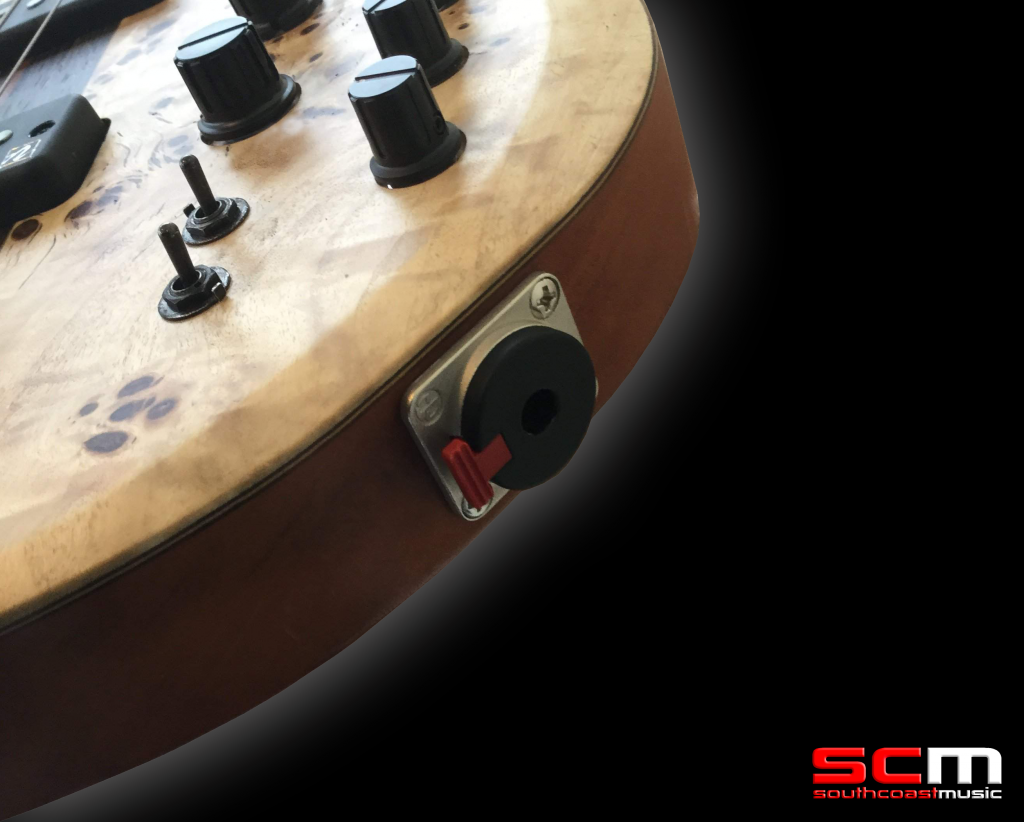 Ibanez BTB1606–NTF > Specifications
o BTB6 High access body
o 9 piece Laminated Wenge/Bubinga/Maple thru-neck construction
o Graphite reinforcement rods in neck
o 889mm/35″ scale length
o Figured Poplar Burl top/Mahogany wing body
o Rosewood fretboard with Abalone off-set dot inlays
o Medium frets with Premium fret edge treatment
o Graph Tech BLACK TUSQ XL nut
o Mono-Rail IV Bridge
o Nordstrand Big Single pickups
o EQB-IIISC 3-band EQ with EQ bypass switch & Mid frequency switch
o Neutrik® locking output jack
o Gold hardware
o Ibanez Premium series case included