HOHNER BIG RIVER HARP 590/20 KEY of G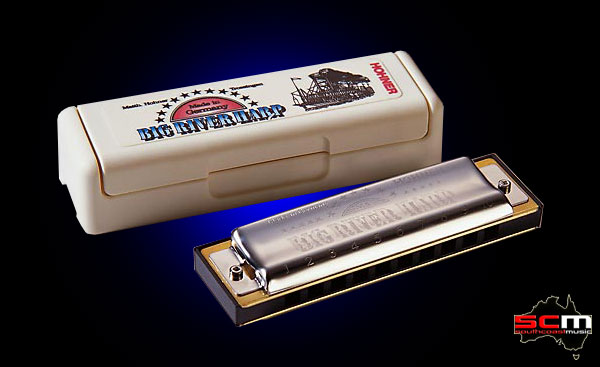 THE JOURNEYMAN HARP
Imagine sitting on a paddle steamer as you slowly float down the Mississippi. The sun is shining and you look over the rail while there's music playing. The Big River Harp perfectly captures this spirit of the Mississippi delta – the freedom – the tranquility . . . hence the name. The Hohner Big River Harp is the perfect starting point for your first expeditions into the world of western, folk or Nashville style country.
The Hohner Big River Harp is a 10-hole harmonica that is basically the "old surehand" of the entire Hohner line. One of Hohner's biggest selling series, the Big River Harp is a comfortable harmonica with a great tone and impressive volume, which makes it perfect for anyone from a beginner playing with friends to a musician in a semi-professional band.
Widely considered to be one of the best harmonicas in its price range, the Hohner Big River Harp 10 holes and 20 reeds. The comb is made from ABS Plastic which means that it won't warp and the reeds and reed plates are all made from Brass and designed to last for a long time.
The simple construction is another reason for the Big River Harp's popularity and it is easy to adjust or even replace parts if required.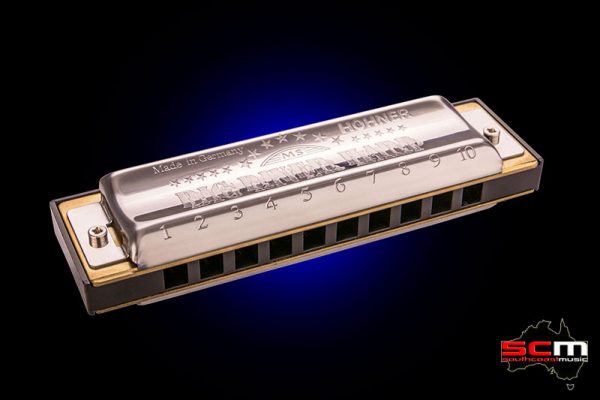 HAND CRAFTED IN GERMANY
The Big River Harp is a Diatonic harmonica built in Germany to the highest standards with excellent response and superb tonal characteristics. Built according to the Richter-system, the Big River Harp is a single tone instrument, recognised by the undivided air channels.
Single tone instruments such as the Big River Harp are often referred to as "Blues Harps" due to the ease with which they work as melody instruments for blues, rock, country and folk. The fact that they are single note instruments allows bending and overblowing of certain notes in order to create the typical, howling blues sound as well as the missing chromatic notes.

HOHNER BIG RIVER HARP SPECIFICATIONS:
• Harmonica Series: Big River
• Key: G (G major)
• Harmonica Type: Diatonic
• Tuning: Richter
• Number of holes: 10
• Number of Reeds: 20
• Tonal range: 3 Octaves
• Reed Material: Brass
• Reed Plate Material: Brass
• Reed Plate Thickness: 0.9 mm
• Reed Plate Surface: Brass
• Comb Material: ABS
• Comb Colour: Black
• Mouthpiece Surface: ABS
• Cover Plates Material: Highly Polished Stainless Steel
• Length: 10.5 cm (4.1″)
• Case: Yes