Fender Marine Dual Layer Reverb Pedal
Fender and Reverb – name a more iconic musical duo!
• Beautiful Ambient Marine Layer reverb sounds
• Two Presets/Channels
• Sustain Footswitch
• Analog dry path
• LED backlit knobs
• Lightweight Rugged anodised aluminium construction
Fender's Dual Marine Layer Reverb pedal allows you to add the most gloriously ambient dimensions to your sonic arsenal. Featuring two independent foot switchable settings, three unique reverb algorithms allow the user to create multiple soundscapes. The sustain switch generates massive atmospheric creations for an out-of-this-world tonal experience.
Designed by Fender's in-house tone gurus, the Dual Marine Layer is an all-original Fender circuit and its is a south coast music staff favourite . The chassis is crafted from lightweight, durable anodised aluminium, and the LED-backlit knobs show your control settings on a dark stage at a glance.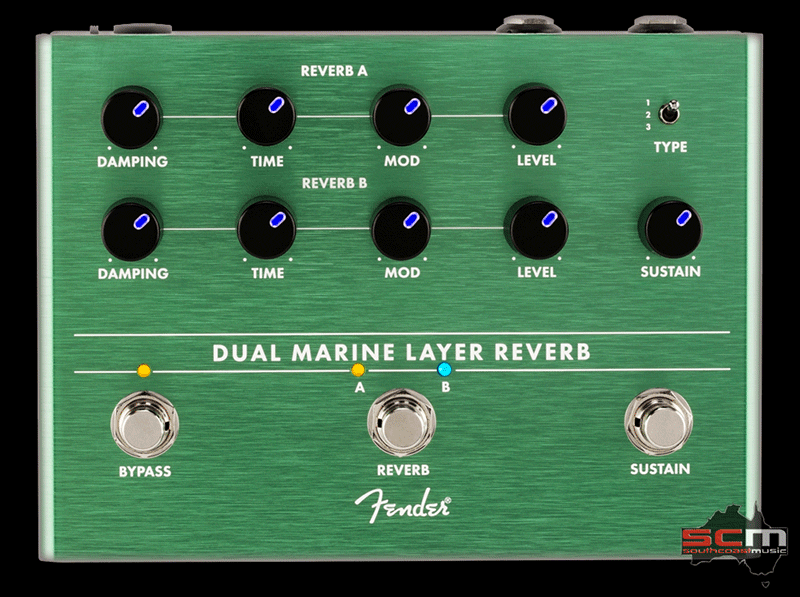 • Switchable Reverb Setting
Footswitch allows you to switch between two uniquely voiced reverb settings.
• Three Unique Reverb Types
Dual Marine Layer features reverb sounds not heard on any other Fender Reverb pedal.
• Infinite Sustain
Hold the sustain switch to generate your own atmospheric dreamscapes.
• LED Illuminated Knobs
LED-illuminated knobs show your control settings at a glance-even on dark stages.
• 9V DC Power
With its centre-negative 9VDC connection, it's easy to use the Dual Marine Layer with most pedalboards and power supplies.
• Road Ready Construction
Every Fender effects pedal is crafted from lightweight, durable anodised aluminium to easily withstand the rigors of touring.
Fender Dual Marine Layer Reverb Specifications:
• Model Number: 0234563000
• Country Of Origin: CN
• Chassis and Case Material: Anodised Aluminium
• Series: Fender Pedals
• Power Consumption: 150mA
• Power Requirements: AC Adaptor-9V DC centre negative (not included)
• Dimensions: 3.25″ x 4.85″ x 5.45″