Epiphone PROPHECY FUTURA FX Electric Guitar MIDNIGHT EBONY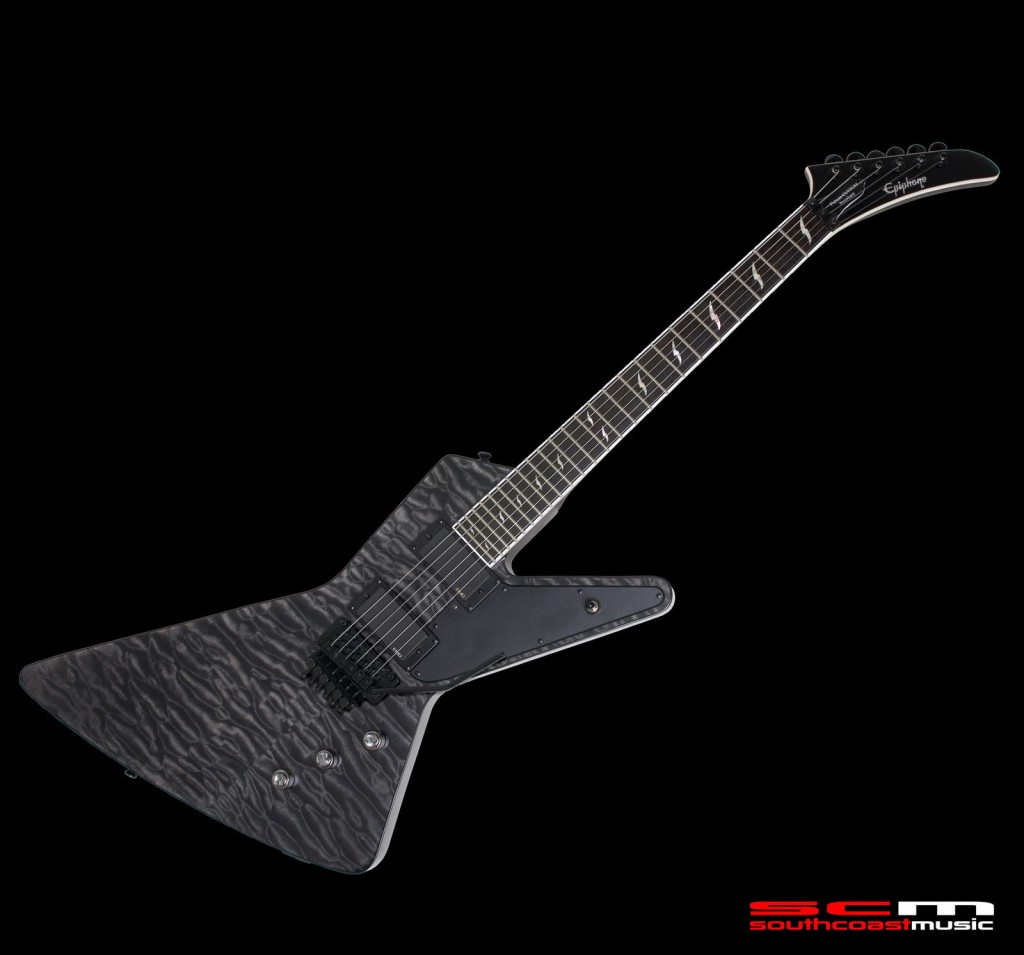 The 2014 Epiphone Prophecy Collection features four distinct shapes that all share common features.
In addition to the guitar style the model either is an EX EMG active or the new EpiActive pickups , GX Gibson USA pickups , or FX original Floyd Rose Tremolo .
Common features include highly figured quilt Maple tops, 24 fret SpeedTaper satin necks, jumbo frets, unique blade inlays, Epiphone new pattent applied for Straplocks, hand stained colors and eye catching Pearl knobs.
Because they're all Customs , they all have bound bodies and necks. The new Prophecy Collection takes advantage of all the design work and testing Epiphone has been doing over the past two to three years.
The roots of the Futura date back to the late 50 s but there s nothing old about these guitars. Start with a Mahogany body with highly figured quilt Maple top. The neck is Mahogany and glued in using a long tenon neck join for excellent sustain and strength.
Equipped with active EMG 81 and 85 pickups, the new Futura is designed to bring out the shredder in all of us. As with all the Prophecy s, it features Epiphone s new SpeedTaper neck with a very slim D profile and stain finish for fast performance and smooth feel.
The Futura FX features an original Floyd Rose tremolo and a shard black finish.
24 Fret Necks with Jumbo Frets
SpeedTaper Profile Necks
Rosewood Fingerboard
Highly Figured Quilt Maple Tops
Eye Catching Pearl Knobs
Strap Locks
Floyd Rose Tremolo
Grover machine heads
EMG 81 and 85 Pickups
Pro-SCM setup