Epiphone
Epiphone Les Paul Pro 100th Anniversary
LIMITED EDITION ELECTRIC GUITAR OUTFIT
NATURAL GLOSS LACQUER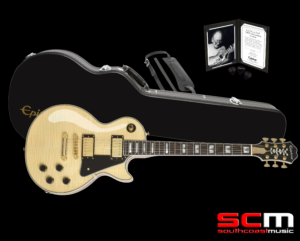 Epiphone Les Paul Custom Pro 100th Anniversary Outfit Solid Body Electric Guitar Features:
o Limited Edition Les Paul to celebrate Les's 100th birthday
o 24K Gold Plated Hardware
o Abalone and pearloid inlays
o Zirconium "i" dot inlay
o Grover Imperial tuners
o ProBucker humbuckers deliver PAF tone
o Limited Edition Case
o Limited Edition Vintage Style Leather Guitar Strap
o Limited Edition Picks
o Bound Certificate of Authenticity
o PRO-SCM setup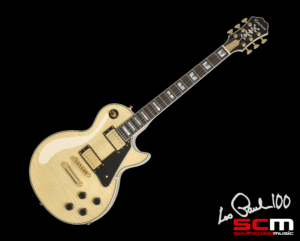 The Limited Edition Epiphone Les Paul Custom Pro 100th Anniversary Outfit solid body electric guitar celebrates everything that is iconic about the guitar's design and the man who is responsible for the way we play and hear music today. For Les's 100th birthday, Epiphone decided to pull out all the stops, with touches such as 24K gold plated hardware and truss rod cover. A pair of ProBucker humbucking pickups offer PAF and coil-split tones for sonic variety. The Les Paul Custom 100th Anniversary Outfit honors 100 years of a true icon.
Much of what we enjoy about modern music and guitar playing can be traced back to Les Paul. His recording career as a solo artist, and as a duo with Mary Ford, generated multiple hit records. He invented the use of multitrack recording and guitar looping and was an early pioneer in the use of reverb and delay. But his most iconic work was done with the solidbody electric guitar. And the sound of music changed forever when Gibson put the Les Paul into production in the early 1950s.
Les Paul's relationship with Epiphone is well documented and the roots of what was to become the iconic Les Paul guitar began at Epiphone in New York.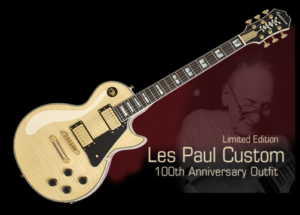 Les Paul in the House of Stathopoulo
Les Paul, the Wizard of Waukesha, the Thomas Edison of rock n' roll, was a lifelong fan and friend of the Epiphone and Gibson families. Les was a regular visitor to Epi Stathopoulo's factory in Manhattan where Les made the first prototypes of the Les Paul guitar, The Log. "I knew Epi Stathopoulo and the Epiphone people very well and loved their instruments," Les recalled in his autobiography, Les Paul, In His Own Words, "Working on Sundays, I took a length of 4″ x 4″ Pine, put an Epiphone neck on it, wound a couple of homemade pickups and mounted them on the wood. Then I added a bridge and Vibrola tailpiece, strung it up, and I had The Log. I was looking for volume, tone, and sustain that could be controlled, still chasing the idea that started with stretching a guitar string over a section of railroad rail."
Les continued to be an Epiphone fan for the rest of his life and the beautiful new Limited Edition Les Paul Custom 100th Anniversary Outfit is a suitable and dazzling tribute to the most popular rock & roll guitar in the world and its equally revered inventor.
For over 50 years, Les Paul encouraged and cheered on Epiphone to keep Les Pauls on the cutting edge of electric guitars.
"I tell you they are damn fine instruments!" Les said of Epiphone Les Pauls. "A kid can get an Epiphone and have something worth something, not a hunk-of-junk like the other brands. He can learn well on one and have it and play it the rest of his life. Just that they need a good guitar like an Epiphone so they won't get discouraged…so they will practice and work hard and enjoy their music."
Beautifully appointed
The Les Paul Custom 100th Anniversary Outfit is dressed up for a birthday celebration. Its truss rod cover, Tune-o-matic bridge and tailpiece, and Grover Imperial tuners are decked out in 24K gold for a regal look. The headstock and fretboard are inlaid in a combination of abalone and pearloid for an attractive contrast to the mahogany top. And this attractive instrument is capped off with a sparkling Zirconium stone inlaid in the dot of the "i" in the Epiphone logo.
ProBucking Pickups
The two ProBucker humbucking pickups in the Les Paul Custom 100th Anniversary Outfit are designed at Gibson's pickup factory in Nashville, Tennessee. These pickups are re-creations of the classic Gibson PAF pickups that are so sought after. Sweetwater players immediately noticed that they offer the same powerful midrange and crystal-clear top end of great vintage Les Pauls. And push-pull pots allow you to split the coils to access bell-like single-coil tones.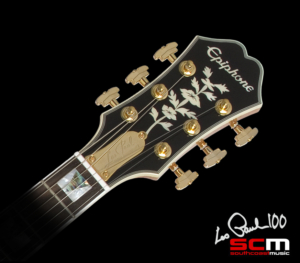 Epiphone Les Paul Custom Pro 100th Anniversary Outfit Solid Body Electric Guitar Specifications:
Body Material: Mahogany with Mahogany Veneer Top
Finish: Natural Gloss Lacquer
Neck Material: Mahogany
Neck Shape: "1960's" SlimTaper, D-profile
Neck Joint: Glued-In, Mortise and Tenon
Headstock: Traditional Epiphone "Sloped Dove Wing"
Headstock Inlay: Traditional Epiphone "Vine" inlay; Pearloid Vintage "Epiphone" logo with Zirconium Gemstone dotting the "i"
– Back of Headstock: "The Legacy of Les Paul 1915 – 2015" commemorative decal
Truss Rod Cover: 24K Gold plated metal with "Les Paul 100th Anniversary" engraved
Truss Rod: Adjustable
Scale Length: 24.75″
Fingerboard Material: Rosewood
Fingerboard Inlays: Traditional Epiphone "Block & Triangle"; Abalone and Pearloid
Fingerboard Radius: 12″
Frets: 22; medium-jumbo
Bridge Pickup: Epiphone ProBucker-3
Neck Pickup: Epiphone ProBucker-2
Controls: Bridge Volume with coil-splitting, Neck Volume with coil-splitting, Bridge Tone, Neck Tone, Epiphone all-metal 3-way toggle
Knobs: Speed Knobs with metal pointers
Bridge/Tailpiece: LockTone Tune-o-matic/Stopbar
Nut Width: 1-11/16″
Hardware: 24K Gold Plate
Binding: Body 5-layer (Cream/Black); Top & Back, Headstock = 5-layer (Cream/Black), Fingerboard = 1-layer (Cream)
Machine Heads: Grover 18:1 ratio; with stepped "Imperial" buttons
Output Jack: Epiphone Heavy-Duty; Non-rotating
Case: LTD ED Hardshell Case with 100th Anniversary commemorative logo
Strap: Vintage Strap
Picks: 3 Commemorative Picks
Certificate of Authenticity in presentation binder
Buy with confidence! southcoastmusic is an authorised reseller of Epiphone products.