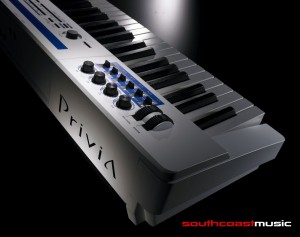 Featuring the same piano sample as PX-350 but with added DSP and programming for even more sonic realism. An array of dazzling Elecric Piano, Clavichord and complex synth sounds as well as a deeply programmable synthesiser with realtime controls. Four zones each of internal and external MIDI controller capability. Battery powered. Stellar 88-key weighted action. Impossibly low weight and price. This is the Casio PX-5S Privia.
A first class digital piano, with a supremely powerful synth engine, amazing editing and a fighting weight that checks in at under eleven kilograms and under two grand? You are not dreaming. Just as the Yamaha designed Korg M1 set the synth World on its head in the late 1980's…the Casio designed PX-5S is redefining the definition of what a Stage Piano should be. Casio? You can't be serious you say! Let us let you in on a little secret…since 1980 when Casio released the Casiotone 201,the World's first electronic keyboard, they have been responsible for some of the most played keyboards and digital pianos on the Planet. Amazing tone and touch are just the beginning.
Whatever you do, absolutely, definitely do not buy a new stage piano until you try the Casio PX-5S Privia. Yes, we are all entitled to our own opinions but rest assured, the only Music Shop or Musician that will try to talk you out of this Piano is one that is either unable to stock it or simply hasn't played it.
The Casio Privia PX-5S has been designed for the live performer and features real-time controllers within a portable, lightweight piano. It is however, an awesome additional to any Keyboard Player or Pianist's arsenal in the Studio.
PX-5S Privia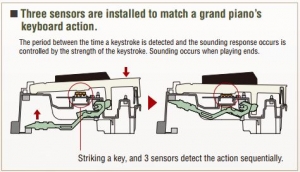 The new Casio Privia PX-5S has redefined the stage piano category with unprecedented sound quality and performance features in a lightweight design that is supremely portable. Featuring tone editing, insert effects, MIDI controller capabilities, an 88 Key, Tri-Sensor Scaled Hammer Action II Keyboard and weighing only 24 lbs., the Privia PX-5S is ready to take stage.
Powered by AiR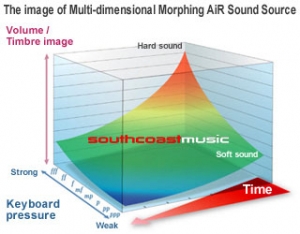 At the heart of the PX-5S Stage Piano is Casio's proprietary AiR sound source which provides incredible realism, detail and expression for grand piano sounds. In the PX-5S, the power of AiR has been expanded to provide stunning fidelity and control over other instrument tones and effects with 256 notes of polyphony.
Old School, New Class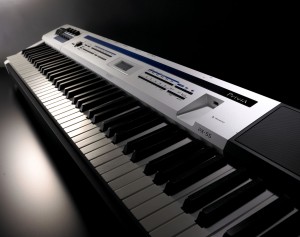 In addition to Privia's award winning grand piano sounds, the PX-5S has an arsenal of newly developed sounds including classic electric piano, harpsichord and clav sounds. Some of these tones are complete with release samples, amplifier and speaker simulations for an incredibly authentic experience.
The Privia PRO PX5S has a maximum polyphony of 256 notes, making it a highly expressive instrument for performing.
20 acoustic piano presets capture the nuanced tonal variations and lingering reverberations of real pianos.
Also included are 30 keyboard instrument presets, including "electric piano," which seamlessly reproduce the changes in tone quality according to the force of the keystroke, and "clavi," which captures the tonal character when the finger leaves the key.
50 Hex Layer presets layer as many as six tones for ensemble sounds.
Another 220 presets cover a wide variety of musical instruments including organs, strings, and guitars.
Users can also choose from 20 drum sets customised for a broad range of musical genres.
Serious Control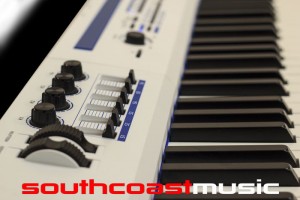 The PX-5S is a powerful four zone controller, complete with 4 knobs and 6 sliders all of which are completely configurable to control internal sounds, effects parameters or send continuous controllers to other gear. Each zone on the PX-5S can control an internal sound, an external MIDI device or both simultaneously.
New Sonic Territory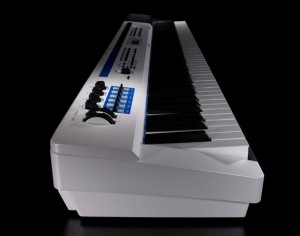 The PX-5S redefines what a stage piano should be, providing an arsenal of other sounds and creative tools. The PX-5S includes powerful Hex Layer tones complete with real-time filters and also features four programmable arpeggiators and multitrack phrase sequencing.
Stage Settings
To easily access the sounds you need for your performance are Stage Settings. Each Stage Setting configures up to 4 keyboard zones, knob / slider assignments, phrases, arpeggios and effects settings. Each of the 4 zones in a Stage Setting can control an internal PX-5S tone, an external MIDI device or both simultaneously.
The PX-5S has 100 completely user configurable Stage Settings which are arranged in 10 banks of 10 each. When you're within a bank, each Stage Setting is just one button press away allowing you to seamlessly switch configurations during a live show. Stage Settings can easily be edited, moved or replaced using the PX-5S's Data Manager software.
Expressive Control
The PX-5S has an array of physical controllers available including Pitch and Modulation wheels, 4 knobs, 6 sliders and 2 footswitch inputs. The assignments of these controllers are configured separately in each Stage Setting. As an example, for an electric piano Stage Setting the knobs and sliders can be configured to control parameters such as amplifier gain, speaker selection, key-off noise, effects and EQ. In another Stage Setting with several sounds layered, the sliders could be configured to control volume over each zone or component.
Each knob, slider or pedal can simultaneously control two parameters at once, offering superior control over internal tones or external MIDI devices. In addition minimum and maximum values for these controllers can be set, allowing your adjustments to be precise and musical. You can specify if a Zone on the PX-5S responds to a physical controller or not
Pedal inputs on the PX-5S are also highly configurable and include Envelope Response. This allows an ordinary footswitch to control a parameter over time, allowing you to do volume swells, filter sweeps and control effects such as a wah-wah effect in an incredibly musical way. The pedal inputs on the PX-5S also auto-detect the polarity of the footswitch, allowing virtually any brand of footswitch to be used.
Casio PX-5S Product Features
88-Weighted Hammer Action keys
Grammy Award winning tones
Ultra-lightweight – under eleven kilograms
Six real-time assignable faders
Four real-time assignable knobs
Five-year manufacturer's warranty
HEX Layers
Hex Layers were originally introduced in the award winning XW-P1 synthesizer. Due to the power of the AiR sound source, PX-5S takes them several steps further. A Hex Layer is a single complex tone that can be made up of six sample layers. These can be stacked (layered), split or velocity switched. Each of those six layers gets its own filter (LP, HP, BP) and filter envelope, its own AMP envelope and pitch envelope (all 7 stage envelopes). You can even have layers that are triggered on key-release. A Hex Layer tone gets its own insert effect but you can choose if a layer uses that insert or the amount that goes to the system effects (chorus, delay, reverb). Best of all, the PX-5S can use two Hex Layer tones simultaneously.
Phrases and Arpeggiators
The PX-5S includes two unique and highly configurable performance tools a Phrase Sequencer and an Arpeggiator. Each Zone within a Stage Setting on the PX-5S can choose to use an Arpeggiator or trigger a Phrase.
The Arpeggiator in the PX-5S is fully programmable. There are 100 presets and room for 100 of your own. There are up to 16 steps in the Arpeggiator and it can be configured to play at different note values such as 8th notes or 16th note triplets. Particularly unique to the PX-5S, the Arpeggiator can be used to trigger parameter changes such as panning, filters and more, with or without triggering notes, allowing you to add animation to your parts.
The PX-5S also includes 100 phrases with room for 900 of your own. Phrases can be riffs, drum patterns, controller movements or longer musical events that can be triggered live from the keyboard. Phrases can include things like bass lines and horn riffs that will transpose across a range of keys in the zone. Using the Data Manager software for the PX-5S you can convert standard .MID files for use as phrases. This gives you access to thousands of free and commercially available .MID files for use in the PX-5S.
Audio .WAV Recording and Playback
Using a standard USB thumb drive, your performances or moments of inspiration can easily be captured as a standard .WAV file. Simply press the Audio Record button two times and the PX-5S is ready to record. Similarly, the PX-5S can play back .WAV files that are put on the USB drive. The second footswitch can be used to start or stop playback while you play along with your own pre-recorded backing tracks.
Portable as well as Battery Powered
At under eleven kilograms, the PX-5S is the lightest weighted action stage piano ever built…ever. This makes it easy to get to and from your performance. While you're at your performance you never need to worry about interruptions in power as the PX-5S can operate for hours with 8 standard AA batteries. So wherever you are the PX-5S is easy to travel with and be up and running in an instant.
USB MIDI
Casio continues the tradition or providing "class compliant" USB connectivity on Privia digital pianos. This allows Privia to be used with Mac or Windows computers without the need for downloading drivers. Class Compliant USB MIDI also allows Privia digital pianos can also be used as a controller the Apple iPad simply with the use of Apple's Camera Connection Kit.
Awards