CARVIN EM900 960 Channel Wireless In-Ear Personal Monitor System
Package Includes:
– 1 x EM901 960 Channel Receiver
– 1 x EM900 960 Channel Transmitter
– 1 x EM902 earbuds
At southcoastmusic we have sold hundreds of IN EAR PERSONAL MONITORING SYSTEMS. In Ear Monitoring is the smart way to control your on-stage audio experience. Now there is no need to sruggle to hear yourself or the crucial parts of the mix – no matter where you are on stage.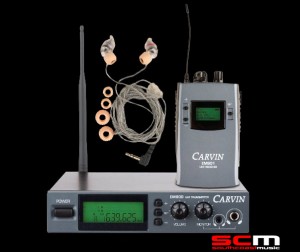 Whether you're playing live or rehearsing, you need to hear yourself to be your best and that's what the EM900 In-Ear Personal Monitor System is all about. The ideal solution for on-stage and rehearsals, the EM900 is the sensible alternative to cumbersome floor monitor wedges.
Furthermore they facilitate greater freedom of movement while enabling one to hear everything in either high fidelity mono or stereo. Performers can use as many as 16 complete EM900 systems simultaneously on stage and any number of EM901 stereo receivers on the same frequency. This makes the EM900 the perfect solution for Theatre applications.
Carvin's new EM900 In-Ear Personal Monitor System delivers real Hi-Fidelity sound, in fact a full 30 Hz – 15 kHz frequency response for the most natural audio quality possible, enabling the full dynamic range of the monitored signal to sound exactly as it should.
To further ensure the most natural sounding audio quality, the EM900 includes a built-in limiter that keeps the sound quality of the monitored signal pure and intelligible which enables the performer to hear like never before, even at lower volume levels.
Carvin's Audio and Electronic Engineers haven't just stopped there either – to further ensure pristine audio quality, this versatile monitoring system uses a PLL (Phase Locked Loop) design that effectively eliminates annoying static without the need for a squelch control.
Operating the EM900 couldn't be easier or more intuitive. With 960 channels, finding an open frequency is never a challenge, even in RF (radio frequency) rich environments. The EM900 is also completely legal and compliant with Australia's newly configured Digital Frequency reshuffle.
Similarly, the EM900's transmitter features balanced XLR inputs for accommodating noise and hum free input signals – further ensuring superior audio performance. With clear, easy to read LCD displays on both the transmitter and beltpack receiver – including a low battery indicator – working with Carvin's EM900 is a pleasure.
The new EM901 receiver offers a personal pan control that facilitates the mix of two independent signals – either mono or stereo.
As a result, each performer can adjust a 2 channel mix in their ears. The EM900 In-Ear Personal Monitor System includes flat response earbuds with three sizes of soft earbud tips to ensure the proper fit and comfort.
The system uses braided cable and clear driver enclosures for reduced audience visibility. Combined with rugged aluminum enclosures for both the transmitter and beltpack receiver, Carvin's EM900 In-Ear Personal Monitor System is built to provide years of dependable service.
o Hear yourself like never before – especially at lower volumes
o More selectable frequencies, 960 automatic scanning channels
o Articulate sound from the 20Hz to 20k Hz frequency response
o Built in dynamic limiter keeps the sound pure and intelligible
o Use up to 16 complete EM900 systems simultaneously
o The EM901 receiver offers a personal "Pan" control
o Mix two independent signals, mono, or stereo – each performer can adjust a 2 channel mix
o LCD display on both the transmitter and receiver – including low battery
o PLL (phase locked loop) eliminates annoying static – no squelch control required
o Flat response earbuds
o Supplied with 3 sizes of soft earbud tips
o Braided cable and clear driver enclosures for reduced audience visibility
o Balanced XLR inputs
o Sturdy aluminum case and belt clip
o One Year Warranty