CAD C195 Hand Held Cardioid Condenser Microphone
From CAD Microphones comes the C195 hand held condenser microphone.
Designed for studio recording as well as on stage duties, we don't know of another microphone that delivers the audio quality and performance at this price. Included are a zippered vinyl carry case, mic clip and 5m long XLR to XLR mic cable.
The wide and flat frequency response of the CAD C195 provides superb natural transparent sound quality.
Whether on stage as a performance mic or used as a vocal address microphone on a podium or rostrum, the CAD C195 will inspire you with its audio fidelity and sound quality giving your voice greater presence and authority.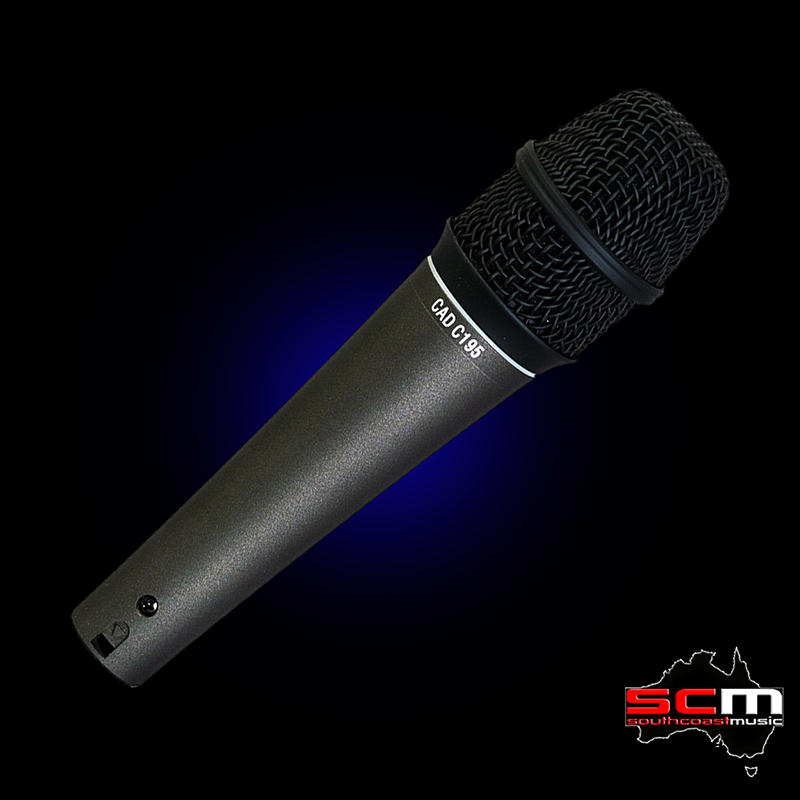 With a frequency response ranging from 50Hz to 18KHz, the CAD C195 condenser microphone reproduces the entire range of the human voice with power and precision.
The cardioid pickup pattern reduces feedback when used close to PA speakers and monitors as well as reducing the pickup of unwanted off-axis sounds.
The electret condenser technology provides great low frequency response with low distortion. The effective internal multistage pop filter minimises wind and breath noise.
The CAD C195 requires phantom power – most modern mixers provide phantom power- call us if you require more information.
With a low THD rating of 1%, the CAD C195 professional microphone delivers accurate and high-quality sound while the 132dB maximum SPL capability means that you can use this amazing microphone in front of Brass and Woodwind instruments, Guitar speaker boxes and even bass drums!
It is the perfect microphone for singers with 'big' voices providing distortion free and crystal clear sound-output.
Designed and engineered in the US and built in China, the increasing cost of production has meant that the C195 has been discontinued. We have a limited number of brand new, unopened units for sale. A one year warranty applies.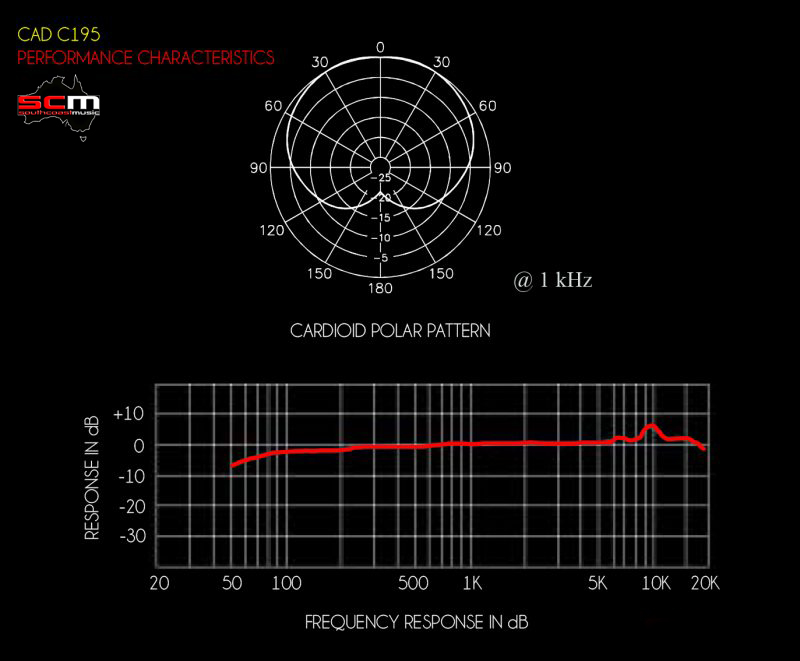 CAD C195 Specifications:
o Generating Element: Condenser (Phantom Power Required)
o Polar Pattern: Unidirectional (Cardioid)
o Frequency Response: 50 Hz – 18 kHz
o Output Level: Open Circuit Voltage: -55 dB (0 dB = 1 volt per microbar)
o Impedance: 500 ohms
o Dynamic Range: 110 dB
o Equivalent Noise Level: Less than 22 dB, A weighted
o Maximum SPL: 132 dB (1% THD, open circuit)
o Powering: Supply Voltage: 9 – 52 Vdc, positive pins 2 & 3 reverse polarity protected
o Current Required: Less than 5 mA over operating voltage range
o Phasing: Positive pressure on diaphragm generates a positive voltage on pin 2 relative to pin 3
o Grille Screen: Hardened Sprung Steel Mesh
o Case: Steel and Die Cast Zinc Alloy
o Finish: Durable soft feel, non-slip, Titanium Grey body, Midnight Black screen
o Furnished Accessories: Protective Vinyl pouch, Microphone Clip & 5m long XLR-XLR microphone cable
o Warranty: One Year