BEALE DP500 UPRIGHT DIGITAL PIANO
• Elegant Rosewood Spinet Cabinet with Closing Lid
• 88 Key Fully Weighted Hammer Action
• 500 Sounds
• 200 Arranger styles and Harmony function
• Three Piano Pedals
• 3 Song 6 Track Song Recorder
• Three Year Warranty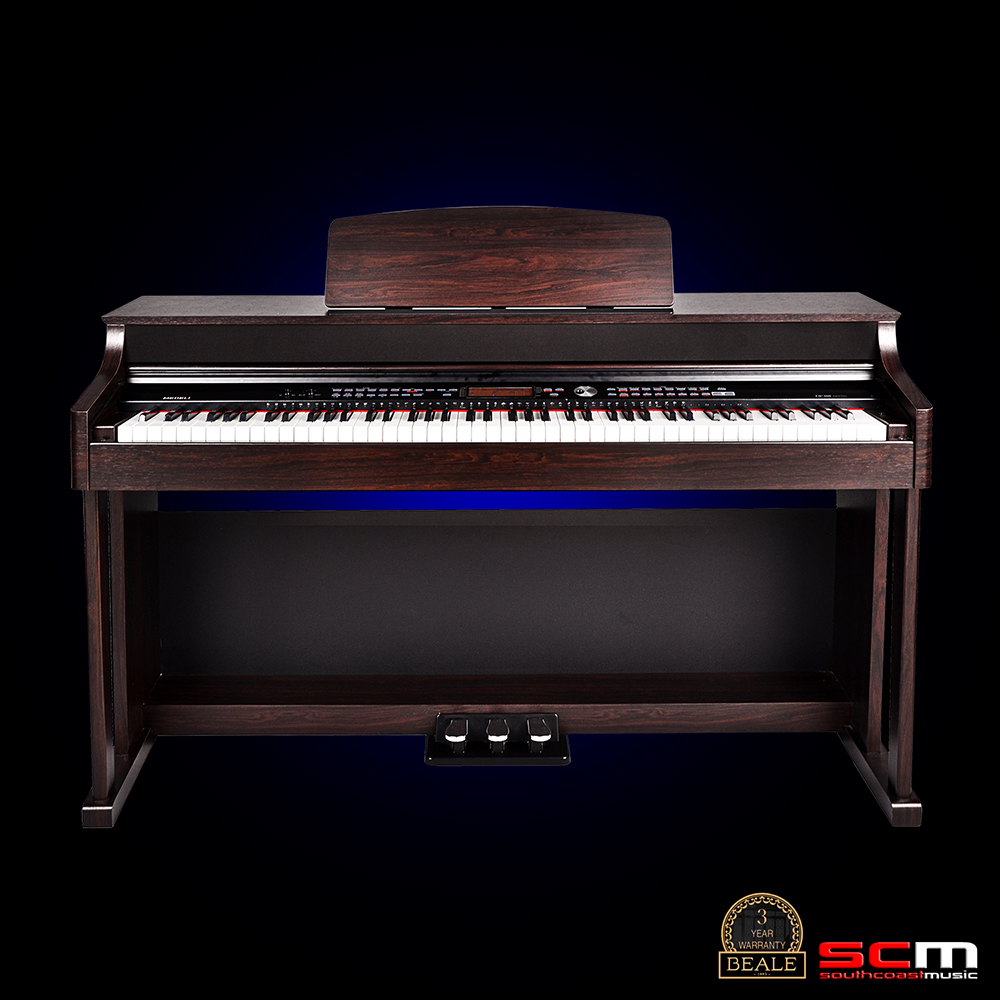 The BEALE DP500 Digital Piano features a beautifully crafted Rosewood Spinet cabinet with a sliding lid and three traditional Piano pedals.
The DP500 is not only an elegant furniture piece, packed full of must-have features including a superb sound palette along with versatile arranger and performance assistance functions, there isn't another Digital Piano that offers so much for so little!
PIANO HAMMER ACTION KEYBOARD
The 88 weighted hammer action keys feature adjustable dynamic sensitivity for a realistic and satisfying piano playing experience. The dynamic sensitivity adjusts the touch of the keyboard. You can select a light touch for young or fragile fingers while a more seasoned player will prefer a firmer touch for increased dynamics. You can easily select your preference so that you can spend your time focused on making music!
BEAUTIFULLY CRAFTED CABINET
The elegant cabinet has been built in the "Spinet" style and features a Rosewood finish and sliding lid to keep dust and curious little fingers out when not in use. Three traditional Piano pedals are also included for maximum expression and the built-in four speaker 90 watt (45w+45w) Hi-Fidelity sound system sounds rich and full.
INSPIRING FACTORY SOUNDS
At your fingertips are a wide range of wonderful sounds. Digitally sampled acoustic and electronic sounds offer amazing realism and include Acoustic & Electronic pianos, Traditional and Contemporary Organs, Guitars, Orchestral, Synthesisers, Bass, Drums, Percussion and much more. The impressive 64 note Polyphony (max) ensures that complex pieces may be performed.
200 ARRANGER STYLES + 10 USER STYLES with 5 TRACK MIXER
Built-in, interactive patterns are offered in a variety of musical genres, putting a whole backing band at your fingertips to play along with. Create real-time arrangements using left-hand single-fingered easy play or fully-voiced chords. The DP500 also offers a 'full-keyboard mode that responds to chord input across the entire keyboard range.
You can also perform with the Rhythm Track only. Intro, Main, Fill & ending sections available.
HARMONY FUNCTION
Selecting the Harmony function automatically adds a harmony to the notes played with your right hand, giving you rich and harmonic expression.
PERFORMANCE ASSISTANT
The Performance assistant works with Piano & guitar sounds to embellish your performance by producing idiomatic voicings. For example, in Guitar Mode, this helps you sound like an actual guitarist producing strums, broken chords & echoism.
Piano mode helps you achieve difficult Piano performance skills like Piano Rhythm, Broken Chords and endings.
The Performance Assistant is there to add a further touch of realism to the wide range of sounds on tap.
DSP EFFECTS
The DSP (Digital Signal Processor) is at hand to add ambience and depth to your music. Selectable Digital Reverb & Chorus effects recreate the sound experience of playing in a hall or large room such as a concert venue.
BEALE DP500 KEYBOARD MODES
SPLIT MODE
Split mode allows you to play with 2 different sounds at the same time. You simply select a sound for the Lower end of the keyboard then another for the upper end, choosing the note range for each sound. For example, you could play a Bass Guitar sound on the Lower Octaves accompanied by a Piano on the upper octaves for an authentic sounding duo style performance.
LAYER MODE
In Layer Mode you can have 2 different sounds across the entire keyboard. A popular combination for many keyboard players are Piano and Strings.
DUAL MODE – TWINOVA
The Twinova (dual piano) mode effectively splits the keyboard in two. Each half of the keyboard then mirrors the same octave range. This is a fabulous teaching tool that allows the Teacher and Student to play the same notes in the same octave in tandem. The Teacher plays the notes they want the student to play on their "half" of the keyboard – the student can then replicate the exact same notes on their half!
TRANSPOSE MODE
Transpose allows you play a familiar song in a different key without having to change your hand positions on the keyboard. You simply select the key in semi-tone steps.
MULTI TRACK SONG RECORDER
With the Beale DP500 you can also record your own performances. Up to three songs may be recorded to the internal memory and each song can be made up of six tracks – five Instrument Tracks, plus one accompaniment track. This is a great learning tool as you can save and review your work immediately. It is also a great sketchpad for songwriters and composers.
Once the internal memory has reached capacity, you can save your songs via the USB port to a USB device or computer.
SIXTY MUSIC LIBRARY PRESETS WITH LESSONS PLUS TWO DEMO SONGS
• The Beale DP500 features sixty music library songs and each song has a lesson mode.
• Song control allows you to rewind, fast forward, pause and loop a song, or part of a song for more fluid practice.
• Lesson Mode allows you to practice in 3 modes. Left Hand, Right hand & both hands.
• Lesson mode will evaluate your performance & give you a score based on Pitch, timing and complete performance.
• An excellent tool for learning and assessing musical development.
CHORD DICTIONARY
Don't know how to play a chord? Now you can simply look it up in the chord dictionary and see how it looks in the backlit screen.
Chord Dictionary also has Chord Learning & Chord Examining mode to help you expand your knowledge.
120 SONG ALBUM PRESETS
The Song Album presets include song parameters, which include style tempo & voice. You can play the preset song using song album function using the parameter in accordance with that song. This handy feature sets the keyboard up "in the style of" a particular song.
USB MIDI CONNECTIVITY
With USB Midi Connectivity you can connect directly to your Computer for interaction with the huge range of Music Software Programs now available. The Beale DP500 offers USB connectivity, AUDIO Line IN & OUT along with 2 Headphone outputs.
BEALE DP500 DIGITAL PIANO SPECIFICATIONS:
• 88 Fully Weighted Hammer Action keys with 64 note Polyphony
• Adjustable Dynamic Sensitivity for a realistic Piano playing experience
• Beautifully crafted Spinet Cabinet with sliding lid
• Rosewood Finish
• Three Traditional Piano pedals
• Multi-function display
• Harmony function
• 500 voices
• 200 Arranger Styles
• 63 songs
• 203 styles including 3 user styles
• 5 track recorder
• Split, Layer, Dual (Twinova) and Transpose Modes
• DSP Effects
• 4 Speaker Sound System with 2 x 45 watts output
• Connectors: Line in/out, Midi in/out, USB, 2 x Headphones
• Power Supply: 220VAC/36W
• Dimensions: L138.0cm x W51.4cm x H90.6cm
• Weight: 55kg
• Warranty: Three Years