AKG
K14P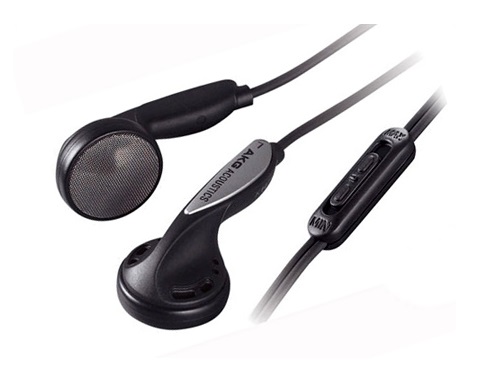 stereo earbud headphones with in-line volume control
AKG K14P earbuds are a remarkably compact package boasting high quality HiFi audio sound….and are quite possibly the ultimate i-POD headphones!
The Featherweight AKG K14P earbuds with their soft-touch finish put music in your ears no matter where you go. The AKG K14P earbuds unique Crystal Clear Sound technology makes every track sound as if you were right there at the concert! An integrated volume control adds to the versatility of these fabulous ear buds and means that you don't have to fumble around on your player to make changes to your listening volume.
If you like the convenience of earbuds, but are looking for better ones than those that came with your iPod, there aren't many quality choices out there and AKG have certainly raised the bar with these AKG K14P earbuds.
It's no surprise that the AKG K14P earbuds sound so good. Utilising newly developed ear pads of acoustically transparent foam that doesn't choke high frequencies like conventional earbuds, the AKG K14P earbuds deliver sound that can only be described as clear and powerful. They also feature a soft touch finish.
The AKG K14P earbuds feature an attractive, compact plastic case with cable-winders for easy storage when not in use. The PVC-free cables are extremely rugged, won't kink, are terminated with hard gold plated jacks and are also environment-friendly.
The AKG K14P earbuds are simply superb. The sound is well balanced and crystal clear, which is just what we would expect from AKG who have been building Broadcast Quality Audio Equipment since 1947.
With lower quality earbuds,  instruments and vocals  tend to sound muddy and jumbled together. The AKG K14P earbuds provide a balanced soundscape with excellent stereo imaging and seperation. There is excellent balance between the entire vocal range, lows, mids, and highs…it sounds as if they have a built-in equaliser. Amazing!
Another application for the AKG K14P earbuds is in-ear monitoring. If you are less than satisfied with the ear buds on your in-ear monitoring system give the AKG K14Ps a go!
AKG K14P earbuds specifications:
Ultra-light earbuds for music on-the-go
Type: Dynamic, semi-open
Efficiency: 126 dB SPL/V
Frequency Range: 17 Hz to 23 kHz
Rated Impedance: 17 ohms
THD: <1%
Cable: 1.15 m (3.8′), PVC-free, 99.99% OFC
Connector: 3.5mm (1/8″) Stereo mini plug
Net Weight (without cable): approx. 5 g (0.18oz)
Special Features: Integrated precision volume control
Includes plastic case with built-in cable winder
AKG's Sound Engineers have applied advanced acoustical design technology to the AKG K14P earbuds resulting in optimum sound quality and a package that punches well above its weight.
AKG K14P
stereo earbud headphones with in-line volume control
southcoastmusic is an authorised Australian AKG Reseller. This is a genuine AKG product and carries a TWO YEAR Australia wide warranty.